Subscribers to Suddenly Senior's RxNews List* were the first to know.
Amid intensified FDA border seizures of Canadian drug orders, intimidating pressure on Visa and MasterCard to stop processing US orders from Canadian pharmacies, threatened legal action against US insurance companies covering Canadian-purchased drugs, and FDA agents actually boarding a bus to harass Minnesota seniors returning from a Canadian pharmacy buying trip, Suddenly Senior readers caught a glimpse of the silly little man behind the forbidding Big Pharma/FDA curtain.
The first crack in the Pharma/FDA/Congressional wall blocking US seniors from affordable drugs appeared in Pharmaceutical Executive where Editor Patrick Clinton displayed a snapshot of a Pharma emperor strutting naked along K Street.
"Industry pronouncements about product safety…mostly came across as self-serving and insincere. (What's worse, they put American Pharma companies in the position of seeming to argue that their own products, once they cross the border, are somehow life-threatening.) And the succession of news stories in the Washington Post and elsewhere revealing industry funding of groups such as the Traditional Values Coalition – which outrageously attempted to tie reimportation to abortion, alienating even hard-core antiabortion groups in the process – were an ongoing embarrassment."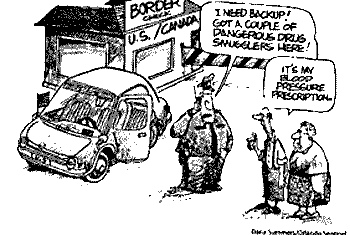 A second crack appeared last week when the executive director of public policy for AstraZeneca Pharmaceuticals stated to a Daily Mississippian reporter that "despite safety issues," importing drugs from Canada will be legal before the end of the year.
Suddenly Senior RxNews subscribers read that, too.
So it came as no big surprise yesterday when President Bush's chief healthcare official, Health and Human Services Secretary Tommy Thompson, said he would recommend that Bush not stand in the way of a bill to make importing prescription drugs legal.
It was as pretty a white flag as I've ever seen.
Within hours, the two largest chain drugstores, CVS and Walgreen's, called for legal importation of drugs.
BULLY NOW ON THE RUN. YOUR CALLS PAID OFF.
Sure, there are still skirmishes ahead. But our fight for a free market in pharmaceuticals is won. All those letters, phone calls, and e-mails paid off. It proves that we seniors have the power. We only must exercise it.
For Big Pharma, greed went before the fall. So much money was in play, it bedazzled even Congress. Politicians blinded by Pharma gold didn't think we'd notice that the new Medicare Drug Discount Cards are all but worthless.
Congress hoped, too, that we wouldn't do the math on the 2006 Medicare Drug Bill. How else would they find the balls to pass a half-trillion-dollar drug bill that chiefly benefits drug companies, HMOs, and other corporations?
Taking the current drug inflation rate of 17 percent a year, adding deductibles and premiums, by 2007 the entire Medicare drug bill will be nothing but one big donut hole. Just look:
IF YOU NOW SPEND THIS AMOUNT ON PHARMACEUTICALS ANNUALLY
YOU WILL PAY THIS IN CASH OUT-OF-POCKET UNDER NEW DRUG BILL
$500
$1,000
$2,000
$3,000
$820
$1,032
$2,315
$4,012

The administration then had the gall to spend another $28 million of our tax dollars for ads hawking these new Medicare flimflams. The pitch? Since seniors desperately need drug coverage, our big-hearted government will give us "More." More what they never say. More deficit? More deceit?
That $538-billion bill, supported also by AARP, must be revisited and defeated. It is larcenous.
For now, I commend you to consider the bipartisan Senate Bill 2328 which will allow a free trade of pharmaceuticals by individuals, pharmacies, and wholesalers with provisions for health safeguards while preventing Pharma from unfair practices. Shutting off supplies to Canadian pharmacies – as Pfizer and others are doing right now – is specifically prohibited.
Once again, I implore you to call your senators. Ask them to get behind this bill, co-sponsor it, and see that it passes. According to the University of Minnesota, S.2328 could save our cities, our states, and us around $38 billion a year!
And don't cry for Big Pharma. A recent Boston University study indicates that drug company sales probably will gain as millions of new customers finally can afford to buy the medicine they need.
About
This top-ranked site now has over 4,000 pages of humor, nostalgia, senior advocacy and useful information for seniors 50+. Updates weekly!
The daily e-zine for everyone over 50 who feels way too young to be old.
"...the perfect mix of Andy Rooney, Dave Barry, and Garrison Keilor, combining knee-slapping humor with useful information and genuine compassion."
Retired.com
"Thousands look to and trust Suddenly Senior. Other Websites pale in comparison to the real-life, intimate look into senior lives. What sets apart Suddenly Senior is its blistering honesty and its incomparable encouragement. Millions need guidance."
Suzette Martinez Standring
"Best Senior Site ever on the Web! Great, up-to-date information on how seniors can save money on drugs. Wonderful nostalgia. Hard-hitting senior advocacy pieces that get read in high places. Wonderful humor. It's all at Suddenly Senior."
Alexa.com
KUDOS
Now read by 3.1 million in 83 newspapers from Florida's St. Petersburg Times to the Mumbai, India News.