T'was the night before Christmas
In this old coot's house.
I sat at my computer,
Clicking my mouse.
I'd been Christmas shopping
My feet felt like lead.
My head was swimming
My brain cells all dead.
Mamma was snoring
Without any cares.
I'm too tired to sleep,
To tired to climb stairs.
But then I heard something
Or thought that I did.
Someone's on the roof
A feeling of dread.
I looked out the window
And nearly fell down.
Someone up there
Was poking around.
And some kind of wagon
Or maybe a sleigh.
Just what I needed
At the end of this day.
I'll call 911
And maybe they'll come.
Now if I can remember
Just where is my gun.
But while I was looking
I heard a great crash.
Down the chimney came Santa
Fell right on his ass.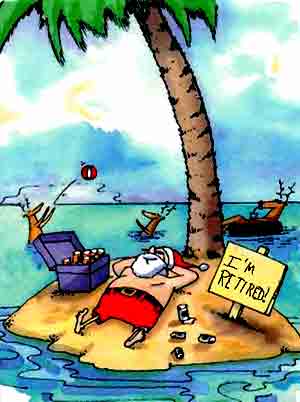 "Fer God's sakes." sez I
"What a terrible sight!"
I heaved and struggled
And got him upright.
He huffed and puffed
I admit I did too.
He said "There's something
I have to do."
So we sat on the sofa
And shared a cold beer.
He said, "It's something, I think
To do with reindeer.
"O yes, I remember,
I'm Santa you see,
And all the kids' joy
Is resting on me."
I looked at his hair
It was sparse as mine.
I looked in his eyes
Saw the passing of time.
"Dear friend," I said wincing,
"I know that burden well.
I'll try to help out
We'll get along swell"
We decided we'd leave
Through the front door.
That chimney bit was silly
Even in days of yore.
He whistled to Rudolph
To lead them all down.
And we climbed into the sleigh
When it reached ground.
So we both took some Advil
And swigged out of the flask.
We circled the globe
Those reindeer flew fast.
Hanging on for dear life
We dropped off the loot.
Santa stopped in Morocco
To remove his tall boots.
"Bunions you know,
And it's just too much work.
To try to do all this
Those elves are real jerks.
"I've gone through my share
of assistants you see.
But you cant get good help
And the burden's on me.
"I gotta retire,
Just can't do it no more.
I spend weeks in my rocker
My whole body is sore."
Oh yes, dear Santa
I know the feeling too.
I'm glad I don't have
To do what you do.
So let's try to find someone
Some fine strong young pup.
Well train him and coach him
And hope he measures up.
We'll use the Internet
And give it a try.
E-mail all those young folks
Who have are yearning to fly.
So wherever you are
Think about your career.
Santa's retiring
Effective this year.
The time has come
It's sad but it's true
Next year at Christmas
It's all up to you.
MERRY CHRISTMAS EVERYONE!

About
This top-ranked site now has over 4,000 pages of humor, nostalgia, senior advocacy and useful information for seniors 50+. Updates weekly!
The daily e-zine for everyone over 50 who feels way too young to be old.
"...the perfect mix of Andy Rooney, Dave Barry, and Garrison Keilor, combining knee-slapping humor with useful information and genuine compassion."
Retired.com
"Thousands look to and trust Suddenly Senior. Other Websites pale in comparison to the real-life, intimate look into senior lives. What sets apart Suddenly Senior is its blistering honesty and its incomparable encouragement. Millions need guidance."
Suzette Martinez Standring
"Best Senior Site ever on the Web! Great, up-to-date information on how seniors can save money on drugs. Wonderful nostalgia. Hard-hitting senior advocacy pieces that get read in high places. Wonderful humor. It's all at Suddenly Senior."
Alexa.com
KUDOS
Now read by 3.1 million in 83 newspapers from Florida's St. Petersburg Times to the Mumbai, India News.