Nostalgia
Remember When Service Stations Gave Service?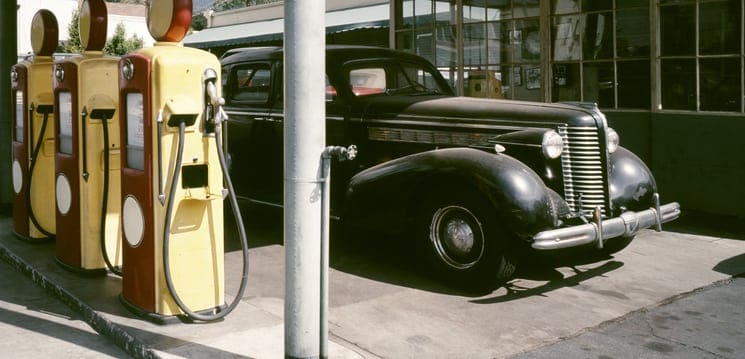 What a quaint concept!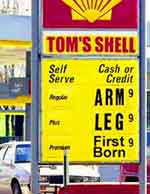 In this day of almost $3-a-gallon gas, imagine getting actual service, too. Today, it's as bizarre a notion to anyone under 40 as a gentleman's tipping his hat to a lady.
About 40 years ago, both were part of everyday life in America.
Then in 1973, OPEC and Big Oil turned a screw creating long lines and high prices at gas pumps, prepayments to grim strangers behind bulletproof glass, and, most shocking of all, forcing ladies dressed in their finery to pump their own gas, wash their own windshields, check their oil and fill their tires with air, "free air" now costing two bits.
It was the end of a great era.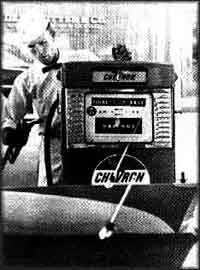 Older Suddenly Seniors will remember its beginning in the '20s when gas stations popped up all over postwar and newly prosperous America. Some stations even had indoor toilets.
In those days, filling a typical car's five-gallon tank took eight minutes. To keep customers' minds off the clock, attendants cleaned windshields (sometimes inside and out), checked oil and water, even cranked engines to get the old jalopies back on the road again.
The Depression saw stations built to resemble teepees, castles, dinosaurs, even pyramids – anything to attract scarce dollars. One of Gulf Oil's outlets was built in the shape of the Spirit of St. Louis, Charles Lindbergh's famous airplane.
Slowed by gas rationing during W.W.II (remember the A, B and C decals?), service stations mushroomed in the prosperous 1950s, marked by a huge expansion of motorcars and highways. Service stations sprouted from every corner, competing by giving away drinking glasses, trading stamps, maps, and car washes. And a tsunami of service.
Regular or Ethyl?
So fierce was the competition that gas wars broke out, at least once pushing the price down to 12 cents a gallon in my suburban Chicago neighborhood.
Suddenly Trivia: How many American service stations were there in 1969?
a. 78,500 b. 156,000 c. 239,000 d. 468,900
Even car dealers put pumps out front to get some of the action.
About 1950, I worked a summer at Ladendorf Oldsmobile in Des Plaines, Illinois, about a block from the world's first McDonald's.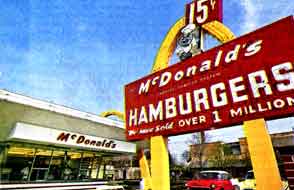 (Who knew? Ray Kroc's first franchise opened April 15, 1955 – 50 years ago – and is now a museum. Today's McDonald's has 30,000 restaurants serving 50-million people day.)
My job was changing oil, lubing, and undercoating.
And pumping gas.
When the tire bell rang, I'd quickly throw on an ill-fitting jacket and cap, run out, pump the gas – usually a buck's worth, but occasionally, "Five dollars or fill, whichever comes first." I'd wash windows all around, check the oil, fill tires and the battery as needed, and, in my spare time, chat or flirt, whichever was appropriate.
Really hectic was when a gas customer drove in as I was undercoating – spraying tar all over the bottom of a vehicle and me, protecting us both from road stones and rust.
Mr. Ladendorf, afraid my tarred, blackened aura might frighten customers, insisted that I always wash my face and hands with gasoline before greeting the customer.
Small wonder I had trouble getting dates that summer.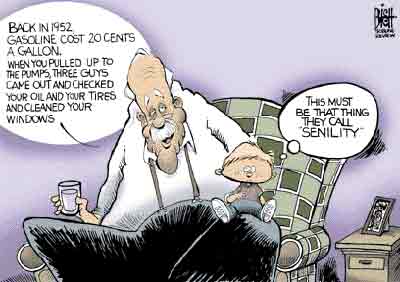 My car at the time was a '41 Ford convertible with a '48 Mercury engine. Bright red. All-chrome interior. Chopped and channeled. Leaded. Duals. Headers. Necker knob.
And no top.
On those rare occasions when I scrubbed up clean enough to get a date, I'd borrow my dad's Oldsmobile Rocket 88 (0 to 60 in eight seconds!), promising to fill the tank and adhere to mileage restrictions.
Dad insisted, "Don't drive over 10 miles, now." Whether he thought I'd have less chance of an accident or what, I never knew. I do remember having a devil of a time reinstalling the speedometer cable, and once getting caught, feet in the air, fumbling under the dash with loose cable in hand.
From then on, my last stop on date nights was at a service station where, without so much as a frown, they reinstalled the speedometer cable, free, with my fill-up.
Try getting service like that now!
Suddenly Trivia answer: c. There were some 239,000 gas stations in the US at the peak in 1969. Today there are about 167,000.
Sponsored Links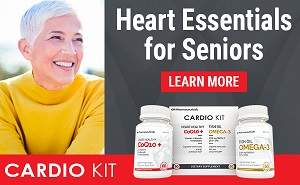 Cardiologist Developed and Recommended
---
Your link could be here.
About
This top-ranked site now has over 4,000 pages of humor, nostalgia, senior advocacy and useful information for seniors 50+. Updates weekly!
The daily e-zine for everyone over 50 who feels way too young to be old.
"...the perfect mix of Andy Rooney, Dave Barry, and Garrison Keilor, combining knee-slapping humor with useful information and genuine compassion."
Retired.com
"Thousands look to and trust Suddenly Senior. Other Websites pale in comparison to the real-life, intimate look into senior lives. What sets apart Suddenly Senior is its blistering honesty and its incomparable encouragement. Millions need guidance."
Suzette Martinez Standring
"Best Senior Site ever on the Web! Great, up-to-date information on how seniors can save money on drugs. Wonderful nostalgia. Hard-hitting senior advocacy pieces that get read in high places. Wonderful humor. It's all at Suddenly Senior."
Alexa.com
KUDOS
Now read by 3.1 million in 83 newspapers from Florida's St. Petersburg Times to the Mumbai, India News.