Private Medicare Advantage program is costly and unfair. Now we can do something about it.
It sounded so, well, so "something-for-nothing, what-have-you-to-lose?"
The private Medicare "Advantage" program would provide Carolyn and me with "more benefits than traditional Medicare, more predictable costs," even worldwide coverage.
"A smart investment in your health coverage," the salesman assured us.
But right off, our new Advantage HMO got our primary doctor's name wrong. A simple mistake, they said, easily corrected.
Yet, when I saw an "insurer approved" specialist, recommended by my "insurer approved" primary physician, our insurer wouldn't approve it. The phantom doctor whose name was on my insurance card hadn't authorized it.
That was back in January. By the end of that month, we'd called the insurance company five times asking that they correct their mistake.
They didn't.
Apparently, they couldn't. By June, after 17 phone calls – I'd documented each with date, time, and the name of the "service representative" – I threatened to go public with the snafu. Immediately, they rectified the madness.
Demented Dummies
And it all sounded so good last December when the salesman explained how much better his Advantage program was over "plain old Medicare." Eye care, hearing aids, dental, international coverage, you name it. It was ours. Practically free for nothing!
But as the months rolled by, it seemed we were insured by a band of demented dummies.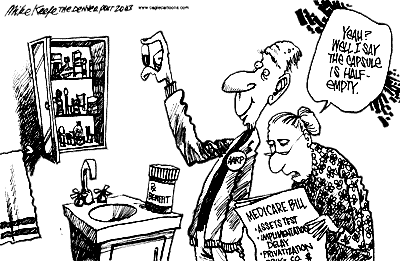 They'd pay for medicine one month, not the next. Forced to buy my Nexium in Canada on my dime while my doctor cajoled, I pleaded, and even my pharmacy pushed, the HMO would eventually okay my prescription. But then we'd go through the same stonewalling routine the following month. Each time, they profited $150 or so by denying me a month's worth of drugs.
Soon I realized: These folks were dumb like foxes.
I went to VisionWorks where the salesman had said Advantage would "save up to 50 percent." My price for two pairs of glasses: $723. "How much with my big HMO discount," I asked.
"That's with the discount," I was told.
I called HearX to learn what hearing aids already on sale would cost me with my "deep Advantage allowance." Four calls later and I still hadn't received a straight answer.
Then Carolyn was diagnosed with bone cancer. All her doctors advised that she get treatment – covered by Medicare – at the Moffitt Cancer Center. What Mayo is to Rochester, what the Cleveland Clinic is to Cleveland, Moffitt is to the Tampa Bay area where we live.
But do you think our "smart investment" HMO would cover it? Hell no!
$54-Billion Bonus! For What?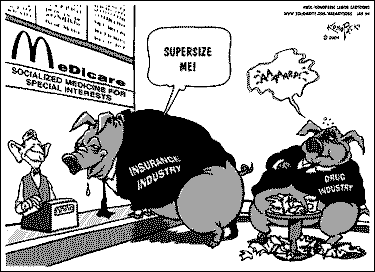 Multiply our grievances times the complaints of so many of the 8.7-million seniors now insured by private Medicare Advantage HMOs, and you see why Congress is under pressure to scrutinize the annual $75-billion taxpayers pay these private insurance companies for treating us so dishonorably.
Just today, my local paper reported about a woman who found herself in an Advantage program she neither wanted nor requested. Repeated calls to disenroll went unheeded. Then, in April she broke her hip. Now, neither the HMO nor Medicare will pay the $30,000 tab.
She's not alone. Eager for a piece of the $54-billion subsidy taxpayers will give Advantage programs as a bonus over the next four years just for participating, seniors everywhere have been fraudulently switched without their knowledge or consent.
Congress has also learned that hundreds of thousands of seniors were promised their "Advantage" plans wouldn't replace traditional Medicare, that they could stay with their own doctors, and that the plans would require no co-pays. [See below.]
All lies.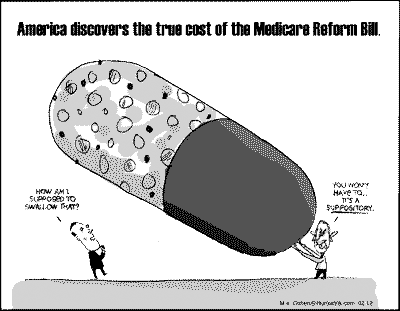 And what's the bonus for? Lying to us? Nickel-and-diming us, occasionally to death? That $54-billion could be used to better our nation's health, not simply to better profits for private insurance companies.
Why, I wonder, if private plans are so efficient at delivering healthcare while holding down costs, do they need generous taxpayer subsidies to participate? Let's put both on a level playing field and see which provides the best care.
As I have written so often, private Medicare "Advantage" is nothing but a device to kill a national treasure – Medicare – replacing it with private insurers that, as we've already seen:
Put profits before people. It's the law;
In spite of bonuses to HMOs ranging from 12 percent to 50 percent more than we pay traditional Medicare, charge far more for services ranging from home health care, hospital stays and chemotherapy drugs to medical equipment;
Will continue to lie about and arbitrarily change coverage;
Will eventually "cherry pick," insuring only the healthiest of us; and
Do anything to continue #1 and the resulting annual windfall salaries of 10s of millions to HMO executives.
Stop Free Money to Insurance Companies
Why did Carolyn and I join one? I had to see for myself. Frankly, I couldn't believe that the Advantage programs were as dangerous to our health as Suddenly Senior readers continually reported.
Boy, was I wrong!
Washington must stop Medicare cuts and preserve our access to care by eliminating bonuses to private health insurers.
Just last night, Congress took the first step. Against strong Republican opposition, HR 3162, the "Children's Health and Medicare Protection Act of 2007," passed out of committee. This bill would expand spending on both children's health and Medicare by about $47-billion in the next five years, getting the money by equalizing payments between Medicare Advantage plans and traditional Medicare.
In other words, no more free money for "Advantaged" insurance companies!
Already, HMOs are launching a huge advertising campaign to stop the bill, much like Porter Novelli's Harry and Louise helped derail Clinton's universal health plan a decade ago. This time, fictional characters Sandi, Alvin, and Charlotte complain that cuts to the Medicare Advantage plans will cost them more and lead to disruption in care.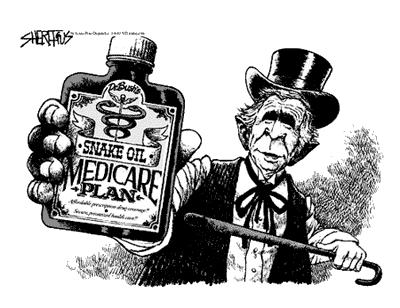 Congress, beholden to the HMOs for millions in legal bribes, must be told, clearly, that enough is enough. Those billions are ours – not a gift to the insurance companies – and should be used for our healthcare.
Congress must bite that bullet. You can help sharpen teeth by calling your Congressperson toll-free at (877) 331-2000, (800) 828-0498, (800) 869-3150, or (866) 699-9243. Tell them to support HR 3162.
Let's stop disadvantaging Medicare. This is our opportunity to "Just say no" to privatization, waste, and billion-dollar giveaways.
Want to Switch Back from Your Advantage Program to Medicare?
Basically, you're screwed and must suffer until the end of the year. Remember: The insurance and drug companies wrote this bill. According to the Medicare Rights Center (MRC), however, an internal memo circulated recently within the Centers for Medicare and Medicaid Services allows disenrollment if you were signed up without your consent. Grounds for disenrollment also include statements by an agent that imply the plan is a Medicare supplement or Medigap policy, statements suggesting that the plan is accepted by all Medicare providers, or statements saying that you can switch back to Medicare any time you want.
Call 1-800-Medicare. Tell them you qualify for a special enrollment period because you were misled into an unwanted plan. If you are dual-eligible, you can switch back within a month just by calling Medicare. Know, too, that a state has no obligations to pay for cost sharing for dual-eligibles enrolled in an Advantage plan. Questions? Call MRC at (800) 333-4114.
About
This top-ranked site now has over 4,000 pages of humor, nostalgia, senior advocacy and useful information for seniors 50+. Updates weekly!
The daily e-zine for everyone over 50 who feels way too young to be old.
"...the perfect mix of Andy Rooney, Dave Barry, and Garrison Keilor, combining knee-slapping humor with useful information and genuine compassion."
Retired.com
"Thousands look to and trust Suddenly Senior. Other Websites pale in comparison to the real-life, intimate look into senior lives. What sets apart Suddenly Senior is its blistering honesty and its incomparable encouragement. Millions need guidance."
Suzette Martinez Standring
"Best Senior Site ever on the Web! Great, up-to-date information on how seniors can save money on drugs. Wonderful nostalgia. Hard-hitting senior advocacy pieces that get read in high places. Wonderful humor. It's all at Suddenly Senior."
Alexa.com
KUDOS
Now read by 3.1 million in 83 newspapers from Florida's St. Petersburg Times to the Mumbai, India News.