When Gloria and Russ Tuttle married, they couldn't imagine that, four years later, a Medicare drug plan might force them to divorce.
Gloria, now 78, and Russ, 80, had known each other for 53 years. So when they each found themselves single again, it seemed only natural to marry and live together in Russ's doublewide out back on his daughter's place in rural Pierce County, Washington.
The newly-weds don't have much. Their combined annual incomes are barely $22,000, most all of that from Social Security. But what was once a good friendship is today a deep affection for one another.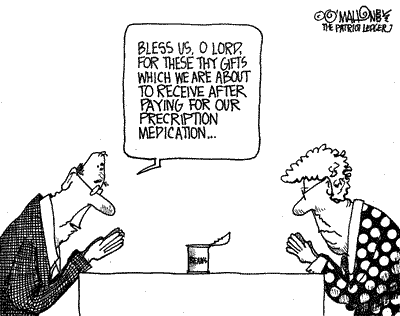 "We're in love," avowed Gloria. "We have just enough to live on. What more could we ask?"
That was before the new Medicare Plan D.
Like so many of us at that age, Russ and Gloria have health challenges. Pharmaceuticals keep those challenges in check. Just to breathe, both need Advair, costing about $300 a month each.
All told, substituting generics where possible, the Tuttle's monthly medicine bill at Costco is $1,131. Or, it would be but for drug manufacturer's patient assistance programs. With income below drug company ceilings, the Tuttles qualified to get their drugs cost-free.
Until now.
What was once a lifesaver for millions of less well-off American seniors, most all patient assistance programs now are slamming the door on "anyone eligible" for Medicare's new 700-billion to 1.3-trillion dollar privatized drug fiasco.
Anxiously, the Tuttles looked into the requirements for Plan D. They found their meager income too high to qualify for subsidies.
Russ and Gloria researched alternatives. They attended seminars. They sought help from anyone who would listen. "We found that buying in Canada would cost one third what it does here," said Russ. "But we still couldn't afford it."
They prayed.
They learned that most insurance companies participating in Plan D wouldn't reveal what drugs they currently covered. "They all told us we had to sign up before they'd show us their latest formulary," Russ recounted with disgust.
When a salesman slipped Russ Humana Complete's list of covered drugs, it proved to be the least expensive plan they could find. Still, with co-pays and premiums, and their AARP supplemental covering gaps in Plans A and B, the monthly total is $860, far beyond what their budget can bear.
Family Values
What to do? An elder-law attorney suggested that divorce might be the only way out. Neither of their individual annual incomes is above $11,500. As unmarried singles, Russ and Gloria would fall well under Plan D's $14,355 maximum for individuals, easily qualifying for subsidized medicine.
Divorce? Was that the American alternative?
"We didn't know what to do," Gloria told me. "We couldn't sleep. And when we did, we'd have nightmares." Heartbroken, the couple wrote to every Seattle TV station, to all the newspapers in the area, to Medicare, to AARP, to our president, to their senators and Congresswoman.
Then they waited. And waited.
Only Washington Senator Maria Cantwell responded. "And she went on and on just blowing her own horn," complained Russ, "She never once addressed our Medicare D problem."
Gloria interrupted. "All these politicians talk about 'Family Values.' But when a couple is forced by the government to divorce, they've nothing to say."
The other night, Russ had a dream. In it, all the companies of Big Pharma got together with a drug plan for folks like the Tuttles. An industry-wide patient assistance program was instituted. And all of Gloria and Russ's problems were over.
Except that dreams like that seldom come true. Especially when drug companies today are outright lying to seniors, telling them that under Plan D it's illegal to provide free drugs.
This June will mark Russ and Gloria's Fourth Wedding Anniversary.
Or will it?
About
This top-ranked site now has over 4,000 pages of humor, nostalgia, senior advocacy and useful information for seniors 50+. Updates weekly!
The daily e-zine for everyone over 50 who feels way too young to be old.
"...the perfect mix of Andy Rooney, Dave Barry, and Garrison Keilor, combining knee-slapping humor with useful information and genuine compassion."
Retired.com
"Thousands look to and trust Suddenly Senior. Other Websites pale in comparison to the real-life, intimate look into senior lives. What sets apart Suddenly Senior is its blistering honesty and its incomparable encouragement. Millions need guidance."
Suzette Martinez Standring
"Best Senior Site ever on the Web! Great, up-to-date information on how seniors can save money on drugs. Wonderful nostalgia. Hard-hitting senior advocacy pieces that get read in high places. Wonderful humor. It's all at Suddenly Senior."
Alexa.com
KUDOS
Now read by 3.1 million in 83 newspapers from Florida's St. Petersburg Times to the Mumbai, India News.