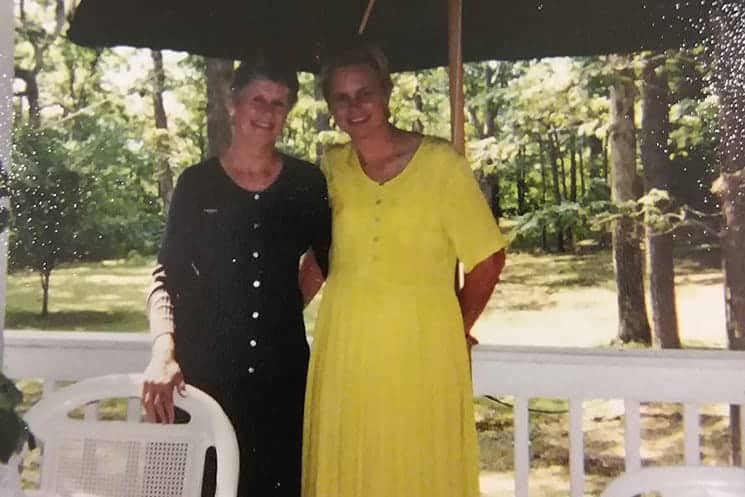 Have you lost a loved one to ovarian cancer?
During the summer of 1998, my older sister Catherine and I would meet every Tuesday at a lovely restaurant for lunch. We referred to it as our 'tea party'. We decided that while formal attire was not mandatory, wearing a dress and hat were.
The restaurant had an immense wrap around porch where patrons could sit outside when the weather was particularly lovely. I arrived early on this, our first tea party luncheon, and chose a table overlooking the vast wildflower and lily pad pond a short distance off.
She breezed in ten minutes late, not at all unusual for her, but she had about an hour's drive from Cumberland, MD up to Oakland where the restaurant was located. She was always worth the wait. No one would suspect she was 57, especially this day in her flowery white and lavender summer dress, billowing from side to side, catching summer's last warm breaths.
She wore a lavender, wide-brimmed hat, the front sweeping down her face covering her left eye, her matching sandals tying the ensemble together perfectly. I paled in comparison with my blue blouse and white cotton skirt.
We ordered wine and perused the menu, making small talk and gaga-ing over each other's outfits, as sisters do. Enjoying every moment, we laughed and reminisced. We revisited our life-long dreams and goals not yet reached and ordered coffee and Crème Brulee for dessert.
Some distant rain clouds were ambling their way toward Oakland, but she said she had something to tell me, something difficult, something urgent. I braced instinctively, my sister didn't frighten easily, and I knew it was going to be something upsetting.
Sad Conversation: Ovarian Cancer
"Please don't say anything until I'm finished. I can only say this one time, then we can talk, ok?" she asked, tearing up and fidgeting in her seat. "Of course, take your time, I'm right here" I assured her. "I'm just going to blurt this out: I have been diagnosed with Stage 4 Ovarian cancer and my prognosis is not good. I am beginning chemo and radiation treatments this week and hopefully, I will respond well but it's a tenacious and aggressive form of cancer and my doctors have told me to hope for the best and prepare for the worst." Our tears were now falling onto the lace tablecloth, we held hands and just sat silent for a minute or so. She knew I needed a moment to process it all and she needed a moment to compose herself.
She did go into remission after several treatments of chemo and radiation. It wasn't easy, and it wasn't pleasant. She was gravely ill through much of it, bedridden, weak and vomiting so much and so often she couldn't eat. She lost more weight and when next I saw her, was very frail, at least 20 pounds lighter. Her cheekbones prominent and jutting and her eyes sunken; I was shocked at her skeletal appearance. I held my gasp of horror inside so as not to upset her more. She put on a brave front but was so sick and exhausted she quickly gave up the facade and allowed me to help her, to see her, sick, weak and broken. This was probably the hardest battle she fought other than actual cancer.
My Sister Before Ovarian Cancer
My sister was a strong, independent and life-loving woman. She raised 4 children on her own, eventually trained for and got a job event planning for a large non-profit in DC. Horses were her passion. She broke and rode stallions, always looking so at home atop a strutting, willful steed. She showed and had a drawer full of ribbons. And she could drink most men under the table. She had a hot temper and strong convictions she stuck to like glue. She loved world history and often stayed up until the wee hours of the morning debating Roman military tactics with my husband. Years prior, she spent a lot of time with my young family, taking the kids to the pool, relaxing on the deck with her wine and ordering my husband, Doug, about, shouting "Jeeves! Fetch me more wine at once, my goblet is emptieth!" We loved her so.
But those days were long gone and were now filled with doctor visits, vitamin and mineral IV's. Short hospital stays when she needed fluids for sustained nutrition and discussing lab results had become the norm. It was heartbreaking watching her trying to determine her time left through numbers on charts and discussions of tolerance levels, blood levels, medications and restrictions with myriad doctors.
Ovarian Cancer Remission
Her remission was magical. She gained weight, filling her face out bringing my sister's sweet smile back to me. She had energy and spunk again and I had to force her to stop and rest, not to overdo. We resumed our Tuesday, dress-up tea parties and life seemed almost fabulous again.
But the signs of that insidious disease were evident: She didn't want wine, it 'tasted funny'. She could barely finish her salad, much less the quiche she ordered. Her once perfect posture was now hunched, and her eyes told a tale of exhaustion. I saw it all. I think she wanted me to know her secret so she could just be herself, her I'm-fighting-as-hard-as-I can-but-can't-win every-battle', self.
Final Goodbye
The call came in the middle of the night. "Cathy has been readmitted to the hospital and it's not good. You need to get here immediately" her oncologist blurted out. "I'm on my way" I exclaimed. I had become close to her doctor, and she had become like a sister to Cathy. "One more thing, Mary" she murmured quietly "It's different this time' she's losing a lot of blood and she is not conscious." My heart sank as my foot slammed on the accelerator.
She never regained consciousness. I sat with her in her room, stroking her hair, and arranging her hospital gown around the countless cords and IV tubes. I nestled in close to her and sang one of her favorite songs, a heart-wrenching Irish ballad, Danny Boy. The tears spilled as we shared our last moments together. Somehow, she let me know she felt my presence and I clung to each and every breath she inhaled.
She died on September 17, 2000.
I knew the moment she left her body and transitioned into the great beyond. Her body went from that of my sickly sister to one of just a heap of flesh and bones, like an abandoned old car, just the chassis left behind.
I wished her well and was so honored I was there to witness her flight to where she believed Heaven awaited. I'm sure God sent Pegasus, the Divine stallion, to whisk her to Heaven's gates. He knew if anyone could handle him, she could.
Oh, Danny boy, the pipes, the pipes are calling
From glen to glen, and down the mountain side.
The summer's gone, and all the roses falling,
It's you, it's you must go and I must bide.
Sponsored Links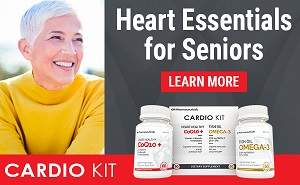 Cardiologist Developed and Recommended
---
Your link could be here.
About
This top-ranked site now has over 4,000 pages of humor, nostalgia, senior advocacy and useful information for seniors 50+. Updates weekly!
The daily e-zine for everyone over 50 who feels way too young to be old.
"...the perfect mix of Andy Rooney, Dave Barry, and Garrison Keilor, combining knee-slapping humor with useful information and genuine compassion."
Retired.com
"Thousands look to and trust Suddenly Senior. Other Websites pale in comparison to the real-life, intimate look into senior lives. What sets apart Suddenly Senior is its blistering honesty and its incomparable encouragement. Millions need guidance."
Suzette Martinez Standring
"Best Senior Site ever on the Web! Great, up-to-date information on how seniors can save money on drugs. Wonderful nostalgia. Hard-hitting senior advocacy pieces that get read in high places. Wonderful humor. It's all at Suddenly Senior."
Alexa.com
KUDOS
Now read by 3.1 million in 83 newspapers from Florida's St. Petersburg Times to the Mumbai, India News.