Astute Suddenly Senior reader, Dwight Walton, sent this after reading the Suddenly Senior column, "What Ever Happened to Front Porches."
It appeared in the June 8, 2002 issue of the Chicago Tribune.
It was gone, but not forgotten, and now is back – in force.
The American front porch nearly disappeared during the second half of the 20th Century, except for a blip on the screen during the '70s and '80s when some builders attached pretend porches to the facades of faux-Victorians.
They looked good on paper, but, in real life, you couldn't cram a rocking chair into them with a crowbar.
Now, front porches seem to be enjoying a retro revival, along with comfort foods and Radio Flyer wagons.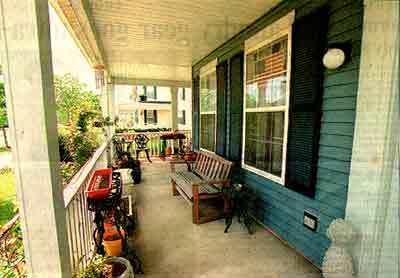 (Photo for the Tribune by Steve Lasker)
Antique furniture and planters, as well as benches, rocking chairs, and swings, are common fare on porches at HomeTown Aurora.
Not just ornamental, pretend porches, but deep, roomy porches that invite passers-by to come on up, put their feet up and have a glass of lemonade.
Front porches and their backyard cousins are nothing new, of course. The word "porch" derives from the Latin word "porticus." Early American homes, including George Washington's Mount Vernon and Thomas Jefferson's Monticello, had porches.
From the start, they were decorative (dressing up PlainJane homes or embellishing the already ornate) and/or functional (adding square footage and offering free air conditioning).
"The late 1800s to W.W.I was the heydays of the front porch and the front stoop," says Emily Talen, professor of urban and regional planning at the University of Illinois. "Then our culture became a car culture and the garage went up front"
Builders trace the current front-porch craze back to the mid-1990s when Walt Disney Co. built the much-publicized Celebration community outside Orlando. It was billed as the flagship for the neo-traditional housing trend, which pushed garages to the backs of lots, resurrected alleys and clustered homes closer together.
As backyards shrunk, front porches became the new gathering spots. According to the National Association of Home Builders (NABB), the number of porches (front and back) on new homes grew from 42 percent in 1992 (die the first year it tallied them) to 50 percent in 2000.
"Whether you use the front porch or not, it makes for a better streetscape," says Talen. "The garage doors out front say, 'Cars live here.' Front porches say, 'People live here."'
Builders say the front-porch passion crosses demographic lines.
"Front porches are appealing to all kinds of buyers – young families and older couples," reports Naperville-based builder John Schillerstrom, who has built dozens of custom and semi-custom homes with front porches in the last few years. "The common thread-they like to socialize with their neighbors."
"The front porch was pleasant, not exciting," recalls William Geist in his book,' "Toward a Safe & Sane Halloween & Other Tales of Suburbia" (Random House).
"It was a place to sit. To sit and talk-something called visiting-about anything that came up.
"Sometimes nothing was said for several minutes, just sharing the silence, the sound of the crickets, the lawn sprinkler, or whatever It was okay to be silent then, not a failure to communicate that you had to seek professional help for."
Then came TV, says Geist in his 1985 book. Then, central air. By the 1950s, recalls Geist sarcastically, "A body'd have to be a fool to sit out on the front porch talking with his next-door neighbor when he could be in his air-conditioned 'TV room' being talked at by the big stars from Hollywood and New York."
The trend started before 9-11, but now people are staying home even more. The front porch is a place they can relax.
Front porches are selling at all price points, too, from modest subdivision homes to the over-$350,000 homes Schillerstrom builds.
Prices in a wide range
Like the houses they adorn, their prices run the gamut, he says, "from a $3,500, simple one with a concrete floor to a $10,000 to $15,000 one with a beadboard ceiling and canned lights. The sky's the limit."
Municipal land planners like front porches "because they help create safe, feel-good neighborhoods," says Mark Elliott, president of the Elliott Group in Morton Grove, which builds custom and semi-custom homes in the $500,000-and-up market.
"But it's not just the curb appeal they add," reports Elliott. "People are really using them."
"We're out there spring, summer, and fall, and eat out there in the summer," says Stacey Connor, of the porch that wraps around her two-story, four-bedroom home in HomeTown Aurora, built by Palatine-based Bigelow Homes.
"We [Connor and her husband, Keith] sit there and watch the kids play in the tot lot next door. The neighbors walk by and say hi. The porches give the neighborhood a Mayberry, small-town kind of feeling."
Furniture is abundant
"Surrounded by wooden railings, the Connors' porch is deep enough to accommodate plenty of patio furniture," she says.
"When the kids get older, I'll put a porch swing out there, too," she says.
"Research showed that people yearned for more connected, social neighborhoods, and front porches are part of this," says Bigelow's vice president of sales and marketing, Jamie Bigelow.
"They no longer want to be prisoners of their backyards like they were in the '70s, '80s, and '90s."
Bigelow says about 70 percent of the buyers in his neo-traditional HomeTown communities in Aurora, Oswego, and Romeoville choose the front-porch upgrade.
Bigelow offers several versions ~. Wraparound, two-thirds, full-front and double-decker (plantation-style).
The average cost of $7,000 includes cement floors, wooden columns, and railings. The homes range in base prices from $121,900 to $180,000.
"Buyers are willing to forgo interior upgrades such as wooden floors, ceramic tile or oak [stairway] railings for front porches," says Bigelow.
Roger Mankedick, executive vice president of Concord Homes in Palatine, agrees.
"Buyers give up other amenities or just pay more for porches, which they say remind them of their grandmothers and of simpler times," he says.
Front porches are hot tickets at Concord's neo-traditional communities – Montgomery Crossing in Montgomery and Madrona Village in Round Lake, where base prices range from $177,990 to $245,990.
Although front porches seem especially popular in the new, neo-traditional neighborhoods, they are sprouting in new subdivisions with more traditional layouts, too.
Rolling Meadows-based Kimball Hill, for example, features two-story front porches at Its Fisher Farms development in west suburban Geneva, where homes go for $235,900 to $430,000.
Distinctive Homes of Orland Park builds wraparounds on its Prairie Trail homes in Plainfield, priced from $159,000 to $225,000.
A notch up the price ladder, Joe Keim Builders of Geneva has full front porches on its Majestic Oaks homes in St. Charles, where price tags range from $500,000 to more than $1 million.
Front porches help soften the look of new homes on teardown properties." says Schillerstrom. While neighbors and village boards don't always take kindly to garage-nosed monstrosities replacing teardowns; in older neighborhoods, "houses with front porches are good fits," he says.
As the front porch trend saturates the single-family market, it is spilling into the multifamily market, too. A local case in point is the townhouse lineup at Sho-Deen Inc.'s Mill Creek in Geneva.
"Now we're even seeing them in public housing," reports Talen.
At least one family, Carla and Michael Perry of Palatine, are s repeat buyers of front porches. – Their last home, a townhouse, had one. So a front porch topped their list of amenities when they r, bought a single-family home recently in Concord's new Concord Estates.
"We even changed lots, to make sure we had the right I elevation for the porch," says Carla Perry.
This summer, she says, they plan to spend evenings on their new front porch, getting to know their new neighbors.
"We have two rocking chairs s on order," she says. I can't wait."
Sponsored Links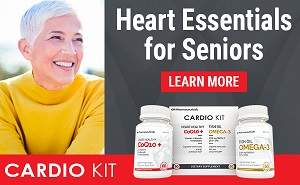 Cardiologist Developed and Recommended
---
Your link could be here.
About
This top-ranked site now has over 4,000 pages of humor, nostalgia, senior advocacy and useful information for seniors 50+. Updates weekly!
The daily e-zine for everyone over 50 who feels way too young to be old.
"...the perfect mix of Andy Rooney, Dave Barry, and Garrison Keilor, combining knee-slapping humor with useful information and genuine compassion."
Retired.com
"Thousands look to and trust Suddenly Senior. Other Websites pale in comparison to the real-life, intimate look into senior lives. What sets apart Suddenly Senior is its blistering honesty and its incomparable encouragement. Millions need guidance."
Suzette Martinez Standring
"Best Senior Site ever on the Web! Great, up-to-date information on how seniors can save money on drugs. Wonderful nostalgia. Hard-hitting senior advocacy pieces that get read in high places. Wonderful humor. It's all at Suddenly Senior."
Alexa.com
KUDOS
Now read by 3.1 million in 83 newspapers from Florida's St. Petersburg Times to the Mumbai, India News.