My Daily Herald today (1/1/2006), discussed the complexity of Medicare D.
They had three examples…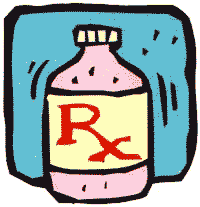 If you are a low user of Rx drugs and the annual cost is $1700, you save $883.50 or 52%. If you use $4,700 of Rx drugs in a year and you are in the doughnut hole portion, you only save $1116, or 23%. Savings from Canadian Pharmacies will in all likelihood save you more.
If you pay out $10,000 per year, you save $5771 or 58%. Most of which is subsidized by the US Government and ultimately comes from the taxpayer pocket.
A few weeks ago, I had my annual checkup and my physician and I discussed my aversion to taking Rx drugs. I'm cautious because of side effects and the concern about the impact of multiple drugs on the body.
He mentioned that he had one patient with perfect blood pressure and that he was on 11 different medications. It is a perfect case of Polypharmacy and the real concern has to be what are the long-term effects of all these drugs on the physiology of the body. No one can predict the impact, and what disease states will emerge.
My Blood Pressure is not perfect and my New Year Resolution is to exercise more, drop 20 pounds, learn to breathe properly and reduce my cocktail hour down to one drink at dinner, and see if that gets my Systolic BP in line.
None of the Medicare D savings in the example are guaranteed because the savings varies by medication being prescribed and the fact that the manufacturers can raise their prices at any time with impunity. In contrast, the Medicare D member is locked into a controlled plan at specific costs and their savings depends on how well the provider can negotiate with the manufacturer.
The question that Medicare D raises in my mind, is how will the manufacturers handle these new guidelines on prescription drugs. My marketing instinct is that it will be "full speed ahead" with price increases and the physicians will be pressured to prescribe multiple drugs.
I predict that Brand Name Prescription drug prices will rise 15% in 2006 and the number of prescriptions written and filled will expand dramatically.
The losers will be the taxpayers who will subsidize the expansion of drug usage and higher prices.
When the free market is controlled by regulations to benefit the drug manufacturers, the losers are the taxpayers.
When will we send politicians to Washington that will have the best interests of taxpayers at heart?
A conduit website to your Congressman www.thelibertycommittee.org Click on "Elected Officials" to access.
T. Braun, Pharmacist, Buyer, Marketing Executive for a Major Drug Chain. Active for over 45 years in Pharmacy.
Legal Stuff: Permission is granted to all to reproduce this document in whole and redistribute to all that are as concerned as I about the future of our Medical system that has so many superior attributes that are operating under needless dark clouds of distress.
Disclaimer – This document is informational in nature. Medical advice should be secured through your physician.
About
This top-ranked site now has over 4,000 pages of humor, nostalgia, senior advocacy and useful information for seniors 50+. Updates weekly!
The daily e-zine for everyone over 50 who feels way too young to be old.
"...the perfect mix of Andy Rooney, Dave Barry, and Garrison Keilor, combining knee-slapping humor with useful information and genuine compassion."
Retired.com
"Thousands look to and trust Suddenly Senior. Other Websites pale in comparison to the real-life, intimate look into senior lives. What sets apart Suddenly Senior is its blistering honesty and its incomparable encouragement. Millions need guidance."
Suzette Martinez Standring
"Best Senior Site ever on the Web! Great, up-to-date information on how seniors can save money on drugs. Wonderful nostalgia. Hard-hitting senior advocacy pieces that get read in high places. Wonderful humor. It's all at Suddenly Senior."
Alexa.com
KUDOS
Now read by 3.1 million in 83 newspapers from Florida's St. Petersburg Times to the Mumbai, India News.