I missed my favorite part of Christmas again this year. I got no hand-me-down that would compare with the Argyle sweater I got when I was 10. No Christmas present I have ever received compared to that old sweater. I wore it everywhere the winter of 1948 and would have slept in it had my parents not forbid it.
Hand-me-downs were a regular part of our lives in the '40s. It was the era of World War II when we learned to recycle everything that had another day of life left in it.
My family was neither rich nor poor. We were somewhere in between towards the lower end of the scale, the forerunners of what eventually emerged as today's "Middle Class."
We had some land, plenty of food from the farm and garden, an insurance agency, and a "A" gas sticker that gave us enough gas during the war to keep our enterprises going while Dad went off to the Army.
There was rarely any spare cash around to spend on "new" clothes, so we depended on hand-me-downs to supplement our wardrobes.
There were several boys in the family. The one from which many of our clothes came was a cousin who lived a hundred miles away and was a couple years older than my brother who, in turn, was two years older than me.
MY HAND-ME-DOWN ADDICTION
On the occasional visit to my cousin's I have to admit that I would case his wardrobe looking for items that might be coming my way in a few years. I spotted the argyle sweater early on and knew that it would eventually go to my brother before it worked its way down to me.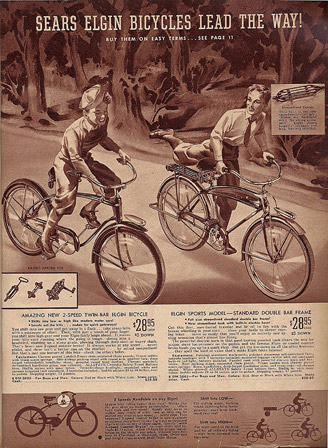 It was a long wait of a half dozen years before I opened a box one Christmas and found that sweater. I wore it until it was threadbare and the sleeves would reach no more than halfway down between my elbow and wrist.
Maybe it was that experience, not to mention the many pairs of corduroy knickers – absolutely the greatest for riding bikes – I inherited and wore in those early years, that have made me a hand-me-down junkie.
I drive used cars – mostly vans – and have only owned one new vehicle in my 74 years, that a Dodge SUV that was made in Mexico and turned out to be a real lemon.
Over the years I rebuilt and drove every model of used air-cooled Volkswagens ever made, classic motor homes, and cruised and fished from several restored and rebuilt boats all the way up to an old 39-foot classic Owens when I lived in the Florida Keys.
I have enjoyed a wealth of pleasure at a minimal cost by being a hand-me-down junkie.
When things get tight, as they have for many today, I watch retail traffic around me shift towards the lower end of the market. Macy shoppers seem to shift towards the Dillards, of which I see many have closed, and Belk's, those traditional shoppers move down to the Targets and Walmarts, and many of the Walmart shoppers take to cruising the thrift stores that you'll find a lot of hand-me-down junkies like myself cruising on a regular basis.
THE ART OF BEING THRIFTY
When my daughter was my argyle-sweater age we used to go to a Goodwill store that sold clothes at $5 a brown paper grocery bag full. She could get more in a $5 bag than a Queen could pack in her cruise ship trunks. And, as she went through her various color stages in life – pink, green and eventually purple – she would pack every thing she could find of whatever her favorite color of the period was into a couple of bags and be as happy as someone who had just won a Neiman-Marcus free shopping spree.
I once lived in a city that had a good-sized St. Vincent DePaul Thrift Store in a relatively upscale neighborhood. Every spring the good Catholic wives would clean their husband's closets and give their clothes to the thrift store. And, every spring I would buy for $5 or so at least one, and usually more, fine corduroy sports coats that had been worn maybe once or twice after being bought for $100 or more.
Once I fell victim to my hand-me-down addiction. I had a fine tweed sport coat I bought when I got out of the Army. I dearly loved that coat and wore it until the lining in the sleeves had to be replaced. I had a wife by that time that thought the tweed was a little seedy and gave it to the Salvation Army. I had to beat it down to the store and buy back my own favorite sport coat. From that day on I kept it in my car and wore it whenever I wanted without exposing it to another early disposal.
In fact in my van today you'll find a couple of hand-me-down jackets and shirts neatly hung awaiting my next hunting or fishing trip.
---
Dave Whitney is a retired journalist and adventurer who has won many writing awards. He was born and raised in central Ohio, attended school in Missouri, served in the US Army Security Agency, and migrated to Florida a half century ago. Author of four books, he is a former Associated Press writer/editor and has been nominated three times for the Pulitzer Prize during his writing career. As editor and founder of the Free Press newspapers in the Florida Keys he was the first publisher to pick up Frank Kaiser's "Suddenly Senior" column when it entered syndication. Whitney currently resides in Lakeland, Fla., after living 25 years in the Florida Keys.
About
This top-ranked site now has over 4,000 pages of humor, nostalgia, senior advocacy and useful information for seniors 50+. Updates weekly!
The daily e-zine for everyone over 50 who feels way too young to be old.
"...the perfect mix of Andy Rooney, Dave Barry, and Garrison Keilor, combining knee-slapping humor with useful information and genuine compassion."
Retired.com
"Thousands look to and trust Suddenly Senior. Other Websites pale in comparison to the real-life, intimate look into senior lives. What sets apart Suddenly Senior is its blistering honesty and its incomparable encouragement. Millions need guidance."
Suzette Martinez Standring
"Best Senior Site ever on the Web! Great, up-to-date information on how seniors can save money on drugs. Wonderful nostalgia. Hard-hitting senior advocacy pieces that get read in high places. Wonderful humor. It's all at Suddenly Senior."
Alexa.com
KUDOS
Now read by 3.1 million in 83 newspapers from Florida's St. Petersburg Times to the Mumbai, India News.