Too many patients don't have a good understanding of what medications they are on and how they are suppose to work.
Many are asked by their physician to tell him/her what medications they are taking and the strength of the pills, or cream or liquid etc. when they come for an office visit. Many just bring their Rx bottles in and show them to the physician, some try from memory and in some cases the physician has the records.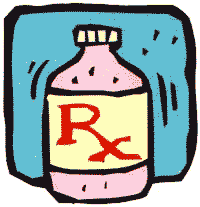 In this haphazard method, the physician often doesn't get the whole scenario, especially when the patient is taking Over-the-Counter drugs (OTC's) that interfere with, or enhance the effect of the prescription products. Today, three major classes of Rx drugs have gone OTC to some extent, Antihistamines, Pain relievers in the NSAID class, as well as Proton Pump inhibitors and other ulcer preventative medication. Now, there is some talk that a Cholesterol lowering drug will also go OTC.
I can't understand how the FDA would allow a cholesterol drug to go OTC when there is the real danger of liver damage. If the OTC medications are not taken according to directions and the patient is on certain Rx medications there may be serious side effects that are life threatening.
For example, a good friend of mine didn't follow directions and took four or five times the recommended daily dosage on Advil (generic…ibuprofen) because of a pain in the neck. Within two days he was in the hospital with life threatening defibrillation of the heart, due to the fact the Ibuprofen depletes the body of the Potassium, which is essential for normal heart function. Fortunately, they recognized the problem and he survived the ordeal.
On the other hand, some people have an allergic response to the Nsaid class of pain relievers and can have skin reactions and most seriously, anaphylactic shock that in some infrequent cases leads to death. This happened to another acquaintance who took only one Aleve pill. Fortunately, he survived. In neither case, were there any prescription drugs that complicated and caused these events to happen.
Too often the real motivation to take prescription drugs over the counter is to enhance and extent the sales life of the drug. Today, with the high cost of prescription drugs, the insurance companies endorse the idea because then the drug is eliminated from being part of a Prescription payment program and the patient now pays for the cost of the drug.
If you were taking the antihistamine, Claritin, you know what I'm talking about. It's called cost shifting and has nothing to do with bringing down the cost of medication costs to the patient. No one wants to defy the pharmaceutical manufacturers and their marketing approach.
The patient has to take charge of their medications and have a list of both OTC medications and Rx medications handy for review with the physician. At the end of each physician visit, a minute or two has to be set aside to discuss the medications and have a mutual understanding of why each medication is required and the proper regimen for taking them.
As an example, Proton Pump inhibitors which lower the level of gastric acids in the stomach, must be taken an hour before meals to be most effective. Some medications such as Tetracycline can't be taken with milk since potency is reduced. Others, such as Nsaids must be taken with food or stomach problems will be created.
In addition, part of this discussion has to be: "Are there any alternative drugs that can be used to lower my cost of prescriptions." "Is there a lower cost generic available?" As an example, my brother was on HCTZ (hydrochlorothiazide), which is very inexpensive, except when the physician prescribes 12.5 mg. The only approved drug is a capsule manufactured by Mylan and it costs $51.98 for a six month supply verses $13.39 for 25 mg tablets that you split in half to get the 12.5 mg daily dose. A savings of $38.59 (yearly..$77.18). This leads to the question…"Why doesn't the FDA encourage a manufacturer to make a 12.5 mg tablet and save the American taxpayer money"?
If you are on maintenance medication, it is recommended that 7 day pill reminders be purchased at the drugstore and be labeled for proper usage. AM, Noon, Dinner, and bedtime, if needed. Fill the containers once a week and take each table at the appropriate time. Before, with or after the meal according to the physicians' instructions. Consult your pharmacist who will be happy to help with your dosage schedule. If you are buying via mail order, you must have a 1-800 number to call for help.
In addition, learn to recognize each prescription product by shape and size and color. It would be handy to have a magnifying glass handy to use to identify the unique markings on each tablet. Most pharmacies provide a product print out with the prescription that describes and shows the physical characteristics of the pill. Make sure they match, even with the double and triple checks that pharmacists go through to insure you get the right medication, errors do happen.
Maintain a written list of your medications and the times you are to take them. In addition, list all the OTC medications you take regularly on the same list and have it handy for the physician visit. Knowing and understanding your medications will help keep you well. Someday, there will be a universal medical record system so that all your information is stored on a special type of credit card. It could be soon, if all the special interests would step aside.
Just remember: "Take charge of your body by understanding what you are taking and why."
Tom Braun RPh
Retired but not senile yet!

T. Braun, Pharmacist, Buyer, Marketing Executive for a Major Drug Chain. Active for over 45 years in Pharmacy.
Legal Stuff: Disclaimer – This document is informational in nature. Medical advice should be secured through your physician.
About
This top-ranked site now has over 4,000 pages of humor, nostalgia, senior advocacy and useful information for seniors 50+. Updates weekly!
The daily e-zine for everyone over 50 who feels way too young to be old.
"...the perfect mix of Andy Rooney, Dave Barry, and Garrison Keilor, combining knee-slapping humor with useful information and genuine compassion."
Retired.com
"Thousands look to and trust Suddenly Senior. Other Websites pale in comparison to the real-life, intimate look into senior lives. What sets apart Suddenly Senior is its blistering honesty and its incomparable encouragement. Millions need guidance."
Suzette Martinez Standring
"Best Senior Site ever on the Web! Great, up-to-date information on how seniors can save money on drugs. Wonderful nostalgia. Hard-hitting senior advocacy pieces that get read in high places. Wonderful humor. It's all at Suddenly Senior."
Alexa.com
KUDOS
Now read by 3.1 million in 83 newspapers from Florida's St. Petersburg Times to the Mumbai, India News.