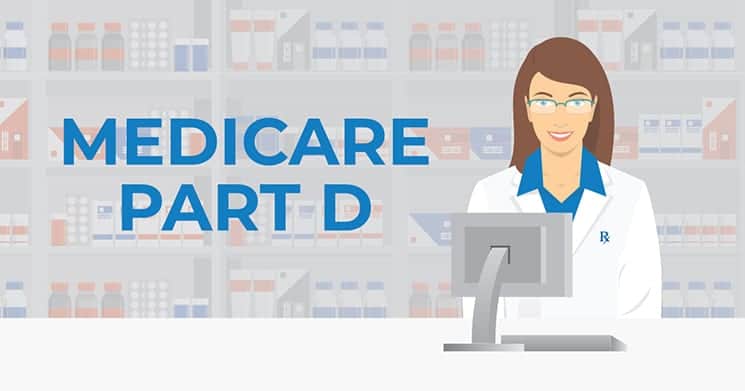 "I fell through the cracks!"
Let there be no question about it, I am a lifelong, very centrist, very moderate Republican.
However in recent years anytime the administration brags about "giving us" something, I urge you to run not walk in the other direction. Consider the story about the Trojan horse, and take my word for it. This is one gift horse you should look in the mouth.
I refer of course to Medicare Part D. I was doing just fine in my retirement thanks to the generosity of drug company assistance plans.
Enter Part D and, except for Merck and AstraZeneca, the drug companies couldn't wait to dump their assistance programs. Many of us fell through the cracks for one reason or another.
Veterans Affairs
Because I was in the regular army during the Korean war, I applied to the VA for their medication plan and was graciously accepted.
I want to make it clear that the VA people in Kansas are great, I couldn't ask for better. But the VA has a budget problem and now the "generous" administration proposes that the co-payment, etc. that veterans pay, should be seriously raised, plus an entrance payment.
Unfortunately, the VA is no panacea. If you do better on a drug that is not on their shelf, you need to go out and buy it yourself. They do offer substitutes but those do not always work, so you are out of luck.
The VA protocol is to offer the least expensive drug available — and that is the way it should be and is why their plan is so successful — but for some of us elderly, this does not always work.
Another Look at Medicare Part D
So I am looking at Medicare Part D again, but a pig is a pig is a pig. No matter how the administration tries, it cannot spin this pig into something else.
Just wait until more and more seniors hit that doughnut hole and listen for the screams of protest.
I won't be the only one who "fell through the cracks."
Tom Wayne
---
Medicare Part D, Round 2: Watch Out!
First, the bad news.
Despite the head of Health and Human Services recently saying, "The Medicare prescription drug benefit … just keeps getting better," and that drug prices "came way down under the first year of Medicare's Part D drug-benefit plan," look for your premiums to increase and your coverage to shrink in 2007.
Yet the lies go on. Just this week White House counselor, Dan Bartlett, said of the new drug plan, "The marketplace is working, benefiting American seniors."
What colossal humbug! Benefiting the drug and insurance companies is more like it.
The average drug premium will increase by over 10 percent in 2007, with patient costs for the lowest-priced plans increasing 44 percent, ten times the rate of inflation. And while more insurance companies are offering gap coverage to fill the so-called "doughnut hole," nearly all is for generic drugs only.
Humana, probably the most popular plan covering the infamous $2,850 out-of-pocket donut hole, is raising its gap-coverage rates across the board – from an average of $57.82 per month to an average of $80.43 per month for 2007 – while eliminating all brand-name drug coverage. Generics only in 2007. Or nothing.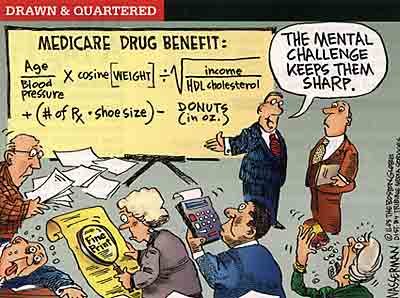 Talk about bait and switch!
So while our government dumps bull on us like a honey wagon ditching its load, Part D becomes increasingly costly. Your deductible is up in 2007, from $250 to $265. Your out-of-pocket limit is up from $3,600 to $3,850.
Of the six largest providers of Medicare drug Parts – United Healthcare, Humana, Wellpoint, Member Health, WellCare, and Coventry Health Care – five will increase premiums significantly in 2007. United Healthcare, in cahoots with AARP, will hike premiums by an average of 9.5 percent in 2007. Humana, which offered the lowest priced plans in many states in 2006, will increase premiums by an average of almost 50 percent in 2007.
Poor Humana must be hard up. The White House would have us believe that if Humana's prices are climbing, the company must be in dire straits. The shibboleth that the marketplace sets fair prices is why a Republican Congress prohibited Medicare from negotiating drug prices under Part D.
Yet in the third quarter of 2006, Humana's profits tripled. Net income soared to $159.2 million from $46.8 million during that period a year ago. Quarterly revenue rose 48 percent, to $5.65 billion, from $3.82 billion last year. All because of 3.4-million Medicare drug-plan members they didn't have a year ago.
Although you may be tempted to call Humana about this, save yourself the frustration. At least a dozen Suddenly Senior readers report Humana's contempt for inquiring customers.
Typical was Keith Tomes who wrote, "I tried for approximately two hours to reach someone at Humana who could explain the disparity of premium cost among the 49 states in which they offer their plans. After being transferred six times, I reached an agent who told me that Social Security set their premium rates. Then I called Social Security. Turned out the Humana agent had outright lied to me."
Medicare Advantage Worth a Look
For reasons I don't get, here's something else the insurance companies won't tell you: If you're in Part D right now, you might be far better off in a Medicare Advantage program. Yet, of the 22-million of us now in a drug plan, a Wall Street Journal poll found that only 12 percent were likely to switch plans in 2007.
Insurance companies are counting on this.
After all, who in her right mind wants to go through the hassle of finding yet another drug plan? You have to be a glutton for punishment to enter that rat's nest of 1,875 plans, most all changed or new for 2007, and most all different from county to county, state to state.
Who else but the insurance and drug industries could have written this Medicare Modernization Act with such a jungle of complexity?
Yet it may pay to grab your machete. Right now managed-care programs – the so-called Medicare Advantage Programs – are subsidized to the tune of about $10,000 a year per enrollee, far more than Medicare would pay if the enrollee remained in the traditional program.
You might want to take advantage of this for now.
Keep in mind the Bush administration's motive for passing the drug plan was to kill public-sector healthcare as we know it. Our government wants us to switch from Medicare to private insurance companies, essentially starving Medicare to death. What better way to get folks to switch than giving the private sector far more per patient than they get under Medicare?
Once the majority switches, the Feds cut subsidies, prices surge, and there is no place to retreat. Medicare is dead. That's what happened in the late '90s, except then we could return to the Medicare womb. This administration plans not to make that mistake again.
The good news? The Democrats promise to make Part D cheaper, better, and more understandable. We'll see.
They promise also to provide a freer pharmaceutical market by completely legalizing a citizen's right to buy more affordable drugs abroad.
Just last year a Congressional report concluded that drug prices offered by Part D were "over 60 percent higher than the prices available to consumers in Canada … almost 3 percent higher than the prices available at Costco."
That's an alternative to consider as you chop your way through the jungle of new plans with higher prices and fewer benefits at www.medicare.gov.
Next in the series: Tales from the front lines of our new privatized Medicare.

Senior Citizen Contest
Win Our $1k Grand Prize
Weekly prizes awarded
About
This top-ranked site now has over 4,000 pages of humor, nostalgia, senior advocacy and useful information for seniors 50+. Updates weekly!
The daily e-zine for everyone over 50 who feels way too young to be old.
"...the perfect mix of Andy Rooney, Dave Barry, and Garrison Keilor, combining knee-slapping humor with useful information and genuine compassion."
Retired.com
"Thousands look to and trust Suddenly Senior. Other Websites pale in comparison to the real-life, intimate look into senior lives. What sets apart Suddenly Senior is its blistering honesty and its incomparable encouragement. Millions need guidance."
Suzette Martinez Standring
"Best Senior Site ever on the Web! Great, up-to-date information on how seniors can save money on drugs. Wonderful nostalgia. Hard-hitting senior advocacy pieces that get read in high places. Wonderful humor. It's all at Suddenly Senior."
Alexa.com
KUDOS
Now read by 3.1 million in 83 newspapers from Florida's St. Petersburg Times to the Mumbai, India News.