Travel
Kenya Safari: I Dreamed of Africa for 60 Years
When I was four, the head reference librarian of the Chicago Public Library – who just happened to be my dear Uncle Herb – gave me a book featuring fascinating photos of the Maasai and Samburu people of Kenya.
"Look Carolyn!" he said. "Someday you'll go to Africa. And these people will be there to greet you."
I wanted to leave immediately, but gently he explained that Africa was a long way away and I was, after all, just four. "Dream of Africa, and one day you will meet these fascinating new friends."
I dreamed for over a half a century. And when the time came, it took two full days to get there. It was "a long way away."Out of Nairobi, flying low over the Great Rift Valley, we saw proof that this part of Africa is slowly breaking away from the rest of the continent, and one day will be a separate entity, even further from North America.
Smiling red-clad warriors, stepping from a page in that long-ago library book, greeted us, whisking us off to Samburu Intrepids. We lived in tents, comfortable tents complete with bathroom and four-poster beds with mosquito netting. (Warning: Keep tents zipped, as the monkeys will take anything not locked up and nailed down!)
Our days began way before dawn, with coffee and cookies delivered by one of the dedicated staff. Then we were off into the Samburu National Park to see the wildlife.
There, we became one with the animals, finding ourselves in the center of an elephant herd, hearing the alpha male's warning trumpet and looking at his flared ears, we discretely moved a bit down the road. After all, we were in his world now.
Tall, stately giraffes – "Twiga" in Swahili – posed dramatically for our lens, knowing well that by crossing their necks, we'd have award-winning photos by which to remember them.
Lions mated, then mated again a few feet from our Land Rover.
Tiny dikdiks, Thompson's gazelles, and baboons watched the Samburu people bring their herds to the river to drink at dawn, while lions crouched in the brush, waiting for a herdsman to become careless.
We were suddenly players in an elaborate Discovery Channel presentation. And yes, the animals were fantastic. I'll never tire of them. I want to see more.
But the greatest memories are of the gracious and delightful people we met.
Dominion Over the Cattle of the Earth
The economy of the Samburu – and Maasai people to the southwest – centers on cattle. Indeed, they believe that Enki (God) gave them dominion over the world's cattle and that a man's wealth increases as his herds grow. Men may have as many wives as they can afford.
The main diet consists of cow's blood mixed with milk. Everyone in the village – from the small children to the elders – drink this combination. Meat is eaten only for special ceremonies. (Vegetable consumption is hit and miss – mostly miss – depending on location and weather. Yet the average life span of these people is about 60, and it was that a century ago when ours was but 47.)
We visited a Samburu school. Only a very few of the children are able to get an education. Run by the Catholic Church, part of the curriculum is religion, and many of the teachings are in direct contrast to the Samburu's eons-old traditions.
I found it disturbing that missionaries are doing their utmost to replace the gods of these people with their own beliefs. Can it be many generations more before all traditions are lost?
The children at the school proved to be just like kids anywhere: Grinning, posing, so proud of their accomplishments. We were surprised to find that the students wrote and read English very well. They sang and performed for us, and we were completely charmed.
At the nearby village, women build the houses out of cow dung and mud over a framework of sticks. Result: The huts are only as tall as the women. You must duck to enter. There are two rooms, one for the family, one for the young livestock at night.
I was amazed at the comfort and protection these primitive dwellings offer. And in case you are wondering, there is no smell, as the dung hardens until it is like concrete.
There is no way to describe in words the colorfully clad women who danced, sang, and welcomed us. We danced too. After all, we now were Samburu!
An elderly woman came to me, removed her beautifully made earrings, and handing them to me said, "Bibi." Yes, I'm a bibi, a grandmother, and I'm wearing them now as I relive these thoughts.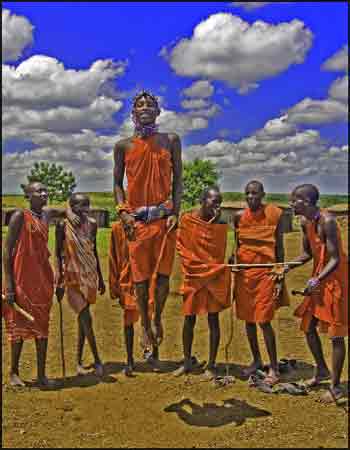 The warriors danced and jumped for us. Straight up in the air, three feet or more. Another ancient custom.
I now have several beautiful wedding necklaces and, between the Samburu and Maasai villages I visited, enough handmade bracelets to cover both arms.
Dinner the final night at Samburu was served under the stars. We were on the equator here, and each star seemed magnified. No wonder the ancient peoples saw animals and entities in the sky. I'll never look at the sky again without remembering Africa.
Nasipi Is My Name
The following day, we flew to the Maasai Mara. While Samburu is covered with scrub brush, the Mara is flat savannah.
In the evening, we were able to talk with the employees, who are either Maasai or Samburu, and learn even more of their traditions. They are truly people of the planet and their love for it runs deep.
A nearby Maasai village greeted us with dance and song while the warriors jumped to impossible heights. I have never met a friendlier more loving people.
And although I am now an honorary Maasai woman – my Maasai name is Nasipi, which means joy – I was told gently that I should practice my jumping if I really wanted to be a warrior.
We dined our final night under those same impossible skies, danced, sang, and jumped to the delight of our dear warrior friends. How sad it was to leave them.
After all these years, the dream had unfolded. When I told Kenyans that I had dreamed all this time of them, they were delighted and said, "Now dream so that you can come back to your Kenyan family." I'm doing just that as I relive these precious memories.
I dream of Africa.
Our Sponsors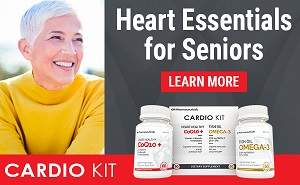 Cardiologist Developed and Recommended
---
Your ad could be here.
About
This top-ranked site now has over 4,000 pages of humor, nostalgia, senior advocacy and useful information for seniors 50+. Updates weekly!
The daily e-zine for everyone over 50 who feels way too young to be old.
"...the perfect mix of Andy Rooney, Dave Barry, and Garrison Keilor, combining knee-slapping humor with useful information and genuine compassion."
Retired.com
"Thousands look to and trust Suddenly Senior. Other Websites pale in comparison to the real-life, intimate look into senior lives. What sets apart Suddenly Senior is its blistering honesty and its incomparable encouragement. Millions need guidance."
Suzette Martinez Standring
"Best Senior Site ever on the Web! Great, up-to-date information on how seniors can save money on drugs. Wonderful nostalgia. Hard-hitting senior advocacy pieces that get read in high places. Wonderful humor. It's all at Suddenly Senior."
Alexa.com
KUDOS
Now read by 3.1 million in 83 newspapers from Florida's St. Petersburg Times to the Mumbai, India News.