Travel
Kangaroo Island, Australia (Seadragons, Rock Docks, and Nature)
En route to the sea dragon's den I get sidetracked: A rare Australia sea lioness cozies up to my facemask. She's more than twice my weight. If she chooses to use those razor-sharp teeth, my nose would be barely more than a snack. Lying belly up on the floor of an Indian Ocean cove with this full-figured girl hovering inches above me; it's easy to get nervous. Instead, I get lost in her saucer-sized eyes and reflect upon how I got here; how everything on, and under, Kangaroo Island, South Australia is just a bit different from the norm.
Let's start with the marina. No buoys, no slips, no dock master. In fact, there is no marina at all. At Western River Cove on the northern edge of Kangaroo Island, only a field of ragged, low-lying rocks jut into the air-clear water. It's where white sand and blue sky embrace a chilly, 56-degree sea.
Captain Jim Thiselton
Jim Thiselton maneuvers his metal dingy amidst the slippery slate and drying seaweed strewn across the boulders and mini-crevasses. It's as if he's done it before; probably a thousand times. This is where Kangaroo Island Dive Safaris start. I already had to haul my scuba gear a half-mile along a sandy riverbank to meet him.
Now, all I have to do is judge the sea surge correctly. Then I jump to the dingy with the lithe and balance of Neuryev. All the while, I must trust a man I've never before met who is barefooted. He's wearing shorts and a wool coat. He topped it off by a baseball cap with dangling safari flaps that blow in the wind like Dumbo's ears.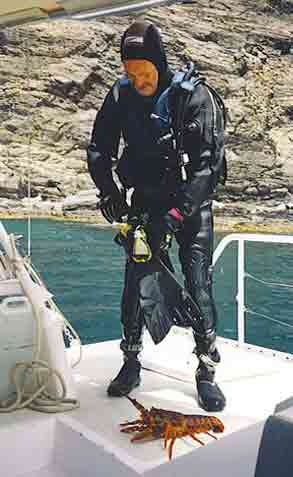 Thiselton's rock dock is not your basic marina: His catamaran is anchored offshore. In these parts, a diver really has to want to get down under, down under. True, hundreds of thousands of divers do so on the Great Barrier Reef. It stretches 2000 miles south from the northeast of Australia's state of Queensland. Only a fraction of those scuba divers ever find Kangaroo Island (KI) just south of the state of South Australia. It's where reversals naturally play tricks with a Yankee mindset. The farther south you go, the colder the climate gets. This is where January and February are the warmest months. It's where school kids are on summer vacation for the Christmas Holidays.
Kangaroo Island Wildlife Animals
Kangaroo Island is the Island Continent's third-largest island. Much of its 92-by-32 miles is unexplored scrub, mallee-cum-national parks, and preserves. Fairly accessible and housed amidst the mallee (a bush term for eucalyptus forest) are some of the world's most rare and unusual animals: echidnas and platypuses, koalas, and wallabies. Even Kangaroo Island's namesake is a marvel of nature. Without local knowledge, it's hard to tell a wallaby from a kangaroo.
Size is the key:
The Outback's red 'roos are largest, followed by smaller gray kangaroos, then Euros then wallabies. Wallabies are just a tad smaller than Kangaroo Island kangaroos. All five are different species. All are capable of suspending the growth of embryos for up to twelve months if the water's as scarce as it has been for the past several years. This little trick of nature has helped turn Australia's 60 million kangaroos into the largest population of wild mammals on earth.

Nature, raw and rugged is the attraction to Kangaroo Island, where only 5000 people live and where only 150,000 people visit annually. At Seal Bay, there are more sea lions than human beings lying on the beach. At Hanson Bay beach nothing, not even litter, mars the landscape. More than a third of the island has been designated as some type of preserve. Some parts of western Kangaroo Island are uncharted valleys and virgin scrub. Flinders Chase National Park occupies much of this region. Here, at the ocean's edge, wind and water become one as huge waves crash ashore massive boulders and reduce themselves to particles of spray that mist the bodies of breeding New Zealand fur seals and Australia sea lions.
Kangaroo Island Diving
Clearly, on Kangaroo Island there is life after diving. But because life begins underwater for divers, the rich endowment of unique species down under Kangaroo Island is the lure. Jim Thiselton and Karen Gowslett-Holmes, a marine biologist expert in chitons, have found and identified at least 75 hitherto unknown marine species in the waters off Western River Cove.
"So what's the order of the deye?" asks Thiselton with a voice of quiet authority, his native accent as clear as his command of the sea. "Who wants to see what? Shipwrecks? At least 50 surround the island. Sharks? Well, we won't go there," he chuckles.
Wind Cheetah
Wind Cheetah, Thiselton's 50-foot catamaran is sailing smoothly on a westerly track. The rocky shoreline from which he just picked up me and three other divers gives way to sparsely covered rolling hills with 100-foot cliffs that drop straight into the cobalt, Indian Ocean.
"Sea lions-I want to dive with New Zealand fur seals and Australia sea lions," volunteers Ida Fellegitra, a Ph.D. candidate in marine biology from the University of Queensland. This is her first dive away from the tropical waters of the Great Barrier Reef. Marc Warren, Kangaroo Island's tourism marketing director, and George, a young Australian on walkabout, nod approval. Although I'm specifically here to add the leafy seadragon to my life's list of encounters with strange and unusual creatures, a whirl underwater with marine mammals is fine with me.
"Then it's the Arches," proclaims Captain Thiselton, who leans back in his driver's seat with a cup of hot tea. He curls his toes around the ship's wheel for proper Aussie steering. "This is a dive site unrelated to the famous 'Arches' in Flinders National Park, where you can watch seals and sea lions in the rocky surf. The arches we're going to are all the more spectacular because they're underwater, and if you want to get up close and personal with the animals there, you'll need to know a little trick."
First-and-everything-mate
We four gather around the seasoned captain and divemaster for a lesson in marine mammal behavior as "First-and-everything-mate". James Marshall goes about the business of scuba diving; he fills air tanks, sets them up with BCs, checks all the gear. Within 20 minutes we're suiting up in front of dozens of seals and sea lions that lay randomly on the rocky, arched cliffs barely 50-feet from where the big cat is anchored and lolling in a protective cove.
The 30-foot plunge into the bay is breathtaking. Beautiful, yes, in that the visibility is akin to a swimming pool. The submerged arches are exotic enough to house mermaids. But the instant freeze also takes my breath away, literally. There's never enough sunshine or wet suits to prep this diver for the sensual shock of 56-degree water.
Australian Sea Lioness
Within minutes of adjusting to the ice cube creep that squeezes beneath my three layers of neoprene, a rare Australia sea lioness flashes onto the underwater scene of deep green seaweed decorated with varying species of purple, red and orange sea stars. Just her elegant flutterbys would have made my day. When I roll over on my back to show my belly the way Thiselton advised us to do, this fabulous, blond bombshell cozies up to my facemask. Remarkably, I see my own reflection in her eyes and flashback to events that brought me here.
On any other day, the six or so fur seals that patrol the periphery might have been the stars. We barely notice them: For the next 30 minutes, the sea lioness flirts profusely with those black, saucer-sized eyes. More remarkably, she is not hand-fed the way dolphins are at some dive sites in the Caribbean; she floats like a wild and free butterfly. If she wants to, I'm certain she can sting with the pointy teeth she never shows off to any of us. Anything but menacing, the sea lioness is playful and seems intensely curious about the not-so-graceful divers hanging down-side-up in her domain.
Butterfly
"She was naturally attracted to my cushy middle," admits Marc Warren. By now, we're all topside, abuzz with individual encounters with "Butterfly", a name we all agree suites her blondish fur, patterned irregularly with light brown dots. In spite of our numb fingers and toes, Butterfly is a real icebreaker. We chat like we've known each other for years, unleashing the camaraderie always developed – if for only a day – among divers.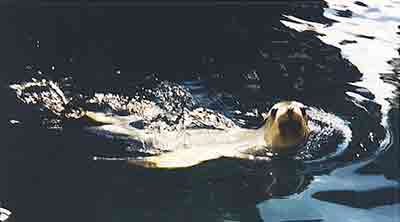 "I've dived in the proximity of sea lions and seals before, but I didn't know the belly trick. The sign of submissive behavior makes a lot of sense," laughs Ida Fellegitra. "Never have I been that close. That was awesome."
Leafy Seadragons
The next day, the camaraderie is immediately renewed with Mark and Susan Frankel; a couple from New York City who is honeymooning in Australia. Already, they had spent two weeks diving on the Great Barrier Reef. Jim Thiselton's reputation among dive masters and dive shops throughout Australia has brought them to Kangaroo Island. The Frankels, too, are on a mission to ogle leafy seadragons.
"Then today it's Pissy Boy Rock," says Thistleton, whose wool coat and flapping Safari hat is as much uniform here as swimming suits are in the tropics. He offers no secret trick about how to dive with leafy or weedy seadragons. Instead, he flips on a video documentary taken by a Japanese film crew that previously dived with him. In the visual briefing, some of the spiraling seaweed that cloaks the ocean floor transforms into an S shape. It has multi-seaweed-like fins along the curvature of its spine, each fin buzzing faster than the other.
Mottled green seadragons are so well camouflaged they are almost apparitions. More spirits of seaweeds moved into action than some distant relative of Syngnathidae, the much smaller sea horses I've met in the Caribbean. Although their name sounds ferocious, seadragons are as docile as "Puff the Magic Dragon". Leafies, and their more common counterpart, weedies, are found on this northern shore of Kangaroo Island. It's where the Leuwin Current and the Eastern Australian Current perpetually meet in a deep, cold water transfer of rich nutrients from the South Pacific and Indian Oceans.
Brachiopods
Before I suit up, I fumble with brachiopods lying helter-skelter next to the TV shelf. When alive, these snails, better known as lampshells, are the oldest living fossil on earth. Thiselton says they are very rare and coveted by shell collectors. Five species of brachiopods, plus dozens of newly found species of chitons, hydroids, and bryozoans, which he and Gowlett-Holmes have recently identified, live randomly among these seaweed beds.
If any brachiopods are lying in the sway of thick seaweed, where ornate cowfish and blue-lined leather jackets flit in and out, I miss them. I darn near miss the seadragons. Thiselton, who wisely wears a dry suit over his uniform, has to hold my arm and point directly in front of me to force my vision to register. There, just an arm's length away, a two-foot-high leafy materializes. It came from the seaweed the way a piece of Op art plays games with your eyes; in one blink an old hag is visible, then in the next, a beautiful woman.
Although Thiselton never promises nose-to-nose contact with sea lions. From the outset, he swears that if a diver gives him two days, he'll find a leafy seadragon. Trust him. On this second day of diving, he not only offers up three leafies, but there are also a dozen weedies. Pissy Boy Rock (you'll have to ask Jim) seems more like a seahorse corral than a dragon's den.
Kangaroo Island Travel Tips:
Emu Air from Adelaide, South Australia to Kangaroo Island: the 15-minute flight costs $75 one-way (618 8234 3711). Or for $20 one-way, take the hour-long ferryboat ride from Adelaide.
Kangaroo Island Dive Safaris' two-tank dive costs $150 per person (618 8559 3225) Lunch is included, sometimes fresh snapper grilled right on Wind Cheetah. There are several B&Bs at this remote end of Kangaroo Island, but I like Kangaroo Island Wilderness Resort, which has a restaurant on-premises. It costs $135 per night and includes breakfast. Each day, Jim or Josie Thiselton will arrange transportation to and from their Rock Dock.
---
Barbara Bowers is a freelance writer and photojournalist. Read about her trip to the Nation Wine Centre of Australia.
Our Sponsors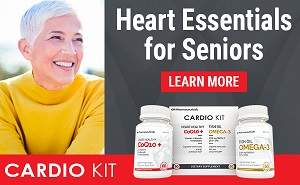 Cardiologist Developed and Recommended
---
Your ad could be here.
About
This top-ranked site now has over 4,000 pages of humor, nostalgia, senior advocacy and useful information for seniors 50+. Updates weekly!
The daily e-zine for everyone over 50 who feels way too young to be old.
"...the perfect mix of Andy Rooney, Dave Barry, and Garrison Keilor, combining knee-slapping humor with useful information and genuine compassion."
Retired.com
"Thousands look to and trust Suddenly Senior. Other Websites pale in comparison to the real-life, intimate look into senior lives. What sets apart Suddenly Senior is its blistering honesty and its incomparable encouragement. Millions need guidance."
Suzette Martinez Standring
"Best Senior Site ever on the Web! Great, up-to-date information on how seniors can save money on drugs. Wonderful nostalgia. Hard-hitting senior advocacy pieces that get read in high places. Wonderful humor. It's all at Suddenly Senior."
Alexa.com
KUDOS
Now read by 3.1 million in 83 newspapers from Florida's St. Petersburg Times to the Mumbai, India News.