Carolyn Beats The Reaper. Again?
Almost two months ago, I received a phone call from Frank, telling me that Carolyn was en-route to the hospital again, near death. He requested that I send out an email blast to our many thousands of readers, asking for your prayers. A flood of responses from all over the world ensued. Since then I've received many emails asking for an update on Carolyn's health. Well, it's good news. Very good news. I'll let Frank take it from here. [Ed]
Frank and Carolyn Kaiser have been to hell and back this last year, healthwise. But you can't keep a good man – or woman – down, as they say. They're very much alive and kicking – just kicking a little more slowly and carefully. [Ed]
Let's start with the good news: Both Carolyn's and my cancers are now in remission! There is no bad news.
For me, what began last October when doctors discovered a rare and deadly form of small-cell bladder cancer with a zero percent chance of remission — they gave me "perhaps a year" to live — ended this week "cancer-free."
WHERE 15 MINUTES used to be more than adequate, now we make love for an hour or more. And get this: Neither of us has ever been more climactic. Here's yet another reason to welcome aging.
"I don't remember exactly when this first occurred to me, but I knew I was going to die. And soon." Kaiser gets Stage IV cancer and lives to laugh about it.
We've had a harrowing time and now need a break after nine years and 4,550 pages at Suddenly Senior. Learn what happened.
She's been to hell and back. Here's what it's like to be a cancer survivor for a year.
Sponsored Links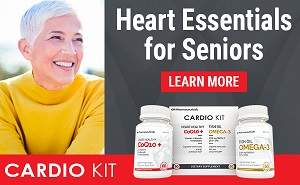 Cardiologist Developed and Recommended
---
Your link could be here.
About
This top-ranked site now has over 4,000 pages of humor, nostalgia, senior advocacy and useful information for seniors 50+. Updates weekly!
The daily e-zine for everyone over 50 who feels way too young to be old.
"...the perfect mix of Andy Rooney, Dave Barry, and Garrison Keilor, combining knee-slapping humor with useful information and genuine compassion."
Retired.com
"Thousands look to and trust Suddenly Senior. Other Websites pale in comparison to the real-life, intimate look into senior lives. What sets apart Suddenly Senior is its blistering honesty and its incomparable encouragement. Millions need guidance."
Suzette Martinez Standring
"Best Senior Site ever on the Web! Great, up-to-date information on how seniors can save money on drugs. Wonderful nostalgia. Hard-hitting senior advocacy pieces that get read in high places. Wonderful humor. It's all at Suddenly Senior."
Alexa.com
KUDOS
Now read by 3.1 million in 83 newspapers from Florida's St. Petersburg Times to the Mumbai, India News.