Not long ago I got one of those "Send to everyone on your email list" messages that predicted that those of us in the fourth quarter of our first century were being handed a "death sentence" under the provisions of The Patient Protection and Affordable Care Act more commonly called Obamacare.
Hospital Ethics Panel
The prediction was based on what was reportedly an interview with a doctor in a respectable hospital in Tennessee. In the interview, the doctor allegedly said that those of us 75 or over were slowly being transitioned from the healthcare we have become accustomed to under Medicare and our lives were being handed over to some hospital "Ethics Panel" that will determine our future fate.
While I have a tendency to pooh-pooh many of these threat-filled emails, this one definitely got my attention. Luckily I have an old spook buddy and top investigator who is familiar with the part of Tennessee from which this report originated. Plus, I've got one of the best investigative reporters I have ever known on my personal email list.
So, I sent it along to them with an "Any truth?" note.
Medicare Reduced Coverage for Seniors
Surprisingly my Tennessee friend reported back that there seemed to be a slowing down of the approval of some expensive critical medical options normally available to the elderly in the area of Tennessee from which the report originated. And my old investigative reporter friend reported that there was a pulling back of more expensive treatment programs both in the Southwest where she is currently living and in the New York area where she worked for years for a major publishing firm.
My interest was piqued for sure following these confirmations of what was alleged in the original report.
In the Tennessee doctor's interview, it was alleged that in addition to the discontinuance of dialysis treatments to seniors over 75, it was reported that no one over 75 would be given major medical procedures through Medicare without selective approval beginning in 2013. When there are emergencies that must be resolved within minutes or just a few hours the likelihood of securing the approval of these deliberative panels in time to save a life would be difficult. These new rules supposedly apply to major operations such as receiving stents, bypass surgery, kidney operations, or treating for an aneurysm that would be normally covered under Medicare today.
In other words, (according to this "report") if you needed a life-saving operation, Medicare would not provide coverage anymore after 2013 if you are 75 or over.
That's a bitter pill to swallow, so I decided not to swallow it. Instead, I chewed on it for a few days. I continued to research it, eventually turning up an urban legend reference to it that pointed out, that although the doctor interviewed in the original report did exist, a writer who had his own agenda to promote used the conversation with the doctor out of context.
Medicare Not Euthanasia for Seniors
As far as I can tell Obamacare, even though it is opposed in many quarters, does not contain a death sentence for elderly seniors. Maybe a few more hoops to jump through to obtain necessary treatment under Medicare, but certainly no euthanasia provisions for geezers.
The whole plan, all 2,200 pages of it, which only a handful of people have ever read in its entirety, is now before the U.S. Supreme Court that has been asked to rule on the constitutionality of it. We should expect a ruling in the next few weeks. Just what that ruling will be – whether the Supreme Court will reject the whole plan, a portion of it, or let it stand as passed by Congress and signed into law by President Obama remains to be seen.
To be sure, any dozen words in those 2,200 pages can be extracted and twisted and turned to say almost anything one wants. The crux of the issue is determining the true and legal meaning of the legislation. Hopefully, the Supreme Court will help us understand it all.
While it is not yet in effect, those of us who have paid for our Medicare coverage since its inception are now paying for The Patient Protection and Affordable Care Act through increased Medicare premium payments deducted from our monthly Social Security checks for which most of us also have paid into for many, many years. And, those payments will continue to increase until they more than double by 2014. (See Medicare Advantage Program: Advantage to Whom? Not Senior Citizens)
Truth About Medicare
If rejected as unconstitutional by the Supreme Court, an interesting question is whether or not our increased Medicare payments over the last two years will be refunded. My guess is our benevolent government will keep what it has already gotten its hands on and sweep any protest under the carpet.
Nonetheless, this threatening of a death sentence for seniors is nothing more than the bitterness over many issues that have been introduced into this year of raging political rhetoric – much of it balderdash about nothing!
It's more like a "deaf" sentence than a "death" sentence. It's part of the growing babble of political chatter that is rapidly becoming white noise in the background due to lack of credibility.
This particular item has certainly taught me to take all of these far-flung accusations and threats with a grain of salt. Why do politicians and their supporters continue to play so loosely with the 40-million strong of us over the age of 65? Are they trying to bring down a political "death sentence" upon themselves?
If there are political advisors and campaign manipulators out there who think those of us enjoying our senior years are gullible enough to bite on this balderdash I caution them: Untruths will only serve to drive those of us of retirement age away from supporting for your programs!
Our Sponsors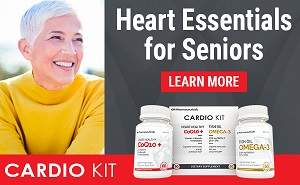 Cardiologist Developed and Recommended
---
Your ad could be here.
About
This top-ranked site now has over 4,000 pages of humor, nostalgia, senior advocacy and useful information for seniors 50+. Updates weekly!
The daily e-zine for everyone over 50 who feels way too young to be old.
"...the perfect mix of Andy Rooney, Dave Barry, and Garrison Keilor, combining knee-slapping humor with useful information and genuine compassion."
Retired.com
"Thousands look to and trust Suddenly Senior. Other Websites pale in comparison to the real-life, intimate look into senior lives. What sets apart Suddenly Senior is its blistering honesty and its incomparable encouragement. Millions need guidance."
Suzette Martinez Standring
"Best Senior Site ever on the Web! Great, up-to-date information on how seniors can save money on drugs. Wonderful nostalgia. Hard-hitting senior advocacy pieces that get read in high places. Wonderful humor. It's all at Suddenly Senior."
Alexa.com
KUDOS
Now read by 3.1 million in 83 newspapers from Florida's St. Petersburg Times to the Mumbai, India News.