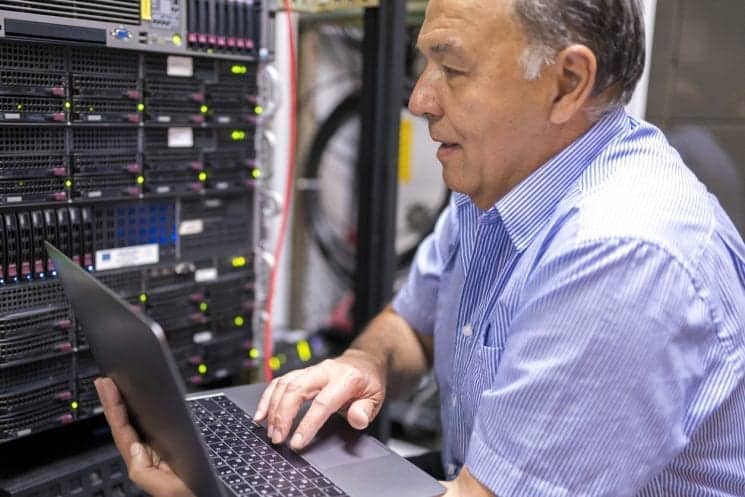 I have to chuckle every time I hear some government official or agency has discovered a foreign mole; someone who has come along for the ride with the sole purpose of gathering intelligence for another country. It makes you ponder how easily information security can be breached.
It's not like this has not been going on for eons. Governments spy on other countries and even on their own citizens with impunity. Given the technological advances we enjoy today there is not much they do not know about you.
Army Security Agency
Even when I served with the US Army Security Agency at the beginning of the Cold War; when the National Security Agency was in its infancy and we were its cheap labor. There wasn't much that went on around us that we didn't know.
We only had wiretaps, the ability to copy radio signals in the air, and a bunch of brainy people that could put all the data gathered into some meaningful information.
The Army Security Agency was a descendant of the old Signal Intelligence Service of World War II. It was the precursor of the NSA that we used to refer to as "No Such Service" in its early days because it was wrapped in secrecy and hidden from public view.
But there was little doubt in what we were doing. Our unofficial motto was "In God We Trust, All Others We Monitor!" And we did but we were not the only ones. Other nations monitored us in much depth. We were copied by the Russians and Chinese particularly because they were our primary Cold War enemies.
And they were good at what they did. They had a dossier on every one of us they could identify. We used to gather in the old Germania Bier Stube in Roppongi near Embassy Row in Tokyo. We'd grab a few beers and enjoy pointing fingers at our counterparts from other counties. We would each sit in our own group around the bar, enjoy some of the best split pea soup you will ever have, and smile at each other. There was little or no conversation among the various groups. We all pretty well knew what the others were up to in their intelligence gathering efforts.
Technology Advances
Then came the amazing advances in technology that today allow us to connect to almost anyone anywhere. All it takes is a tap or two on our smartphones or personal computer keyboards, which comes at a tremendous cost in personal information security.
"They" know about every one of us. It's called hacking and it is an art that has grown in immensity over the last three or four decades. It is not limited to our words, it captures our photos and documents as well.
You can't hide anymore. Thirty-five years ago I stood in the Metropolitan Police Headquarters in Tokyo, Japan. I watched them track a man across a large portion of that giant city with cameras mounted in strategic positions. It was supposedly used to enable them to better control vehicular traffic. Today we've added facial recognition and higher definition to our capabilities. They can pick you out of a crowd or, in some cases, off your computer or cell phone through the cameras on them – all without you knowing it.
The Internet & Information Security
So much of our personal information, it's been hacked and is for sale to the highest bidder. Almost nothing we have punched through our keyboards remains secure. The only defense one has is to frequently change passwords. Those generally remain secure for only limited amounts of time.
One of the latest scams circulating on the Internet is one that involves sending an email to a person offering to destroy – for few thousand dollars – the personal files the sender has hacked from their target's private computer. To make it effective, they usually tell the targeted person that they have copies of all the porn files the target has ever viewed. If the target doesn't pay the ransom they will send that information to everyone on the target's email list. Apparently, the scam has worked a few times because it has been reported publicly.
There is little or nothing we have put through our keyboards that today cannot be recovered and used against us. Reviewing our public files is one of the first things Human Resource departments do in reviewing employment applications.
Our only real defense is to simply keep it clean. If it's too late for that, you might consider destroying your computer and hard drive and starting over again. Politicians seem to be particularly good at that!
Senior Citizen Contest
Win Our $1k Grand Prize
Weekly prizes awarded
About
This top-ranked site now has over 4,000 pages of humor, nostalgia, senior advocacy and useful information for seniors 50+. Updates weekly!
The daily e-zine for everyone over 50 who feels way too young to be old.
"...the perfect mix of Andy Rooney, Dave Barry, and Garrison Keilor, combining knee-slapping humor with useful information and genuine compassion."
Retired.com
"Thousands look to and trust Suddenly Senior. Other Websites pale in comparison to the real-life, intimate look into senior lives. What sets apart Suddenly Senior is its blistering honesty and its incomparable encouragement. Millions need guidance."
Suzette Martinez Standring
"Best Senior Site ever on the Web! Great, up-to-date information on how seniors can save money on drugs. Wonderful nostalgia. Hard-hitting senior advocacy pieces that get read in high places. Wonderful humor. It's all at Suddenly Senior."
Alexa.com
KUDOS
Now read by 3.1 million in 83 newspapers from Florida's St. Petersburg Times to the Mumbai, India News.