ENOUGH ALREADY shouted the headline in this morning's St. Petersburg Times.
Hurricane Jeanne, which pummeled us yesterday, is our fourth major weather barrage in just six weeks. So far, Hurricanes Charley, Frances, Ivan and Jeanne have killed more than 90 people here in Florida. More than one in every five Florida homes has been damaged.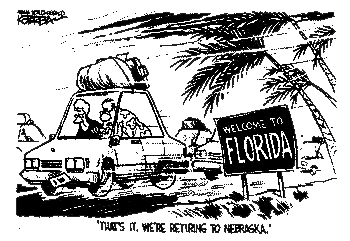 Well, I don't care what they say: This hurricane wasn't my doing. Not one little blow of it.
Yeah, yeah. Suddenly Senior readers warned me: One more disparaging word about President Bush and God would get me.
Hey, I can take a hint! I wasn't about to take any chances.
But on September 3rd, while I was out of town – out of the country for crying out loud – my assistant inadvertently sent out a column I wrote way back in 2001 about…
Perhaps you remember it; I used the word Bushwhacking more than once.
Sure, it looks suspicious. After all, it's common knowledge that I caused Hurricane Andrew in Miami 12 years ago.
I deeply regret that. Such guilt is a terrible thing to live with, I assure you.
Truth be told, I didn't even know about guilt until I was over 40.
Having recently adopted my youngest son who, at age 10, was rapidly morphing into another Eddie Haskell, I turned to my Uncle Herb for guidance.
"From where I sit, you don't seem to deserve the trouble Jimmy's giving you," opined my wise Uncle. "What could you have done to merit this?"
His words hit me like the entire Old Testament landing smack on my head. Herb was saying that Jimmy's acting out was my fault. Herb was telling me that God was getting back at me!
I Caused Hurricane Andrew. So Sue Me!
I've since learned that lots of folks think that way. The poor are poor through their own doing. The sick and feeble have no one but themselves to blame.
Who knew?
Is this what original sin is all about? Was my karma causing my son to become Dennis-the Menace meets Godzilla?
Could I ever forgive myself?
And so at age 44 all my sins caught up with me. Guilt entered my soul and found it the most fertile of ground.
When, in 1992, Andrew hit Miami like a bomb, I was so accepting of the idea that the fates were tormenting me that I readily admitted to everyone who'd listen that the hurricane was entirely my fault.
And I was ready and willing to take my punishment, I truly was.
Had I not invoked the heavens to send that monster our way? Living in Miami at the time, I'd never experienced a good, old-fashioned Storm of the Century and had cried out "Bring it on!"
Well, you know what happened next.
I thought of the kid who, in 1964, hit a telephone pole in upstate New York "causing" the first Great Blackout of Northeastern US. I blamed myself and could not have regretted my actions more. But it was too late. Dozens died because of Andrew. Billions of dollars were lost. We were all without electricity,
As I am today. But I'll be darned if I'll take the rap for Jeanne. Hey, I was in Hong Kong when she formed.
Still…
I voted for Nader in 2000. As my wife often reminds me, President Bush being in office today is all my fault, too. "So stop complaining!"
My soul is heavy.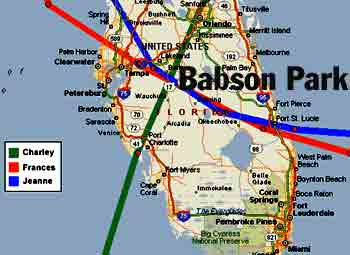 And if towns have souls, the little city of Babson Park, Florida, must feel the same way I feel. Three of our four hurricanes targeted poor little Babson Park like a Marine marksman.
Coincidence? I doubt it. I wonder what terrible sins must go on in that place?
And what Babson Parkers will do when they learn that I'm responsible for all their storm damage?
Our Sponsors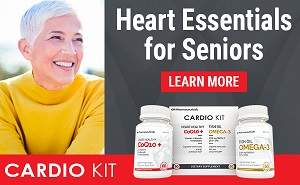 Cardiologist Developed and Recommended
---
Your ad could be here.
About
This top-ranked site now has over 4,000 pages of humor, nostalgia, senior advocacy and useful information for seniors 50+. Updates weekly!
The daily e-zine for everyone over 50 who feels way too young to be old.
"...the perfect mix of Andy Rooney, Dave Barry, and Garrison Keilor, combining knee-slapping humor with useful information and genuine compassion."
Retired.com
"Thousands look to and trust Suddenly Senior. Other Websites pale in comparison to the real-life, intimate look into senior lives. What sets apart Suddenly Senior is its blistering honesty and its incomparable encouragement. Millions need guidance."
Suzette Martinez Standring
"Best Senior Site ever on the Web! Great, up-to-date information on how seniors can save money on drugs. Wonderful nostalgia. Hard-hitting senior advocacy pieces that get read in high places. Wonderful humor. It's all at Suddenly Senior."
Alexa.com
KUDOS
Now read by 3.1 million in 83 newspapers from Florida's St. Petersburg Times to the Mumbai, India News.