Like many of us, I've been pondering how we geezers can further the war effort. We'd buy the new war bonds, but that's hardly enough.
Back in grade school, I remember buying a dime stamp every week which went into a book that, when filled, turned into a war bond. But that was WW II. A million years ago.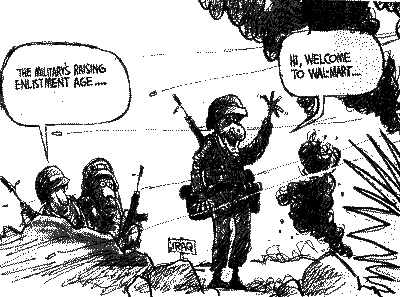 We saved things then, too. Like empty toothpaste tubes. Remember? In those days they were made of lead, and lead made bullets, so? As I recall, we saved just about everything for the war effort – old shoes, worn-out tires, tin cans, cooking fat, you name it.
I don't think that will happen today. We're pretty much a use-and-dispose society. Even with people.
I'd join the Army if they'd have me. Did it once before, and it didn't kill me.
In fact, using old guys instead of young guys at the front lines is an idea currently circulating on the Internet. Several Suddenly Senior readers – Penny McGee and Frank Keegan among them – put me on to the notion that the last thing the Taliban would expect coming at them is a few million geezers with attitude.
Here are just some of the ways we old duffers are said to be superior to the youngsters currently fighting.
Young guys think about sex every 12 seconds. Old guys think about sex every week or two, leaving lots of additional time to concentrate on the enemy.
If we old guys were captured, we couldn't divulge secrets because we'd probably forget where we put them. And we've got no hair to grab, no teeth to pull in torture.
Boot camp would actually be easier for old guys. We're used to getting yelled at, and we actually like bland food. It's easier to eat with dentures.
I can hear the Drill Sergeant now. "Hit the deck and give me – ah – one!"
US Secret Weapon: Post-Menopausal Women
But what about the ladies? Have they no part to play here? Readers Judy Vosburg and Barbara Carnegie sent me the following, also from an anonymous memo bouncing about the Internet.
"Draft American post-menopausal women. Outfit them with automatic weapons, grenades, gas masks, moisturizer, hormones, chocolate, and canned tuna. Then drop 'em across the landscape of Afghanistan, and look the hell out!"
Suddenly Trivia: By the end of WW II, how many women were serving in the Women's Army Corps (WAC) a) 50,286 b) 78,390 c) 99,288.

Here are six reasons we need these old girls:
Their anger quotient alone, even when doing standard stuff like grocery shopping, is formidable enough to make armed men in turbans tremble.
They'd like to get away from their husbands, if they haven't already.
They have nothing to lose! They've survived the water diet, the protein diet, the carbohydrate diet, and the grapefruit diet in gyms and saunas across America and never lost a pound. They can easily survive months in the hostile terrain of Afghanistan with no food at all.
Finding bin Laden in some cave should be no problem. These women have tracked down husbands and lovers in bars, hardware stores, even men's rooms.
Want to unite the warring tribes in a new government? Easy for these American grandmas. For years, they've planned seating arrangements for extended families at holiday dinners. They understand tribal warfare.
They've divorced enough husbands to know every trick for hiding money sources. They know where to find the dough and how to seize it … with or without the government's help!
Here's the best part. Since the Taliban hate women, imagine their terror as battalions of "mature," hot-flashing American dames attack. Right along side thousands of geezers armed with canes, walkers and bright yellow pants.
Almost makes you pity the enemy.
Suddenly Trivia: c) 99,288 women, of which 5,717 were officers. In May 2001, there were 59,650 women enlisted and 10,505 women officers serving in the US Army.

About
This top-ranked site now has over 4,000 pages of humor, nostalgia, senior advocacy and useful information for seniors 50+. Updates weekly!
The daily e-zine for everyone over 50 who feels way too young to be old.
"...the perfect mix of Andy Rooney, Dave Barry, and Garrison Keilor, combining knee-slapping humor with useful information and genuine compassion."
Retired.com
"Thousands look to and trust Suddenly Senior. Other Websites pale in comparison to the real-life, intimate look into senior lives. What sets apart Suddenly Senior is its blistering honesty and its incomparable encouragement. Millions need guidance."
Suzette Martinez Standring
"Best Senior Site ever on the Web! Great, up-to-date information on how seniors can save money on drugs. Wonderful nostalgia. Hard-hitting senior advocacy pieces that get read in high places. Wonderful humor. It's all at Suddenly Senior."
Alexa.com
KUDOS
Now read by 3.1 million in 83 newspapers from Florida's St. Petersburg Times to the Mumbai, India News.