Senior Stories
Hot Air Ballooning: I Wish I'd Been This Young When I Was 20
Last Saturday, as the spanking new sun sent long shadows across the empty field below, my wife and I drifted silently toward the ocean, 150 feet in the air, a multicolored cloud floating in a dream of toy cars and houses, wee joggers, and seven similar clouds, filled with color, enchantment, and grace.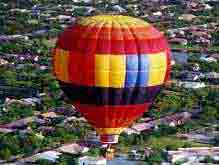 Carolyn looked at me, smiling. "Thank you!" she said across the silence. "It's so beautiful."
It was her 60th birthday present, this flight in a hot-air balloon.
You can't steer these things. And because we didn't know where we were going or when we would land, we were giddy with delight. I felt lighter and happier than I'd ever deemed possible back when I was an uptight, too-mature 20-year-old.
Old(er) age has its advantages. Not having to prove anything to anybody, you can be a kid again – fearless and joyful. In awe of the world.
With a six-story fountain of color rising above us, we were on an adventure – gentle, peaceful beyond belief, but an adventure nevertheless. Below, dogs barked. And as horses and cows watched curiously, our burner filled the huge balloon with the muscle to rise up and away.
"This is more fun than sex," Carolyn whispered to Barry, our pilot. "More frequent, too." Always the joker, that girl. I think.
Barry took us into and through tall treetops and dipped us to touch the still of a lake, reconnecting with reality only to break from gravity and float up again.
"A lot quieter than last year," Carolyn remarked.
Last year, for her birthday I bought helicopter lessons.
If you love the air and envy the birds their freedom, for just $49 you can get an hour or so lesson at an airport near you in darn near anything that flies: fixed wing, bi-wing, no wing, whatever floats your boat. (It was $35 when we started doing this. Even at $49, it's a great bargain.)
Last year it was helicopters. The instructor, like all we've encountered over many birthdays now, allowed us to fly pretty much on our own once we were up and going. Generally, they don't take back the controls until you're about to land.
Thank God!
A couple years back, Carolyn got me glider lessons for my birthday. (I'll bet you don't look forward to birthdays the way we do!)
It's called soaring, flying one of these sleek, motorless, extended-wing machines. Just like eagles, glider pilots catch thermal upwinds that often keep them in the air for hours. Some fly 1,000 miles or more over mountain ranges with nothing powering them but nature herself. My instructor let me dive, whistling toward earth, pulling up, and looping at the last moment.
Talk about thrilling! That dive alone was worth every cent of the $70 charged for the hour-long "soar."
Suddenly Trivia: What is the ratio of skydiving jumps to deaths, according to FAI/IPC: a) 1:10,555, b) 1:26,968 c) 1:65,513, d) 1:93,002
Folks ask us why we do such things.
I suppose part of it is that we don't want to become like so many old farts, sitting around, dead and not knowing it.
We believe that the happiest of people don't necessarily have the best of everything; they just make the most of everything that comes their way.
The happiest people we know are those who continually reinvent themselves.
After all, America is all about renewal. Fresh starts. Pilgrims. Independence. Westward exploration.
And retirement. What a perfect opportunity to do and be exactly what and who you want.
Who's to stop you?
If it's flying you want to do, go to http://www.beapilot.com/, print out your special $49 certificate, present it at your local airport's flying school and take to the sky.
I'll bet my patootie that by the time you land, you'll be 10 years younger and look happier than you did when you were 20.
Don't wait. "Some day" is today. Tomorrow you may be dead.
So might Carolyn and I. On our next birthday excursion to the sky, we're skydiving. Neither of us fears dying. At our age, boredom and stagnation are the killers that concern us most.
Suddenly Trivia Answer: c) 1:64,091. In a recent year, 29 died from skydiving accidents, over 140 died scuba diving, 856 bicycling, over 7,000 drowned, 1,154 died of bee stings, 80 by lightning, 43,990 were killed in highway accidents. There were 1,171 boating fatalities, 235 airline deaths, and 1,164 fatalities in light aircraft general aviation accidents.
About
This top-ranked site now has over 4,000 pages of humor, nostalgia, senior advocacy and useful information for seniors 50+. Updates weekly!
The daily e-zine for everyone over 50 who feels way too young to be old.
"...the perfect mix of Andy Rooney, Dave Barry, and Garrison Keilor, combining knee-slapping humor with useful information and genuine compassion."
Retired.com
"Thousands look to and trust Suddenly Senior. Other Websites pale in comparison to the real-life, intimate look into senior lives. What sets apart Suddenly Senior is its blistering honesty and its incomparable encouragement. Millions need guidance."
Suzette Martinez Standring
"Best Senior Site ever on the Web! Great, up-to-date information on how seniors can save money on drugs. Wonderful nostalgia. Hard-hitting senior advocacy pieces that get read in high places. Wonderful humor. It's all at Suddenly Senior."
Alexa.com
KUDOS
Now read by 3.1 million in 83 newspapers from Florida's St. Petersburg Times to the Mumbai, India News.