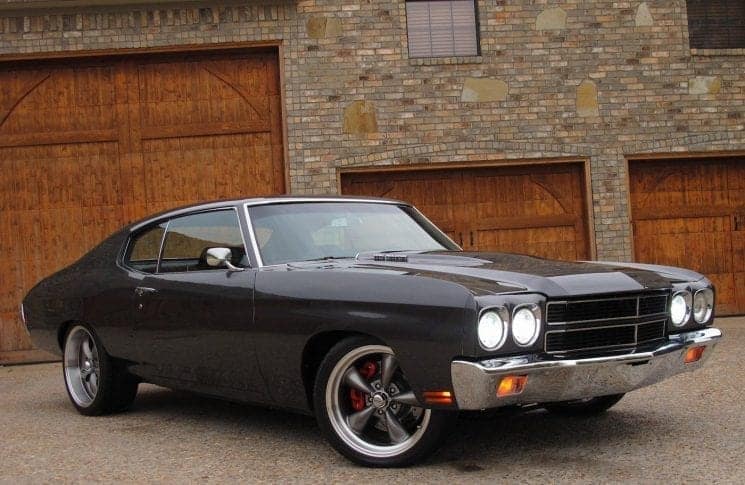 One day, when my husband was driving his car, a guy with a girl beside him, in a convertible, passed us. Harry told me, "You know when I was a teenager, I always wanted to pick up a babe in a convertible." Since I preferred cars with a top, I retorted, "You have your babe, so you don't need a convertible!"
When I was first dating Harry, he owned a '77 Chevrolet Chevelle. He repeatedly told me everything I didn't have to know about this car. "At 130,000 miles she's on her 4th set of tires, 8 tune-ups, original column, minor body work, and a paint job in '83." I'm the type of person who doesn't know or care to know if the car is a Cadillac or a Chevelle. Nor do I care what year it was born.
What I did know was that I was in competition with a car, not another woman, with his ongoing praises about his car.
I did have what he called the "honor" of being the first girl to drive this car, but I never liked a stick shift. I did enough of that in my young life and much preferred automatic. So, I was after him to get another car. He finally did, but I was truly surprised he didn't announce the Chevelle's demise in the local newspaper.
Senior Driving Aggravations
Although I couldn't wait to be 16 and drive, now that I'm a senior, I no longer care to drive. I hate the thruways where nobody coming down off the ramp yields for oncoming traffic. I don't like to pass trucks and miss my big green sign. Also, I don't like to be in the left lane and try to navigate from my outside right mirror. I just don't need that aggravation. I'm quite content to travel to local shops, eating places, and relatives.
For the past couple of years, if we go on vacation, my husband doesn't even ask me to drive anymore. But I do give him the privilege of having a day for golf, while I suffer walking the streets of a town with lots of gift shops.
Since we're seniors, every 3 years we take the AAA driver improvement program. So far, both of us have passed the course and received the status of mature operators. AAA also gives us a 93-page Pennsylvania Driver's Manual. I decided to browse through it one day. I skimmed a lot of "everything I didn't need to know" until I came upon a page titled "Signals, Signs, and Pavement Markings." Would you believe at least 50 some different road signs, but none with a picture of a toilet on it! When my body persists on annoying me, it sure would be great to have a toilet sign, to make a quick exit.
New Car, My Car
A couple of years ago, my husband persuaded me into buying a new car. He still loved his old Buick and felt we'd use my new car for traveling. I relented, giving my beloved PT Cruiser to my great-granddaughter, Hayley. She was attending school and could use a car to get to her job after school.
I did get a new car and kept the name in my head:  Toyota. Then a few days later, a lady asked me what kind of car I have. I said "Toyota." She persisted, "What kind of Toyota?" I told her I never pay attention to names.  Why couldn't this lady ask me the color of my car?  I'm good at colors.  In my neighborhood are 3 black cars, one white, and one green. I could have gotten an A + for knowing the color.
To my dismay, my 2015 Camry came with an owner's manual.  Just glancing at the reading on the first page— "everything you need to know about your 2017 Camry is all right here"—  made me want to throw the book out.
In the book, I came to the page that had 17 indicators if the car has a problem. Within a few days, a teeny icon popped up on my car while I was driving. It was so tiny I couldn't tell what it looked like, nor was a name on the bottom, like "tire." So I had to park along the road, get the manual out, and find this icon. It happened to be my trunk was open.
Other things irked me too, like push buttons. By the time I had the AC down pat, it was time to figure out the heat push buttons. And, I'll warn everyone, don't anyone even ask me about Bluetooth!
New Car, His Car
Now I've had my Camry for about 2 years when my husband decided he'd like a new car. He told me he wants me to drive it sometimes. I refused to drive his old Buick because it's entirely too long. I told him, "If you expect me to drive this new car at times, please get one this year before they add any more new technology that I have to learn!" Then I added, "Make it a black one. You know how good I am with colors!"
Recently, my husband decided he'd like a new car, but he wants me to drive it too. (I refused to drive his old Buick because it's entirely too long.)  I told him, "If you expect me to drive this new car at times, please get one this year before they add any more new technology that I'd have to learn!" Then I added, "Make it a black one. You know how good I am with colors!"
Well, before the New Year arrived, my husband bought a new car. I did drive it and it's much smaller than his old Buick, so I liked it for that reason. Once he made the deal and brought it home, he told me there's a lady inside the car that talks to you. He told me he pressed a button for the radio and a girl asked him "What station would you like?" He told her and the station came on. I asked if she talked the Pennsylvania Dutch, but he says not. Now I'm really perturbed about this new technology. What if I'm driving and press a button by mistake and a voice startles me "What would you like to know?"
I'd have to answer, "Nothing! I just don't need to know everything!"
Our Sponsors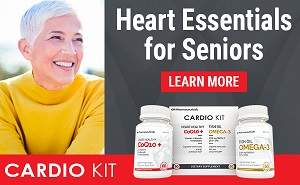 Cardiologist Developed and Recommended
---
Your ad could be here.
About
This top-ranked site now has over 4,000 pages of humor, nostalgia, senior advocacy and useful information for seniors 50+. Updates weekly!
The daily e-zine for everyone over 50 who feels way too young to be old.
"...the perfect mix of Andy Rooney, Dave Barry, and Garrison Keilor, combining knee-slapping humor with useful information and genuine compassion."
Retired.com
"Thousands look to and trust Suddenly Senior. Other Websites pale in comparison to the real-life, intimate look into senior lives. What sets apart Suddenly Senior is its blistering honesty and its incomparable encouragement. Millions need guidance."
Suzette Martinez Standring
"Best Senior Site ever on the Web! Great, up-to-date information on how seniors can save money on drugs. Wonderful nostalgia. Hard-hitting senior advocacy pieces that get read in high places. Wonderful humor. It's all at Suddenly Senior."
Alexa.com
KUDOS
Now read by 3.1 million in 83 newspapers from Florida's St. Petersburg Times to the Mumbai, India News.