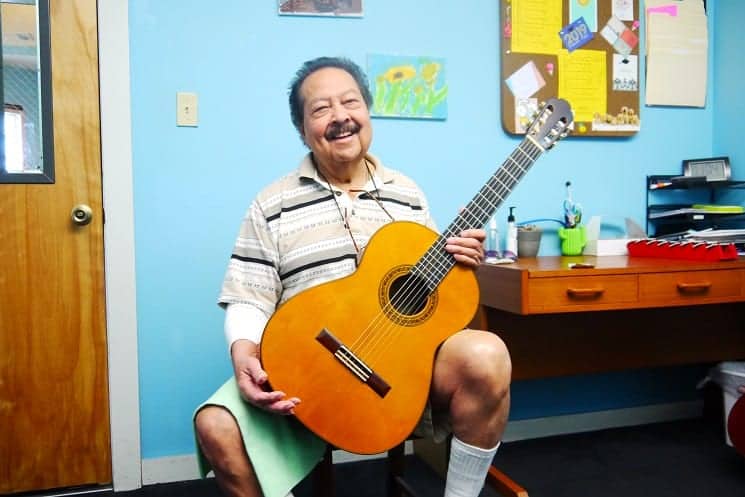 Joe Luna, 86, has four main loves in his life: the University of Texas Football, his three sons, church, and classical guitar.
For more than 25 years, Joe has faithfully attended guitar lessons with me on the first and third Thursday of every month, starting when I was still a college student teaching guitar out of a cramped office housed in the University of Texas music building in downtown Austin, Texas.
I look forward to my sessions with Joe, and I enjoy hearing about what's going on in his life. Although getting older has made both of us focus on our various aches and pains, we are united in our passion for learning and music.
"I've got a few problems physically, but I just love guitar," Joe told me as he held his classical guitar across his lap during our most recent lesson.
One of 10 children, Joe was bitten by the music bug in the mid-1950s. It all started when he saw a Spanish guitarist playing flamenco music on his parents' black and white television. He said, "I saw it, and I loved the way he played," remembering the guitarist dressed in a dark tailored jacket and white ascot. "I didn't know you could learn to play like that. I didn't have much schooling way back."
Life Struggles
Joe grew up during the Depression and his family received meager government rations of beans, sugar, and other essentials each month. His family traveled to Wisconsin every year to earn money picking cotton and vegetables. Harvesting helped pay the bills, but money was always tight.
"Sometimes I'd go to school without eating at all," Joe said.
Everyone in the family needed to help make ends meet, so Joe skipped junior high to work full time. When his family stopped seasonal work in the fields, Joe enrolled in high school. He said the transition was difficult because he had been out of the classroom for so long.
By the time Joe was a senior, he dropped out of high school to take a job bussing tables and washing dishes at a local restaurant. He was a half credit shy of earning his high school diploma.
But Joe didn't let the absence of a piece of paper prevent him from finding success. He married the love of his life and got a job at a dentist's office. Joe and his wife had three handsome sons, and Joe had a long career as a certified dental technician. He also stayed active in the Austin community, participating in civic events and serving at his church.
Guitar Lessons Begin
When Joe was in his 40s, he started taking guitar lessons. By the time he started taking lessons with me at the University of Texas, he had already had three other guitar teachers; each of whom had moved on to other opportunities outside of Austin. He chose my name from a list, and the rest, as they say, is history.
"I felt like I was a part of [the University of Texas] because I was going over there, and you could hear all those kids taking lessons and studying in those little rooms," he said, "So that kind of encouraged me hearing all that. I wanted to learn too."
Joe was diligent about his practice back then. At the same time, he was still working and taking care of his ailing wife. Sometimes he could barely stay awake during our lessons because he was hardly sleeping at night. After he fell asleep at the wheel and nearly ran off the road, Joe reluctantly put his wife in a nursing home. He said he used to practice guitar during visits with her.
"That was a tough time. I didn't have anybody to help me," Joe said. "She was the first girl I ever met, and I married her. We were married for 38 years."
For Joe, playing guitar is not just something that once helped him get through a difficult time — it is an integral part of his life that he used to share with his wife and that he now shares with his grandchildren. In fact, his great-grandson Daniel is also an Orpheus Academy of Music alumnus.
"Classical music has always been my love," he said. "It really soothes my spirit."
About the Author
Klondike Steadman, DMA, is a guitarist, entrepreneur, educator and author. He is the co-founder and director of Orpheus Academy of Music with his wife, Wendy Kuo. He has built one of the most successful and innovative music programs for kids in the country. In 2001, Klondike founded the Educational Outreach Program for the Austin Classical Guitar Society to provide expert private free guitar instruction to low-income high school students. This program continues to provide quality music instruction with guitar students regularly giving public concerts as soloists and in guitar ensembles.
In 2003, Klondike received the prestigious Studio Fellowship Award from the Music Teachers' National Association for his work opening Orpheus Academy of Music. He is the author of two lines of music method books: Adventures Through Sound and The Complete Guitar. Steadman has won top prizes in many performance competitions including the Music Teachers National Association Competition, The University of Texas Concerto Competition and the Portland International Guitar Competition. He has appeared in concerts across the U.S. both in recital and as an orchestral soloist.
Our Sponsors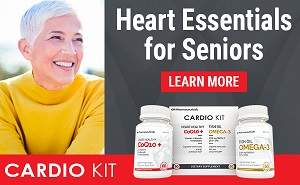 Cardiologist Developed and Recommended
---
Your ad could be here.
About
This top-ranked site now has over 4,000 pages of humor, nostalgia, senior advocacy and useful information for seniors 50+. Updates weekly!
The daily e-zine for everyone over 50 who feels way too young to be old.
"...the perfect mix of Andy Rooney, Dave Barry, and Garrison Keilor, combining knee-slapping humor with useful information and genuine compassion."
Retired.com
"Thousands look to and trust Suddenly Senior. Other Websites pale in comparison to the real-life, intimate look into senior lives. What sets apart Suddenly Senior is its blistering honesty and its incomparable encouragement. Millions need guidance."
Suzette Martinez Standring
"Best Senior Site ever on the Web! Great, up-to-date information on how seniors can save money on drugs. Wonderful nostalgia. Hard-hitting senior advocacy pieces that get read in high places. Wonderful humor. It's all at Suddenly Senior."
Alexa.com
KUDOS
Now read by 3.1 million in 83 newspapers from Florida's St. Petersburg Times to the Mumbai, India News.