Travel
Mexico Riviera Maya: Granny Gets her Groove On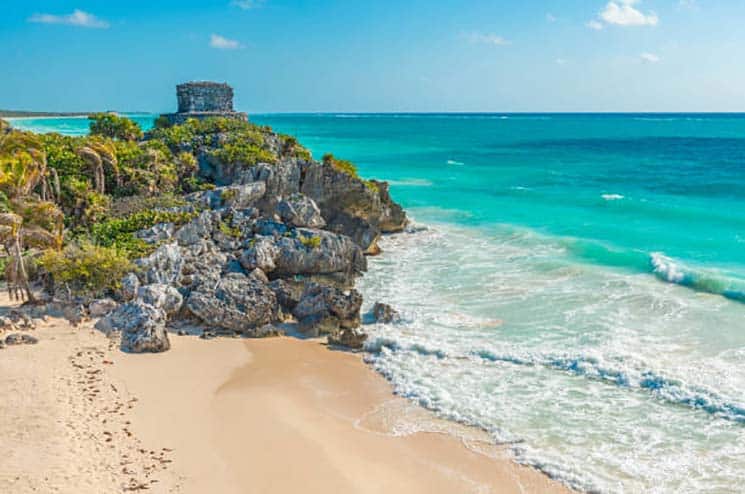 "A Shirley Temple, please," said 9-year-old Cameron sitting at the swim up bar while 16-year-old Al was surfing Caribbean waves. I, their grandmother, was content to adult beverages in a hammock with a beach view. At home, it was snowing.
I thought Mexico's Riviera Maya was an adult destination. A friend said it is family friendly with activities for all ages. The buffet at our hotel, the Barcelo Maya Palace Deluxe, identifies its Generation McDonald selections with balloons above a buffet of familiar food. Surprisingly, the 9-year-old headed for sushi while, predictably, the teen dined on fries and catsup. Neither listened to my pedantic, "one of the benefits of travel is sampling local cuisines." Mexican food was abundant; and during our week of "all-inclusive" dining, the boys vetted grilled flank fillet with roasted cactus leaves, shrimp Mayan ceviche, and Mexican chocolate mousse as reasons to return next year.
On our second day, Cameron begged to swim with dolphins, but Al opted for jet skiing. The resort's mile of white sand bloomed with bikinis, and his new swagger suggested Al would not be picking up shells to adorn the back of his jet ski. Leaving Al alone for a half day reaffirmed my selection of Riviera Maya over Cancun. There, I would not be comfortable leaving him unsupervised.
Not for Spring Breakers
The government made a wise decision about twenty years ago when Riviera Maya was just a few fishing villages hosting backpackers. They instituted laws that no building could be more than four stories high and no resort property could build on more than 5 percent of its land. Pools are not included in that 5 percent, we decided, floating along serpentine waterways with coves of waterfalls, underwater lounge chairs, waterslides, and the largest Jacuzzi in my forty-something country experience.
I longed for that sparkling pool while standing in murky waters of the dolphin lagoon. The only sparkle was in Cameron's eyes as he readied himself for the finale. Would he soar above the waves, one foot on each dolphin, or would he splash down thrashing and sputtering? He soFaceBookinally sparkled. Namely, I held onto two fins and let the mammals hurl me to the end of the lagoon while I kept my lips pressed together. The brochures do not caution that a risk of swimming with dolphins is a possible close encounter with dolphin poop.
Not All the Ruins Were Mayan
A bit of culture is an integral part of vacationing with grandkids, so I signed us up for a tour of Tulum. Our guide explained that Tulum was inhabited until the 1500s when the Mayan civilization was decimated by European diseases and swords. He pointed out the three major structures: El Castillo, the castle; the Temple of the Frescoes, which was used as an observatory; and the Temple of the Descending God. He left us to stroll along the level paths. Al climbed every structure that was not roped off and struck god-like poses to be posted that night on Facebook. Cameron wilted and whined in the blazing sun. Fortunately, I remembered that Tulum is the only Mayan city right on the Caribbean Sea. A sandy path ended in a splendid beach. Soaking wet and with humor restored, Cameron joined Al in conquering the city.
Zip It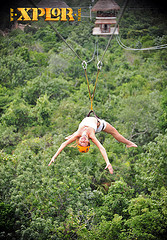 We went to XPlor Park, the venue of 11 zip lines my grandsons implored me to experience. They climbed a ten-story circular ramp to the highest zip line while I remained on terra firma wondering how I could earn their respect. A staff person recommended the hammock zip line. For me, it was the perfect zip line experience. I sat in a hammock and zipped along a waterway until I splashed down, lost my flip flops, and retained my title as "The Bravest Grandma Ever." (The title was conferred by a 6-year-old some years ago when I opted for a rank outdoor toilet instead of the copperhead-infested Missouri forest.)
After I had enjoyed six elder-friendly rides on the zipline hammock, the boys returned from their high adventures. We enjoyed a 40-minute underground swim along lighted stalagmites and stalactites that ended in a waterfall. The boys swam the river again while I waited in a traditional hammock. One benefit of XPlor is its unlimited enjoyment of the park's adventure attractions and its bountiful buffet. The only restriction is the once-per-admission amphibious vehicle that tears through three miles of jungle, caves, and wooden bridges.
Al drove; Cameron rode shot-gun, and I was the backseat driver who had no advice to offer about driving an amphibious vehicle. Despite a seat belt, my head hit the roll bar about every thirty seconds. The required helmet was so well padded I barely felt the bumps.
Safer than Times Square, The Miracle Mile, and The Gold Coast
"Mexico?" friends gasped. "You took children?"
The dangers of Mexico do not include the entire country. Riviera Maya, along 81 miles of the Caribbean coast, is more than 1,000 miles from the regions specified in the U.S. State Department's warning. According to RE/MAX, tourist zones in Mexico, such as the Riviera Maya, are up to 26 times safer than tourist areas in New York City, Chicago, and Miami.
---
Our Sponsors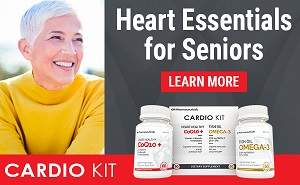 Cardiologist Developed and Recommended
---
Your ad could be here.
About
This top-ranked site now has over 4,000 pages of humor, nostalgia, senior advocacy and useful information for seniors 50+. Updates weekly!
The daily e-zine for everyone over 50 who feels way too young to be old.
"...the perfect mix of Andy Rooney, Dave Barry, and Garrison Keilor, combining knee-slapping humor with useful information and genuine compassion."
Retired.com
"Thousands look to and trust Suddenly Senior. Other Websites pale in comparison to the real-life, intimate look into senior lives. What sets apart Suddenly Senior is its blistering honesty and its incomparable encouragement. Millions need guidance."
Suzette Martinez Standring
"Best Senior Site ever on the Web! Great, up-to-date information on how seniors can save money on drugs. Wonderful nostalgia. Hard-hitting senior advocacy pieces that get read in high places. Wonderful humor. It's all at Suddenly Senior."
Alexa.com
KUDOS
Now read by 3.1 million in 83 newspapers from Florida's St. Petersburg Times to the Mumbai, India News.