Political
Granny D Goes to Washington: Doris "Granny D" Haddock Runs for US Senate
Suddenly Senior readers are a cranky lot. They gripe about unaffordable drug prices. They beef about record-level deficits. They even belly ache about democracy, about how a bought-and-paid-for Congress habitually sells us citizens down the river.
Too bad we don't all live in New Hampshire.
Remember 94-year-old Granny D? The Granny D who, at age 90 and despite severe emphysema and arthritis, walked 3,200 miles across America from Pasadena, California, to Washington DC, on a one-woman crusade for campaign finance reform?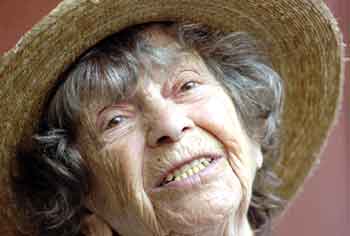 The Granny D who wrote the book, Granny D: You're Never Too Old To Raise a Little Hell (Villard, 2003)?
The Granny D who, better than anyone down in Washington, understands this country of ours – and how to revive its promises, how to take it back from the corporations, how to best protect it from terrorists?
That Granny D is now running for the US Senate.
Yeah. Believe it!
Mind you, Doris "Granny D" Haddock is a long shot to unseat the popular incumbent, ex-governor, now senior New Hampshire Sen. Judd Gregg. Yet if this wrinkled dark horse loses, it won't be due to lack of spirit, effort or ideas.
Ms. Haddock entered the race at the last minute after the expected Democratic nominee dropped out amidst scandal. Against Sen. Gregg's $2 million campaign budget, she has 50 grand. Gregg has a hotshot staff of reelection experts; Granny D's volunteer staffers live in tents in her yard.
A poll last month had Gregg beating Haddock, 65 percent to Haddock's 20.
That was before Joe Trippi. Howard Dean's Internet-savvy former campaign manager now heads up Granny D's all-volunteer team. And if ideas and integrity are still germane to our democracy, Granny D has more than an even chance.
Her campaign-kickoff speech called for government-negotiated affordable drugs. She decried the flight of good jobs abroad making us "a nation of Wal-Mart greeters." And she addressed the issue of age:
"For those who may doubt my capacity to serve, let me assure them that, while I may struggle for the right word from time to time, I can yet string my words together somewhat better than even our current President. And, while I need glasses for some reading, I can see clearly the difference between a necessary war and an unnecessary war, and the difference between a balanced budget and a deficit. Most importantly, I can read the Constitution and its Bill of Rights very easily and clearly, and, when elected, I will do what so many others in today's Washington have not had the decency to do, and that is to abide by their oath to defend it."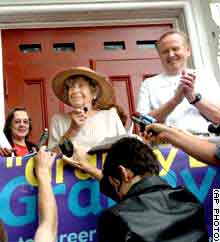 What's so important about this unusual race is not Granny D's age, but her willingness to put herself in harm's way if necessary to aid her country. Not content to sit back and whine about the state of the republic, Granny D follows her conscience, musters her courage, and actually does something about it.
She always has.
"If you want something done right today,? this grandmother of 16 says, "you have to run for Congress yourself – or at least send your grandmother."
Barely five feet tall, Doris Haddock gives the rest of us enormous hope for ourselves and for our country. Where career politicians dance and assemble, this nonagenarian Mr.-Smith-Goes-to-Washington patriot tells it like it is – humbly, forthrightly, and with uncommon good sense.
To run for Senate, Granny D now walks 200 miles across New Hampshire, refreshing tired ears with her stump speech declaring:
"If our choice is between a strip-searched Fortress America and, on the other hand, the beautiful world we all long for, what is keeping us from making the beautiful choice? Is it the distortions of the political system? The special interests? The selfish posturing of people who call themselves leaders but who, in fact, only take up valuable space at a critical time in the world's history? Well, let us joyfully roll over them."
Spry and sly, Granny D pledges that she will serve only one term.
At the end of her term, she'll be 101. By that time, there will be other fish to fry for this true American heroine.
In 2010, Doris "Granny D" Haddock, died at the ripe age of 100.
About
This top-ranked site now has over 4,000 pages of humor, nostalgia, senior advocacy and useful information for seniors 50+. Updates weekly!
The daily e-zine for everyone over 50 who feels way too young to be old.
"...the perfect mix of Andy Rooney, Dave Barry, and Garrison Keilor, combining knee-slapping humor with useful information and genuine compassion."
Retired.com
"Thousands look to and trust Suddenly Senior. Other Websites pale in comparison to the real-life, intimate look into senior lives. What sets apart Suddenly Senior is its blistering honesty and its incomparable encouragement. Millions need guidance."
Suzette Martinez Standring
"Best Senior Site ever on the Web! Great, up-to-date information on how seniors can save money on drugs. Wonderful nostalgia. Hard-hitting senior advocacy pieces that get read in high places. Wonderful humor. It's all at Suddenly Senior."
Alexa.com
KUDOS
Now read by 3.1 million in 83 newspapers from Florida's St. Petersburg Times to the Mumbai, India News.