Nostalgia
Grandma's Apron: What it is Good for
"Wonderful for drying children's tears, and on occasion was even used for cleaning out dirty ears."
The principle use of Grandma's apron was to protect the dress underneath, but along with that, it served as a holder for removing hot pans from the oven.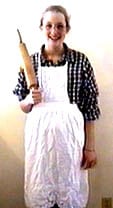 It was wonderful for drying children's tears, and on occasion was even used for cleaning out dirty ears.
From the chicken-coop, the apron was used for carrying eggs, fussy chicks, and sometimes half-hatched eggs to be finished in the warming oven.
When company came, those aprons were ideal hiding places for shy kids. And when the weather was cold, grandma wrapped it around her arms. Those big old aprons wiped many a perspiring brow, bent over the hot wood stove.
Chips and kindling wood were brought into the kitchen in that apron. From the garden, it carried all sorts of vegetables. After the peas had been shelled, it carried out the hulls. In the fall, the apron was used to bring in apples that had fallen from the trees.
When unexpected company drove up the road, it was surprising how much furniture that old apron could dust in a matter of seconds.
When dinner was ready, Grandma walked out onto the porch, waved her apron, and the men knew it was time to come in from the fields to dinner.
It will be a long time before someone invents something that will replace that "old-time apron" that served so many purposes.
Send this to those who would know, and love the story about Grandma's aprons.
REMEMBER THIS!
Grandma used to set her hot baked apple pies on the window sill to cool. Her granddaughters set theirs on the window sill to thaw.
About
This top-ranked site now has over 4,000 pages of humor, nostalgia, senior advocacy and useful information for seniors 50+. Updates weekly!
The daily e-zine for everyone over 50 who feels way too young to be old.
"...the perfect mix of Andy Rooney, Dave Barry, and Garrison Keilor, combining knee-slapping humor with useful information and genuine compassion."
Retired.com
"Thousands look to and trust Suddenly Senior. Other Websites pale in comparison to the real-life, intimate look into senior lives. What sets apart Suddenly Senior is its blistering honesty and its incomparable encouragement. Millions need guidance."
Suzette Martinez Standring
"Best Senior Site ever on the Web! Great, up-to-date information on how seniors can save money on drugs. Wonderful nostalgia. Hard-hitting senior advocacy pieces that get read in high places. Wonderful humor. It's all at Suddenly Senior."
Alexa.com
KUDOS
Now read by 3.1 million in 83 newspapers from Florida's St. Petersburg Times to the Mumbai, India News.