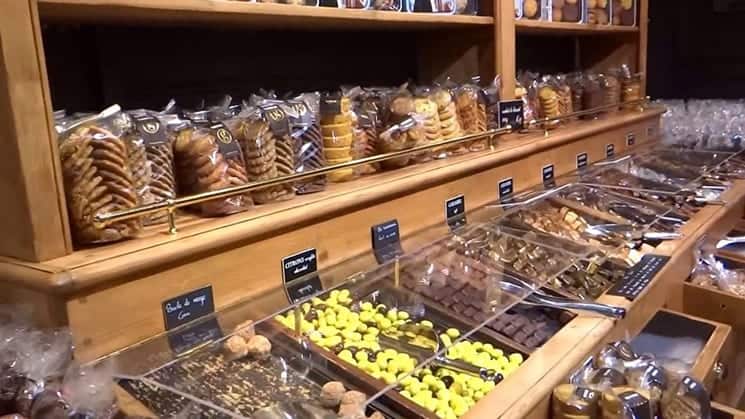 In Paris, you can't swing a dead cat without hitting a chocolatier, a patisserie or shop chock-full of lacy undies. It's a city of indulgences. Would your dream trip to The City of Light include a visit to a chocolate museum? Three generations of our family toured and it exceeded our expectations.
In the 10th Arrondissement, the chocolate museum is located at 28 Boulevard De Bonne Nouvelle. The building front is non-descript compared to grand facades elsewhere. The orange lettered sign reads, "Choco-Story Paris." Also known as "Le Musee Gourmand du Chocolat," it proves everything sounds hauteur in French. But who cares? The proof of the chocolate pudding is inside.
What a special welcome. There is it was, right by the ticket window, free samples of chocolate: white, dark, toffee and milk chocolate. I'm not talking about "nibs" or broken bits, but small disks of the heavenly stuff. Take some, and there's more inside the museum. The admission price was 11 euros for adults, 10 euros for students (ages, 13-17) and 8 euros for children (ages 6-12). When we visited in August 2018, the exchange rate was 1 euro for $1.16 (US).
Chocolate History
Chocolate samples are all you can eat, and we lovers of divine dark worshipped at this altar. The exhibits start with Aztec and Mayan chocolate history and free tabs of Mexican-style dark is an ancient howdy-do Huitzilopochtli. Circa 1500, blood from sacrifices and chocolate were mixed for offerings to the gods.
The writer in me noticed the unfortunate juxtaposition of sentences. The gory historical reference was then followed much too soon by, "A delicious drink enjoyed through the ages."
When taking a tour of "chocolate around the world", it was fun to taste the subtleties of Dutch, French, or Vietnamese chocolate (cinnamon). Am I stressing too much the availability of free chocolate?
Again, candy dispensers are in every room. My 10-year old granddaughter Lulu, ever vigilant against germs, whispered in my ear, "Don't take it from the bowl, everyone puts their hands in there. Turn the wheel and get it when they drop down."
Chocolate Sculptures
I so loved the 18th and 19th century French and English porcelain. I oohed and aahed at hand-painted, gold china; larger sized teacups with saucers designed for "catch-and-sip." A "moustache cup" had a porcelain band to help a hairy upper lip avoid chocolate froth.
A field of sterling silver chocolate service closely resembles a formal tea service. What's the difference? A chocolate pot has a tiny hole at the top to which a frother could be attached and the spout is higher than a teapot spot for easier pouring. Now I can be the "Jeopardy" winner in the category of Refined Cocoa Niceties. Answer: What is a chocolate pot!
If size excites you, a large scale Eiffel Tower and Arch D'Triomphe created in solid chocolate is a WOW. And since style dominates the Paris scene, mannequins draped in dark are the last delicious word in fashion.
Chocolate Museum Factory
Oh, and the candy-making demonstration! At certain hours, a visit can include a look-see and taste in the lower level kitchen. I was front and center to watch a chef at work. Quickly melted chocolate was poured into shell-shaped molds, then placed into a fridge that cooled the chocolate in seconds. Out came the tray of chocolate shells, this time to be filled with a hazelnut concoction, and layered with the second half of the chocolate shell. Back in the fridge for a few seconds, and voila! A freshly made, French confection.
S'il vous plait, everyone, take one on your way out.
Yes, there's a gift store. Sorely tempted to buy a two-pound bag of pure chocolate tabs, I stayed my greedy hand. It was so hot in Paris, surely I'd be bringing back a bag of sludge. Instead, I bought cocoa butter body lotion (you know it's the real thing).
If your bucket is filled with chocolate dreams, then put Choco-Story Paris on the list. (The free, all-you-can-eat chocolate samples are worth the price of admission alone).
Our Sponsors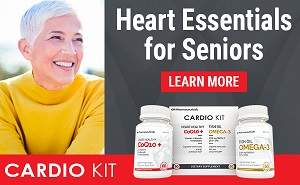 Cardiologist Developed and Recommended
---
Your ad could be here.
About
This top-ranked site now has over 4,000 pages of humor, nostalgia, senior advocacy and useful information for seniors 50+. Updates weekly!
The daily e-zine for everyone over 50 who feels way too young to be old.
"...the perfect mix of Andy Rooney, Dave Barry, and Garrison Keilor, combining knee-slapping humor with useful information and genuine compassion."
Retired.com
"Thousands look to and trust Suddenly Senior. Other Websites pale in comparison to the real-life, intimate look into senior lives. What sets apart Suddenly Senior is its blistering honesty and its incomparable encouragement. Millions need guidance."
Suzette Martinez Standring
"Best Senior Site ever on the Web! Great, up-to-date information on how seniors can save money on drugs. Wonderful nostalgia. Hard-hitting senior advocacy pieces that get read in high places. Wonderful humor. It's all at Suddenly Senior."
Alexa.com
KUDOS
Now read by 3.1 million in 83 newspapers from Florida's St. Petersburg Times to the Mumbai, India News.