Here's Most Everything You Want Need To Know About The Current Health-Care Reform Bill
Did you hear the news about Congress abolishing the Medicare donut hole?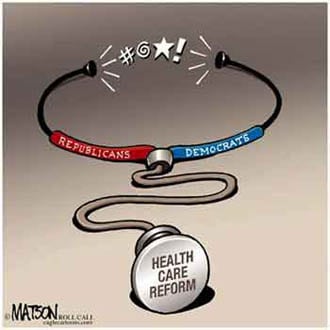 For readers under 65, that hated hole is the up to $4,350.25 a year that 3.4-million of us codgers must pony up under Medicare's Plan D drug coverage when our cost of drugs falls between $2,700 and $6,154.
That's when the dastardly donut hole opens up and your prescription insurance takes an extended vacation.
Perversely, while we are in the donut hole paying out-of-pocket 100 percent of our drug costs, we also are required to continue paying our monthly health-insurance premiums. Even though we get nothing in return! Not even a toaster.
Over 60 percent of people with diabetes, hypertension, congestive heart failure, and high cholesterol fall into this vast hole.
Little wonder seniors have loathed the idea since inception.
Congress, in its current health reform legislation — HR 3200 otherwise known as "America's Affordable Health Choices Act of 2009" — has boldly eliminated the donut hole.
As of 2023. AD.
All you readers who believe you'll be here 14 years from now to witness the demise of that donut, raise your hand.
Anyone?
But wait folks, there's more.
As there are five (5) Congressional committees working on this revamp of our ailing health care system, few know what's going on. I can assure you that, contrary to e-mails you've received, euthanasia of seniors is in none of the current bills. However, there's little else you can count on. Possibilities are narrowing fast.
President Obama pledged during last fall's campaign that, once elected, he would completely legalize international free trade of pharmaceuticals, opening the door — especially needed by seniors — too much cheaper, yet equally safe and effective drugs from north of the border. (Now we can order but three months at a time. Occasionally Big Pharma attempts to sabotage even that.)

That door just closed, as importing safe, affordable drugs from Canada — free trade — was swapped for some Congressman's yea vote on another part of this complicated bill. All without a whimper of complaint from the President or anyone except those of us who have for years fought for free trade in pharmaceuticals between the US and Canada. (Interestingly, according to the independent Seniors Coalition, upwards of 84 percent of AARP's members currently support allowing Americans to buy drugs from Canadian pharmacies. Don't tell AARP.)
Obama also pledged to rid the country of the $11-billion annual boon health insurers get from us taxpayers for private Medicare Advantage plans.The Senate even agreed to plug the giveaways. Yet that door just shut as well with the sound of $157 billion pouring into the insurance companies' coffers over the next 10 years for what most observers consider poorer quality and far more expensive care than regular Medicare.
Another door closing fast is the so-called "public option." Modeled on Medicare and assumed by many to save billions while costing two-thirds the price of private insurance, the Senate has replaced the idea with "non-profit cooperatives," a castrated, more expensive variation.Even our pals at AARP, speaking for their 40-million members, claim that a government-run program endangers Medicare. They don't mention that, according to Newsday, AARP makes nearly $700 million a year from health insurance royalties. (See, you were right about AARP all along.) Seems everyone's against a government-run public plan. Except for the vast majority of citizens and much of the healthcare industry.
Money is needed to cover the uninsured. "Blue Dog" Democrats fiercely object to proposed taxes on those earning $350,000 or more annually to help pay for insuring the millions currently without any coverage. Just eight years ago these same legislators — same suits, same smirks, anyway — fell over backward in favor Bush's tax cut for the rich that added $1.35 trillion to our federal deficit.
There are few heroes in Congress anymore.
Do you get the feeling that Big Insurance, Big Pharma, and Big Banking still run everything in Washington?
Keep The Government Out!
A story. Overheard at a recent health-care bill forum: a senior gentleman stood up and declared, "Why can't we just keep Medicare — only for everyone — and keep the government out of it?"
Why indeed?
Republican propaganda these past 30 years has made inroads on this nation's very soul, depicting Government as the Great Satan.
Yet think about it. Those of us over 65 with Medicare have gotten a taste of single-payer health care with Medicare.
Ask any codger you meet. Most will tell you that Medicare is great: efficient, convenient, timely, and affordable. Equitable, too. This is not socialized medicine. It's an efficient way to pool risk and share the unexpected costs of illness.
A recent Commonwealth Fund study compared a public option that pays the same rates as Medicare with a public plan that pays compromise rates midway between Medicare and private insurers, and a plan that has no public option.
A public plan that pays Medicare rates would save $3-trillion (with a "T") between 2010 and 2020 compared with $1.2-trillion with the private plans — Humana, United Healthcare (AARP's partner in deceit), Aetna and the others.
This same public plan also would cut the number of current uninsured from tens-of-millions to 4-million by 2012. Unfortunately, paying low Medicare rates is already off the table, replaced by huge unearned gains to drug and insurance corporations.
And exactly what happens to our current Medicare under the new law?
Everyone in Washington agrees elders must sacrifice. The House version calls for $246–billion in Medicare cuts this next decade. Waste, they call it.
Truth is, even without slashing Medicare, seniors are already in pain.
A new survey, released by The Senior Citizens League, finds that senior citizens are being forced by the current deep recession to make drastic cuts to their medical and food budgets. Forty-two percent of US citizens over 65 have either postponed filling their prescription medications or are taking smaller dosages than prescribed by their physicians. Sixty-two percent have cut back on doctor visits or outpatient services, and 77 percent have reduced their spending on food items.
And they want to seize $246-billion from that?
Can You Afford $300 a Month?
My solution to this Babel of law and payoffs?
Fair is fair. Give every US citizen the same plan Congress gets. This basic Congressional plan already is offered to all federal workers. It provides a far wider selection of truly competitive plans. On average, the government pays 72 percent. Members of Congress pay up to $300 a month for the best of the best.
Believe it or not, this federal worker health plan is already better and, I'm told, cheaper than anything we've seen in the bills pending. Yet this plan praised to the heavens inside the Beltway, was never considered for the rest of us.
Clearly, most members of Congress are far more interested in taking legal bribes from Big Pharma and the rest than truly saving our country money while providing outstanding health care to all.
The time for citizens to let the politicians know that we won't settle for junk will be when the House and Senate meet this fall to meld their separate versions. By then we'll know exactly what they're selling and can call, write or scream — perhaps several times — if we disagree.

It's our only chance. Call the Capitol Hill Switchboard toll free at 888.355.3588 and ask to speak to your Representative or your Senators.
Remember to give 'em hell, Harry. It's time we put ourselves back in the seat of power just as the Constitution envisioned. We tend to forget that we citizens of this great country are the bosses. Representative government — "of the people, by the people, and for the people" — means doing the right thing for the common citizen.
Meanwhile, keep your eye on that donut hole.
(For an overview of what is in the works as of July 27, 2009, go to the New York Times article Impact of Health Care Measures)
About
This top-ranked site now has over 4,000 pages of humor, nostalgia, senior advocacy and useful information for seniors 50+. Updates weekly!
The daily e-zine for everyone over 50 who feels way too young to be old.
"...the perfect mix of Andy Rooney, Dave Barry, and Garrison Keilor, combining knee-slapping humor with useful information and genuine compassion."
Retired.com
"Thousands look to and trust Suddenly Senior. Other Websites pale in comparison to the real-life, intimate look into senior lives. What sets apart Suddenly Senior is its blistering honesty and its incomparable encouragement. Millions need guidance."
Suzette Martinez Standring
"Best Senior Site ever on the Web! Great, up-to-date information on how seniors can save money on drugs. Wonderful nostalgia. Hard-hitting senior advocacy pieces that get read in high places. Wonderful humor. It's all at Suddenly Senior."
Alexa.com
KUDOS
Now read by 3.1 million in 83 newspapers from Florida's St. Petersburg Times to the Mumbai, India News.