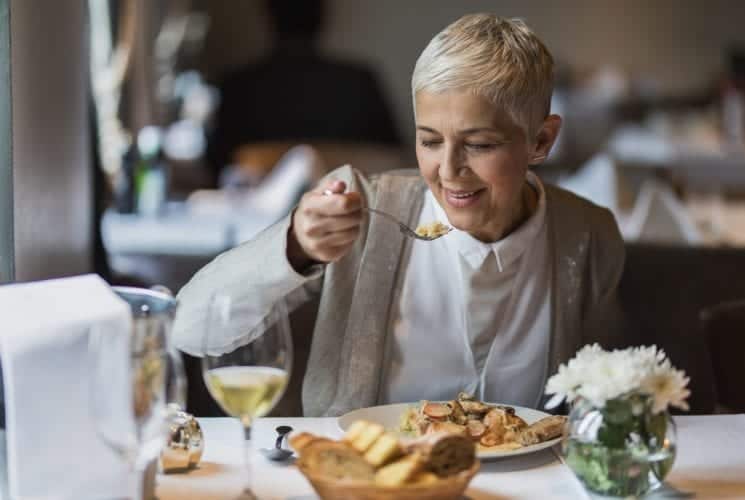 "Good afternoon, how are you today?" my perky waitress gleaned. "Fine, thank you. And very hungry, I missed lunch today" I said, still scanning the menu. "Will someone be joining you today?" she queried. I gave my standard answer: "I'm hoping so but not sure yet." This reply ensured my server would leave the other setting of silverware, water glass, bread plate, and my pride on the table. I didn't want anyone else to know I was going stag and dining alone.
Awkwardly Dining Alone
Although 63, I felt awkward sitting in a restaurant alone, compelled to grab my phone and appear busy, providing the illusion I wasn't alone by choice, but rather by circumstance. As I was going stag, my phone became my lunch companion. I ate my sandwich and sipped my wine under the heavy weight of judgment from the happily-paired diners surrounding me.
I imagined them speculating in hushed whispers as to why I was there alone. "Poor thing, she must not have any friends; wonder why?" In response, my brows furrowed as I stared at my phone, pretending to be concerned as I received imaginary news something had happened to my 'should-be-there' friend or partner: Heavy traffic or an unexpected meeting had kept them from occupying the empty seat across from me. Occasionally, I'd elongate my posture, glancing confidently around the room owning my decision and acceptance to dine solo. In reality, it was just nervous fidgeting awaiting the arrival of my food.
Alone Insecurity Resolved
One day, contemplating my glass of Pinot Noir, it hit me: Why do I feel abashed and self-conscious sitting in a lovely restaurant anticipating a delicious meal I've been thinking about all day? What rules have I broken? Going stag isn't a sin. Once I realized it was me and no one else making me feel uncomfortable, my entire attitude changed.
I settled into myself and the situation. I realized the only reason eyes were upon me was because I was the one initiating eye contact in my anxious scanning of other diners. When I did happen to connect with someone, I was usually met with a nod or polite smile: The feeling of insecurity was all in my head.
There is no longer any stigma attached to a woman alone albeit in a restaurant, movie theatre, music venue or walking in the park. I felt as though I had set down a huge weight and was finally free to enjoy myself. I delighted in my surroundings and began to savor my Ginger Crusted Salmon along with the realization that I'm not only content to eat alone but joyful in the prospect of time to myself, to do and think exactly as I please. Good for me!
I liked my spunk and self-assuredness. I fell in love with my free-spirit and joyful confidence. It occured to me that I actually loved going stag. Reaching for my wine, I hoisted my arm and toasted me: Nice to meet you, where have you been all my life? I chuckled as I beckoned my server over. "You can remove the extra place setting, I'll be dining alone today," I chirped. I sat a bit taller in my chair with my new-found backbone. "Very well" she smiled, "Your food will be out shortly."
Alone and Content: Going Stag Not a Drag
Being alone opened many doors once shut by me. Free of my self-imposed burden of self-consciousness, I began venturing out to hear live music at local venues. Often, I found myself sitting at the bar sharing a conversation and bite of food with a stranger. By the end of the meal, I was happy in the realization I'd made a friend.
I frequently hop on the subway having no concrete plan whatsoever. I wander into museums, galleries, and shops. When I find myself hungry or tired, I search out a quaint spot. I pull up a chair and open myself to whatever or whoever happens my way.
It's quite refreshing and incredibly emancipating to realize you need no one but yourself to have a marvelous time. Sitting happily with myself seems to extend invitational energy toward others who are of the same ilk. It's amazing who you meet when you just sit and allow.
I'm happy in the knowledge that I can be alone or in the company of others, the choice is all mine. It was my choice to feel awkward and in need of distraction at a table for one. Going stag doesn't have to be a drag.
Going Stag is Better Than Dating
Compared to arranged dates, meeting someone spontaneously in a venue I have chosen assures me that whoever I meet, young or old, male or female is usually there because they have similar taste. The wonderful part is you're not tied to that person for the evening as you are on an arranged date.  You both have the freedom to come and go as you please without explanation.
So, if you find yourself bored, restless or lonely because you can't find anyone to get together with, give yourself a chance. You'd be surprised at what great company you are and how beautiful the world is looking through the eyes of self-love.
Dining alone can be liberating, so don't feel ashamed of going stag. Many seniors are finding their solo time to be highly rewarding.
Sponsored Links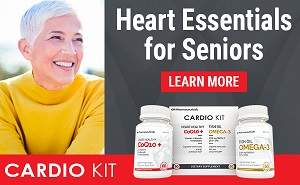 Cardiologist Developed and Recommended
---
Your link could be here.
About
This top-ranked site now has over 4,000 pages of humor, nostalgia, senior advocacy and useful information for seniors 50+. Updates weekly!
The daily e-zine for everyone over 50 who feels way too young to be old.
"...the perfect mix of Andy Rooney, Dave Barry, and Garrison Keilor, combining knee-slapping humor with useful information and genuine compassion."
Retired.com
"Thousands look to and trust Suddenly Senior. Other Websites pale in comparison to the real-life, intimate look into senior lives. What sets apart Suddenly Senior is its blistering honesty and its incomparable encouragement. Millions need guidance."
Suzette Martinez Standring
"Best Senior Site ever on the Web! Great, up-to-date information on how seniors can save money on drugs. Wonderful nostalgia. Hard-hitting senior advocacy pieces that get read in high places. Wonderful humor. It's all at Suddenly Senior."
Alexa.com
KUDOS
Now read by 3.1 million in 83 newspapers from Florida's St. Petersburg Times to the Mumbai, India News.