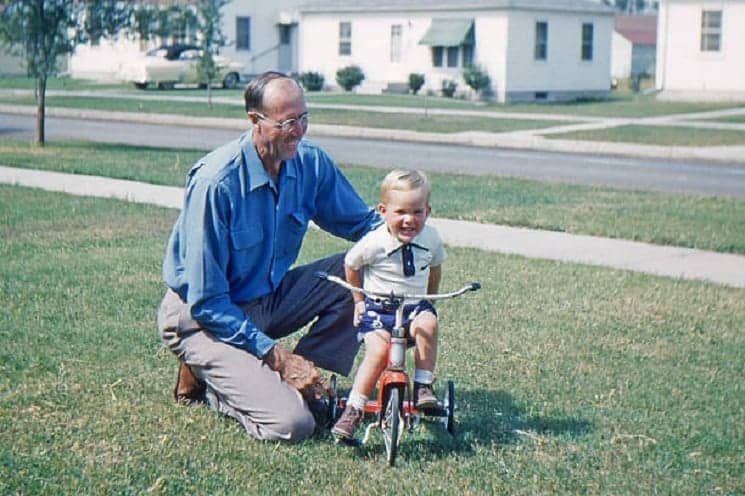 I'm attending my 50th high school reunion this Saturday. Can 1953 really be 50 years ago?
In a word, yes.
Back in 1953
1953 our country boasted only about half the people we have today, yet back then we knew more of them, and liked them better. The average annual salary was under $3,000, but then our home in Park Ridge, just northwest of Chicago, cost only $4,000. Life was good.
Most moms didn't work in 1953. Daycare was going to my grandparent's home two blocks away. No one was homeless. Everyone who wanted a job, had one. Employees were valued, not merely line-item expenses to be cut.
And, remember? In 1953, we still believed that our government told the truth and kept its nose out of our business. Wow, how things changed!
In 1953, we trusted strangers. We believed in ourselves and our country. We weren't so greedy, so materialistic, so very arrogant. And we cared more about others. A lot more.
We were strong then, and full of promise. And 50 years ago this month, I thought I would live forever. We all would.
Well, forever sure ain't what it used to be.
Time, as they say, has flown. Mere whispers of mortality have now turned to shouts. The you that you think you are and the you that others see have become unrecognizable one to the other. Trust me on this.
And now more than ever, we realize that we're not much different from everyone else. I felt that I was so unique, so damned special when I graduated from high school. Then came college, marriage, jobs, divorce, marriage, jobs – I now look back and see that I turned into my father long ago, and today I'm becoming Everyman.
What am I to make of that? My two worst fears have overtaken me, and I hardly noticed.
My Brain Now Has A Mind Of Its Own
I'm not the person I used to be. I'm clumsier. I have less energy. My body often minds me as I did my father when I was a teenager: begrudgingly, if at all. And my brain now seems to have a mind all its own, often telling my body to walk into a room only to let it wonder why it is there.
Is that fair?
Perhaps fairer than the alternative. Probably best to accept the differences and be grateful for survival.
My importance to the world withers as my age increases. Even covetous advertisers are no longer interested in me, only my ailments. These days, for reasons all too apparent to those of us over 65, I'm often cranky to the point of being a curmudgeon. Worse, I see no reason not to be.
Signs of inexorable deterioration appear daily.
That's a lot of baggage to carry to a high school reunion. Fortunately, all my fellow graduates of the Class of '53 will be struggling with the same weighty physiology.
I spent 13 of my first 17 years with many of these folks, some of whom I haven't seen since that emancipating day of "Pomp and Circumstance" 50 years ago.
Talk about forever! That's more forever than I ever dreamed possible in 1953. And, thanks to our advancing age, I trust that I'll find my classmates happier, friendlier, more courageous, less judgmental, and far more at ease with themselves than we could have imagined 50 years ago.
Conclusion
You see, getting old isn't all bad. And I need this reunion to take my mind off the sorry state of this world we inhabit in 2003.
I just pray that I can see well enough to read the name cards. And keep Eddie Matthews from hanging a condom from my back pocket the way he used to do forever and a day ago.
Senior Citizen Contest
Win Our $1k Grand Prize
Weekly prizes awarded
About
This top-ranked site now has over 4,000 pages of humor, nostalgia, senior advocacy and useful information for seniors 50+. Updates weekly!
The daily e-zine for everyone over 50 who feels way too young to be old.
"...the perfect mix of Andy Rooney, Dave Barry, and Garrison Keilor, combining knee-slapping humor with useful information and genuine compassion."
Retired.com
"Thousands look to and trust Suddenly Senior. Other Websites pale in comparison to the real-life, intimate look into senior lives. What sets apart Suddenly Senior is its blistering honesty and its incomparable encouragement. Millions need guidance."
Suzette Martinez Standring
"Best Senior Site ever on the Web! Great, up-to-date information on how seniors can save money on drugs. Wonderful nostalgia. Hard-hitting senior advocacy pieces that get read in high places. Wonderful humor. It's all at Suddenly Senior."
Alexa.com
KUDOS
Now read by 3.1 million in 83 newspapers from Florida's St. Petersburg Times to the Mumbai, India News.