AN OCCASIONAL FEATURE
To readers who want both sides of every question:
Here's yet another service from Suddenly Senior.
Experts Flo and Moe respond to readers' deepest concerns.
---
MUSIC LOVERS?
Dear Suddenly Senior,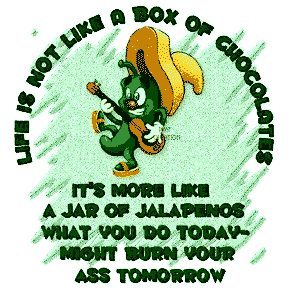 Why is it, every time my husband drives my car to get the gas tank filled, he readjusts the seat, uses all my Kleenex, leaves his half-full coffee cup in the console and worst of all, changes all my pre-programmed radio stations? Why can't he just leave well enough alone and remember that this is My Car, not his? -LINCOLN LOUISE
FLO SAYS: Start taking your car to get gas and get it washed yourself. You are a big girl and can certainly handle that chore without having your husband do it. Small price to pay not to have your sacred vehicle disturbed.
MOE SAYS:  Well, "Complaining Cassie," is this the thanks you give him for all that he does for you? And besides, I'll bet you have terrible taste in music.
ONE HOT MAMA
Dear Suddenly Senior:
Yesterday, in the supermarket, some old wrinkled, creepy codger, much older than myself, winked at my wife and said, "Hi cutie, can I buy you a drink?" How dare he try to make out with my wife? –OFFENDED IN OKLAHOMA
FLO SAYS: Men do this to me all the time. It is because I AM a cutie and I suspect your wife is too. By the way, that wrinkled, creepy old codger is 10 years younger than you.
MOE SAYS: Talk to this guy. Perhaps you can get a good deal on a trade in.
LOOK FAT?
Dear Suddenly Senior,
Hip, hip, hurray for the senior discount! I've already saved $83 this year. And those early-bird specials are cheaper than my cooking. Is it wrong to eat the 3 p.m. special at the Busy Bee to save a buck or two? -EARLY BIRD ROBIN
FLO SAYS: I still can't figure out why sales clerks don't ask for proof of age. How anyone can believe that I qualify for senior discounts is beyond me.

MOE SAYS: We'll see you at the Bee. They have great mashed potatoes.
SHOPPING SPREE
Dear Suddenly Senior:
Since his retirement, my husband insists on going along when ever I go out.
It doesn't matter whether it's for groceries, to gas up the car, or even when I'm trying to shop for shoes. He says he gets bored at home and wants to spend as much time as possible with "His Little Lady."
Oh brother! When we get to the store, he does a running commentary on which brand is best, insists on reading all the labels in the grocery store, and loudly accuses the butcher of charging extra for the meat by weighing his thumb and the wrapping paper.
It's even worse when we go shopping for his clothing. He refuses to try anything on, just grabbing whatever is handiest, regardless of size or style, and of course, never would think of retuning anything.
And when he accompanies me shopping for clothes, he tells me everything I want to buy either makes me look fat, or that I have one just like it in my closet. The man has no idea what I have in my closet and just enjoys being a pain in the ass. What can I do? – DESPERATE HOUSEWIFE
FLO SAYS: Hey honey, wait till he takes his daily nap, run as fast as you can out to your car, hop in, drive away and leave the old boy on the couch. Not only will you not have to put up with the idiot, but think of all the others who will be spared his "frugality and wisdom."
No longer will you have to try to resist slapping him silly. Shoe sales are not meant for men. Find a gay gentleman to take along and learn how to really look good.
MOE SAYS: What are you complaining about? After all, most guys I know never are considerate enough to shop with their wives. You need someone along to tell you that you don't need that. Think of all the dough you'll save, thanks to your ever-lovin' hubby.
About
This top-ranked site now has over 4,000 pages of humor, nostalgia, senior advocacy and useful information for seniors 50+. Updates weekly!
The daily e-zine for everyone over 50 who feels way too young to be old.
"...the perfect mix of Andy Rooney, Dave Barry, and Garrison Keilor, combining knee-slapping humor with useful information and genuine compassion."
Retired.com
"Thousands look to and trust Suddenly Senior. Other Websites pale in comparison to the real-life, intimate look into senior lives. What sets apart Suddenly Senior is its blistering honesty and its incomparable encouragement. Millions need guidance."
Suzette Martinez Standring
"Best Senior Site ever on the Web! Great, up-to-date information on how seniors can save money on drugs. Wonderful nostalgia. Hard-hitting senior advocacy pieces that get read in high places. Wonderful humor. It's all at Suddenly Senior."
Alexa.com
KUDOS
Now read by 3.1 million in 83 newspapers from Florida's St. Petersburg Times to the Mumbai, India News.