To readers who want both sides of every question:
Here's yet another service from Suddenly Senior.
Experts Flo and Moe respond to readers' deepest concerns.
---
CLICKER BLUES
Dear Suddenly Senior,
After 52 years of marriage, my ever-loving spouse still cannot get it through his thickening head that I don't want to watch his dull, boring TV shows. My "Mr. Clicker" switches channels so often and fast I wonder if he has Parkinson's. His one talent in life is to click through 200 channels and find the dreariest program available.
-FLIPCRAZY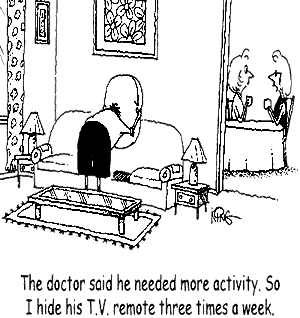 FLO SAYS: First, we are talking about a man. You must know, dear, that men begin this behavior as boys, perfecting it through the years.
Genetics determine that they can focus only on ESPN, CNN, and other mind-numbing programming. Husbands flipping channels at a death-defying rate has driven many a wife to distraction, even mayhem.
Get another TV. And remote. Put them in a room as far away from that old boy as you can. Microwave popcorn. Don't share. Happy trails.
MOE SAYS: How can you be so shallow as not to care about Nebraska linebackers, Preakness Stakes, and Tiger's brand of underwear? Obviously, you suffer Clickers' Envy and care only how The World Turns and where The Guiding Light shines. I'll make my own popcorn, thank you.
TAKING STOCK IN MARRIAGE
Dear Suddenly Senior,
To make our retirement more comfortable, my stupid wife invested our nest egg in the hot stocks of the time: WorldCom, Global Crossing, Qwest and Tyco. We're now broke, and I must go back to work at age 84. What do you think?
– PENNILESS IN PEORIA

FLO SAYS: Sounds like your old lady has the same luck in investments as she has with husbands. I suggest that you dig out your best smile and practice saying, "Do you want fries with that?"
MOE SAYS: Consider murder. If you can't be a good example, be a horrible warning. How much life insurance does she have?
SENIOR DISCOUNT DILEMMA
Dear Suddenly Senior,
Hip, hip, hurray for the senior discount! I've already saved $83 this year. And those early-bird specials are cheaper than my cooking. Is it wrong to eat the 3 p.m. special at the Busy Bee to save a buck or two?
-EARLY BIRD ROBIN
FLO SAYS: I still can't figure out why sales clerks don't ask for proof of age. How anyone can believe that I qualify for senior discounts is beyond me.

MOE SAYS: We'll see you at the Bee. They have great mashed potatoes.
SERENDIPITOUS DIAPER DALLIANCE
Dear Suddenly Senior,
I've been married to the same man for over 60 years and never strayed. Then, last week, I had the most amazing, wild and compassionate sex with another man, a complete stranger I met while buying diapers at the drug store. He and I both use Depends, can you imagine the coincidence? We got to talking, and the next thing we knew, we were at his assisted-living residence feeding each other Cherry ice cream. That turned out to be a slippery slope, and I was soon in bed with him.
My question: Do you think sharing the same brand of diapers is foundation enough for an affair at my age?
-DRY IN ALL THE RIGHT PLACES

FLO SAYS: Go for it, honey! After 55 years with one man, you deserve to spread your wings. Just watch that, in the heat of passion, your Velcro strips don't get stuck to his.
MOE SAYS: How would you feel if your husband found someone special to share his Extra Hold Fixodent? Ah, that's the bite. Perhaps you can push the old man to infidelity, the four of you ending up in an orgy, octogenarian-style. Do write and tell what it's like.
About
This top-ranked site now has over 4,000 pages of humor, nostalgia, senior advocacy and useful information for seniors 50+. Updates weekly!
The daily e-zine for everyone over 50 who feels way too young to be old.
"...the perfect mix of Andy Rooney, Dave Barry, and Garrison Keilor, combining knee-slapping humor with useful information and genuine compassion."
Retired.com
"Thousands look to and trust Suddenly Senior. Other Websites pale in comparison to the real-life, intimate look into senior lives. What sets apart Suddenly Senior is its blistering honesty and its incomparable encouragement. Millions need guidance."
Suzette Martinez Standring
"Best Senior Site ever on the Web! Great, up-to-date information on how seniors can save money on drugs. Wonderful nostalgia. Hard-hitting senior advocacy pieces that get read in high places. Wonderful humor. It's all at Suddenly Senior."
Alexa.com
KUDOS
Now read by 3.1 million in 83 newspapers from Florida's St. Petersburg Times to the Mumbai, India News.