If you've written a novel or non-fiction book, you know that writing is just the first challenge. With publishers not even accepting unsolicited manuscripts, it's tougher than ever to get published. Thanks to an aspiring novelist and Suddenly Senior reader, Ken Hodge of Vancouver WA, the idea for a Suddenly Senior Writers Showcase was born.
You can read more about the Writers Showcase at the end of the story…
And now without further ado, our first Writers Showcase entry!
Soon after we moved to the new town, I passed a new milestone. One Saturday morning, Dad said he was going downtown to get a haircut. He asked if I wanted to come along and get a haircut, too. Of course, I said yes. Mom had always cut my hair before and now I was going to get it cut by a real barber, just like the big guys.

We walked five blocks to downtown, Dad puffing on a cigar and strolling along in an easy gait as I ran to keep up. When we got to the Main Drag, we took a left and walked down the sidewalk past a drug store and a hardware store. We came to a place with an upright cylinder outside, white and red stripes spinning slowly. This was the barbershop. Dad opened the door and we went inside.
The place reeked with the smell of lotions and oils and hummed with the sound of clippers clipping and voices buzzing. Bits of hair littered the floor, now and then swept up by a barber into a pile at the corner. Huge mirrors filled the back wall. Lined up along the other walls were chairs full of men waiting their turn. They were having a good time, I could tell, and nobody was in a hurry to get finished and leave.
There were a couple of guys in bib overalls and muddy boots, maybe potato growers or dairy farmers. One guy was dressed in a suit and shirt and tie, probably a banker. Another man wore slacks and plaid shirt, perhaps a merchant or a high school teacher. Another one had ragged jeans, cut off at the shins, with high leather boots a logger or maybe just a worker from the pine mill. They were talking about all kinds of stuff. About hog prices and football games and whether the feds would let more irrigation water come in.
"Looks like the City Council is gonna raise taxes for paving more streets," said the guy in the suit.
"Over my dead body!" said the guy in the plaid shirt. Everybody kind of snickered and went back to talking.
"Didya hear 'bout the County Commissioner?" asked the guy in ragged jeans. "Didya hear what happin' to him over in Bend?"
"You mean ol' man Davis?" said the guy in the plaid shirt. "Yeah, I heard he had a stroke."
"Yeah! In a whorehouse!" said the guy in ragged jeans. "The girl he had just about went crazy!"
Everybody broke out laughing. Some were laughing so hard they ended up coughing and wiping tears from their eyes. The guy in the suit tried to shush the guy in ragged jeans. He put a finger to his mouth and pointed at me.
"What, the kid?" asked the guy in ragged jeans. "Don't worry. He don't know what the hell a whorehouse is anyway!"
He was right. I didn't know what the hell a whorehouse was. But I sure wanted to find out. I looked at Dad. He was pretending to read an old Look magazine, but he had a tiny smile on his face.
"Which whorehouse was it?" asked one of the guys in bib overalls.
"The Cozy Rooms, I think," answered the guy in ragged jeans. This started them laughing all over again.
What was it all about? It didn't make any sense. I knew a stroke was bad news. So why were they laughing? What's so funny about having a stroke in a whore-house? And what's a whorehouse?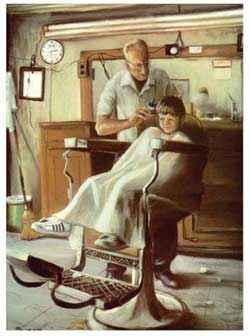 I finally gave up trying to figure it out and looked these guys over again. They seemed to be happy just sitting here in this barbershop. Maybe they were happy to get away from their jobs or wives or whatever troubles they had. I could see this barbershop was a special place for them. If their hair didn't grow out, they would've found some other reason to come in here maybe to get their toenails trimmed.
After Dad got his haircut, it was my turn. When the barber pointed at me, I stood up and walked to the chair like I was advancing to the throne of England.
The barber got a board and set it across the arms of the chair and I climbed up on it. As I sat there getting clipped, I felt really proud to finally be old enough to come to the barbershop for a haircut. I thought about growing up to a man's full height and sitting in the chair without a board. I dreamed about sitting in the chair and talking about the City Council and laughing about a County Commissioner getting a stroke in a whorehouse. I knew that someday I would share in the joys of finding refuge in a barbershop. And that someday I would find out just what the hell a whorehouse was.
---
Ken Hodge, born and raised in central Oregon, has spent most of his career in Washington state in community development work. He holds a Bachelor of Business Administration degree from the University of Oregon and served in the U.S. Air Force as a public information officer. Now retired, he lives in Vancouver, Washington. This was an excerpt from Ken's boyhood memoir called "We Didn't Get Fat and We Did Have Fun" which he hopes to get published.
About
This top-ranked site now has over 4,000 pages of humor, nostalgia, senior advocacy and useful information for seniors 50+. Updates weekly!
The daily e-zine for everyone over 50 who feels way too young to be old.
"...the perfect mix of Andy Rooney, Dave Barry, and Garrison Keilor, combining knee-slapping humor with useful information and genuine compassion."
Retired.com
"Thousands look to and trust Suddenly Senior. Other Websites pale in comparison to the real-life, intimate look into senior lives. What sets apart Suddenly Senior is its blistering honesty and its incomparable encouragement. Millions need guidance."
Suzette Martinez Standring
"Best Senior Site ever on the Web! Great, up-to-date information on how seniors can save money on drugs. Wonderful nostalgia. Hard-hitting senior advocacy pieces that get read in high places. Wonderful humor. It's all at Suddenly Senior."
Alexa.com
KUDOS
Now read by 3.1 million in 83 newspapers from Florida's St. Petersburg Times to the Mumbai, India News.