Nostalgia
Famous Flatfoot Dick Tracy Could Teach Today's Gumshoes a Thing
When I was a youngster, the first letter I ever wrote that didn't thank a relative for a Christmas/Birthday present (my B'day is two days after Christmas) begged Bulldog Drummond to please move his radio show back to 7:30 p.m.
A schedule change had put him on the air after my bedtime.
Captain Drummond, as you may recall, was a '40s James Bond noir-style detective who fought the crime of the era, what there was of it.
We kids listened to them all: Mr. District Attorney, The Shadow, Gang Busters and others now long forgotten. My favorite crime buster was not on the radio, however, but in the comics of the Chicago Tribune.
His name was Dick Tracy.
Created by Chester Gould in 1931, for decades this steely 30-ish bachelor was America's most famous detective. Righting wrongs, avenging deaths, and utterly frustrating what must be the most hideous, most memorable villains ever, Tracy's incorruptible honesty and willingness to use excessive violence kept us kids – and our parents – reading him with great enthusiasm in those pre-Miranda days.
When my dad decided to take me along on his yearly fishing trip to Minocqua, Wisconsin, Tracy happened to be trapped, bound by dastardly criminals to a huge brick of ice, an encased knife just inches from his heart getting closer and closer by the drip-drip-drip of melting ice.
I was what, maybe 10? Little Spider Lake and its famous Tiger Musky fishing were a world away from the nearest Tribune delivery.
I demurred. I needed to learn how Tracy got out of this one!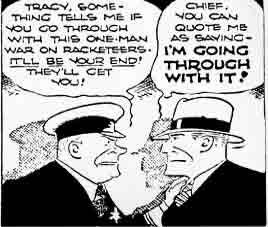 Of course, my father had other ideas. I went. And – surprise, surprise – the square-jawed detective was still on the ice when I returned eight days later. Just a bit closer to death.
Such was our fanatical devotion to this square-jawed cop with an affinity to yellow hats.
Real crime in the 1940s was teddy-bear tame compared with today. Gould's genius was to invent both villains and anti-crime devices that took our breath away.
Lowlifes the likes of Mumbles, an incoherent conman, Flattop, named for his flat, misshaped head, Flyface, like that dirty kid from Charlie Brown, only older and evil, Shakey, whose hands trembled out of control when he was angry, and Prune Face, a WWII saboteur notorious for his severely sun-damaged face, made up a Rogues' Gallery unmatched ever in fact or fiction.
Tracy's love affair with Tess Trueheart was almost as turbulent as his crime-fighting, tamed only by their marriage in 1949 after some 18 years of high soap opera.
While researching, I learned that the marriage lasted 40 years, producing three children, before Tess asked Tracy for a divorce. Same problem they had before marriage: Tracy's workaholicism. The couple subsequently reconciled, having another kid, Joe Flintheart Tracy, in 1979.
Let's see, that would put Tess about 70. But who's counting?
Gould's inventions and friends were equally amazing. From immediately after the war, Tracy fought crime with his futuristic 2-Way Wrist Radio, eventually upgraded to a 2-Way Wrist TV and again to a 2-Way Wrist Computer. Early on, there were closed-circuit TV lineups, even an engineless car.
Tracy's extraordinary friends like B.O. Plenty, Gravel Gertie, their daughter, Sparkle Plenty, and inventor, Diet Smith, rounded out the cast.
Gould retired from the strip in 1977. By that time there were movies, radio and TV programs, but none reached Dick Tracy's popularity in the comics.
As far as I can tell, the strip is still running and Tracy continues to make the world safe for democracy. He'll be 77 in September.
Our Sponsors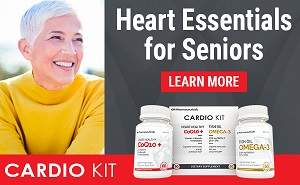 Cardiologist Developed and Recommended
---
Your ad could be here.
About
This top-ranked site now has over 4,000 pages of humor, nostalgia, senior advocacy and useful information for seniors 50+. Updates weekly!
The daily e-zine for everyone over 50 who feels way too young to be old.
"...the perfect mix of Andy Rooney, Dave Barry, and Garrison Keilor, combining knee-slapping humor with useful information and genuine compassion."
Retired.com
"Thousands look to and trust Suddenly Senior. Other Websites pale in comparison to the real-life, intimate look into senior lives. What sets apart Suddenly Senior is its blistering honesty and its incomparable encouragement. Millions need guidance."
Suzette Martinez Standring
"Best Senior Site ever on the Web! Great, up-to-date information on how seniors can save money on drugs. Wonderful nostalgia. Hard-hitting senior advocacy pieces that get read in high places. Wonderful humor. It's all at Suddenly Senior."
Alexa.com
KUDOS
Now read by 3.1 million in 83 newspapers from Florida's St. Petersburg Times to the Mumbai, India News.