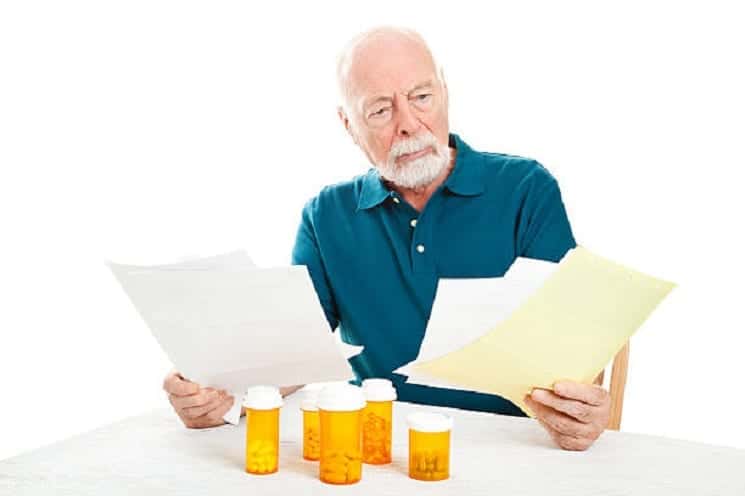 Does anyone know what's in the 1,100-page Medicare Drug Bill?
No one in Congress admits to even reading it.
Probably the only ones understanding this bill, that beginning January 1st pays for prescription drugs, are the lobbyists who wrote it. Regrettably, these pharmaceutical, insurance, and HMO pimps aren't talking. Their mouths are zipped into those Cheshire-cat grins so common in Washington, the twisted smirk that screams, "I got away with it!"
So it's no surprise that the Centers for Medicare & Medicaid Services (CMS) new "Medicare & You" handbook slated for your mailbox later this year contains a few errors.
There's no mention, for example, that once your total drug spending reaches $2,250 – just when you really need a break – you must pay the entire cost of all prescriptions until they reach $5,100.
At this point, although your insurer will now pay 95 percent of future purchases, your out-of-pocket cost is $3,600, not including the $37 average monthly Part D premium (due even when you're paying out 100 percent of the cost of your prescriptions), the $250 deductible, annual enrollment fees, etc.*
This trifle that CMS finds unworthy of mention will devour over half my Social Security income.
The oversight is commonly called the "Donut Hole." Perhaps "Big Pharma Money Pit" is more apt. Since Congress outlawed negotiating drug prices giving Pharma a $400-billion windfall, we seniors will be paying far more per pill than anyone else on earth. A double payment, really, as the pharmaceuticals were likely researched and developed with our own tax dollars.
Democrats receiving the leaked draft of "Medicare & You" also complain that the handbook "prioritizes" managed-care plans over traditional Medicare.
Duh! What do they expect? This $855.7-billion swindle doesn't just favor HMOs, its primary purpose is to kill Medicare outright, leaving drug, insurance and managed-care companies to pick at the bones of this formerly great program and those it served.
CMS tags the new program, "Same Medicare. Better Benefits." It's like telling the Japanese after The Bomb, "Same Hiroshima. More Room for Development."
Sure, a sliver of this half-trillion dollar fiasco will undoubtedly help some of our neediest seniors. Individuals with incomes capped at $1,197/mo. ($1,604 for couples) are eligible for some assistance. For a full subsidy, individuals must have incomes of $1,077 or less per month ($1,444 for couples) and less than $6,000 in assets ($9,000 for couples). Cars and houses don't count.**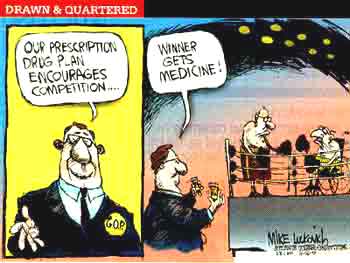 But for you, you, and you, bend over and kiss your healthy butt goodbye.
We're substituting a program that now works equally for everyone, and spends but a penny of every dollar on overhead, for one that cherry-picks patients, spends between 15 and 32 cents on overhead – money that's not spent on our welfare – and one in which HMOs can whimsically switch drugs and services at will.
Patient benefits will vary widely by region and insurer. Further tilting the playing field, HMOs get more than Medicare does for the same services. Congress calls this $12-billion giveaway a slush fund, HMOs call it a jackpot, but it's simply a disgrace to most of the rest of us.
Finally, for those of you smug in your excellent retiree drug plan, this bill pays your former employer big bucks to reduce your drug benefit to the stinking coverage the rest of us get. In fact, the Congressional Budget Office estimates that up to 25 percent of retirees with existing drug coverage through a former employer – 2.7 million seniors – will lose coverage altogether.
But didn't the President himself suggest that Medicare beneficiaries should not accept less than what lawmakers receive?
Yes, and before you could say "Dental and Vision Coverage," Congress exempted itself from the Medicare bill, guaranteeing federal employees and members of Congress drug benefits generously worth about 50 percent more than the rest of us will get. And as there's no "Donut Hole" in the lawmakers' plan, CMS's senior moment is explained.
As our President said, "If it's good enough for the Congress, it's good enough for the senior citizens of America."
** To learn if you qualify, download form here.
Sponsored Links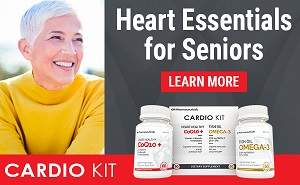 Cardiologist Developed and Recommended
---
Your link could be here.
About
This top-ranked site now has over 4,000 pages of humor, nostalgia, senior advocacy and useful information for seniors 50+. Updates weekly!
The daily e-zine for everyone over 50 who feels way too young to be old.
"...the perfect mix of Andy Rooney, Dave Barry, and Garrison Keilor, combining knee-slapping humor with useful information and genuine compassion."
Retired.com
"Thousands look to and trust Suddenly Senior. Other Websites pale in comparison to the real-life, intimate look into senior lives. What sets apart Suddenly Senior is its blistering honesty and its incomparable encouragement. Millions need guidance."
Suzette Martinez Standring
"Best Senior Site ever on the Web! Great, up-to-date information on how seniors can save money on drugs. Wonderful nostalgia. Hard-hitting senior advocacy pieces that get read in high places. Wonderful humor. It's all at Suddenly Senior."
Alexa.com
KUDOS
Now read by 3.1 million in 83 newspapers from Florida's St. Petersburg Times to the Mumbai, India News.