Retirement
10 Little Things I Enjoy the Most About Retirement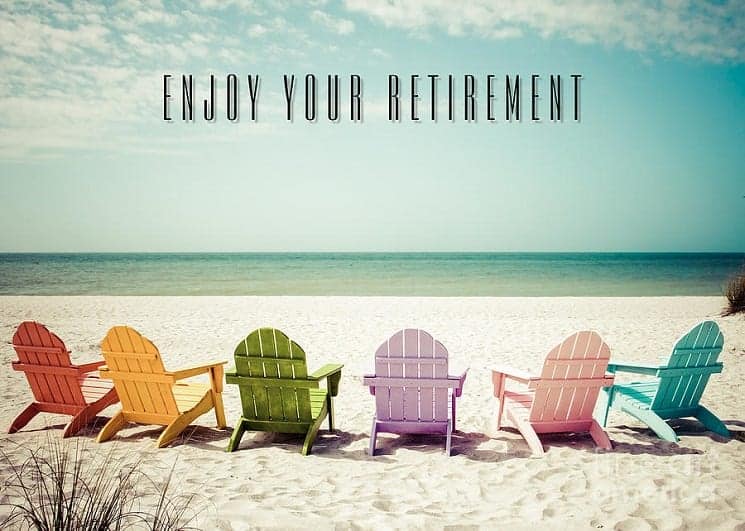 Are you enjoying retirement? Here are 10 things you can enjoy about retirement.
1. The sound of my NY Times hitting the driveway on a weekday. It's hardly perceptible, the paper is thin. Lying in bed, I have to listen really carefully and it's worthwhile to listen. The sound of the paper used to signal panic-time. I'd overslept! I'd jump wide-eyed out of bed and rush like crazy to get dressed and out of the house, skipping the only two things I really liked about getting up; a hot shower and breakfast. It meant driving too fast to work, hopefully not doing anything stupid along the way, and arriving as tense as if I'd already worked half the day.
Now the sound of the paper means roll over, sleep some more, or just lie there without sleeping. Eventually go out for the paper and over the course of the day, devour it, including the crossword puzzle. It's morning and I've got the whole entire day. If I've got something planned, I can usually still roll over and have time for the planned thing and for the paper too, afterward.
2-3. The government. I know, I know, am I crazy? Don't I know everything is Washington's fault? Maybe, but I don't ever argue anymore (#3). Come the first day of the month and before 7:30 A.M., my friend the government, along with my friend the big corporation where I worked all those years, deposits my money into my bank account. Along with my annuity and my (meager) book royalties, it's all the money I need for the month and with some left over. And with on-line banking, I don't even have to go to the bank to see if it's all there.
4. Never saying no to the kids. Used to be, when one or the other of my children called and asked could I watch their kids on a particular day, I had to go through the calendar in my head — and the one in my briefcase — and figure out if I could do it. Now when they ask, I just say yes. Eventually, when I do get around to looking at the calendars to see if there are any conflicts, I resolve them in favor of the kids. No such thing anymore as an important meeting, you know, one of those meetings you have to go to with your boss and that only dying can get you out of.
5-6. Not wearing a watch. My watch broke shortly after I retired. My first instinct, as always, was to prioritize getting a new one. I couldn't imagine getting around without one. But, like a lot of things these days, I put it off (#6, putting off.) Turns out I didn't need a watch. I've got the alarm clock alongside the bed but I never set it anymore. I have the clock in the kitchen and the clock in the car and that's enough. I rarely need to know what time it is. Or the day of the month. Or the month.
7. Naps before ballgames. With the Super Bowl and the World Series and the rest of the big games going until late at night. (I live on the East Coast so I rarely made it to the end.) Usually I'd fall asleep early and hopefully wake up for the end. But with working all day and another full day tomorrow, I mostly slept through the best parts.
Now I am able to snooze in the afternoon and still have time to put a nice supper on the table, ready for when my wife walks in the door. Hey, she did it all those years for me, and she's not old enough to retire. After supper and cleaning up, I do the cleanup too, but won't list it as a favorite thing> Then I can sit down and watch the ballgame without falling asleep. If it's my team and we win, I can stay up for all the post-game stuff.
8. Running into one of my old bosses in the grocery store or the hardware store. They're still working (LOL!) so if it's the hardware store it's lunchtime, if it's the grocery store it's after work (for them). I can be polite (I usually am) but I don't have to be. And if they start complaining about how things are at the office, I can tell them "No thanks, don't want to hear it". I no longer have to pretend I care.
9. Driving. I can do my errands after the morning rush hour, and before the evening rush hour. I go out say around 10 o'clock or 2 o'clock on a Tuesday afternoon, when everyone's ensconced in their cubicle. I can drive at my own pace — the speed limit — and with no regard for the irate commuter who has had the ill-fortune to get behind me.
10. Snow days! You know all that indecision that goes through your head. Should I try it, should I wait, will I be the only one not to go in? Will the snow plough be along to do my street in time? Will I make it home safely tonight? Bye-bye to all that. Now snow days mean coffee, a book, and a big picture window for watching the snow.
Next time I'll give you the 10 little things that irritate me the most about being retired. NOT!
Hugh Centerville lives in New York State and doesn't think he'll ever move to Florida or Arizona, but you never know. He divides his time between the mid-Hudson Valley and the Adirondack Mountains. He likes camping, fishing, baseball and most anything that doesn't move too fast.
Senior Citizen Contest
Win Our $1k Grand Prize
Weekly prizes awarded
About
This top-ranked site now has over 4,000 pages of humor, nostalgia, senior advocacy and useful information for seniors 50+. Updates weekly!
The daily e-zine for everyone over 50 who feels way too young to be old.
"...the perfect mix of Andy Rooney, Dave Barry, and Garrison Keilor, combining knee-slapping humor with useful information and genuine compassion."
Retired.com
"Thousands look to and trust Suddenly Senior. Other Websites pale in comparison to the real-life, intimate look into senior lives. What sets apart Suddenly Senior is its blistering honesty and its incomparable encouragement. Millions need guidance."
Suzette Martinez Standring
"Best Senior Site ever on the Web! Great, up-to-date information on how seniors can save money on drugs. Wonderful nostalgia. Hard-hitting senior advocacy pieces that get read in high places. Wonderful humor. It's all at Suddenly Senior."
Alexa.com
KUDOS
Now read by 3.1 million in 83 newspapers from Florida's St. Petersburg Times to the Mumbai, India News.