Spring is memory-making time – Mother's Day, spring recitals, weddings, and graduations.
Hosts say, "This is a special occasion," and the good china comes out of deep storage. But why wait for the rare celebration?
Repeat after me: "I'm special enough for every day."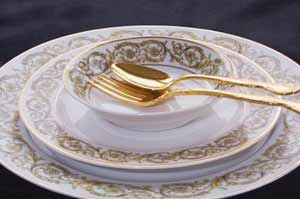 And serve the meatloaf on your best Limoges tonight.
"I'm special enough" is my daily credo, which was inspired by Bill Cosby. Years ago, he bought expensive silver flatware from an estate auction house. At what special occasions did he plan to use his new sterling? His quote to the reporter is inexact here, but I recall it as, "Every day. I'm special enough."
Yet the common objection is "But it might break" or "It's irreplaceable."
Honey, you're irreplaceable. The rest of it is just stuff.
Not Showing Off; Showing Love
The days of clumsy little kids at meal times are over. It's one of the serious perks to older adulthood. Transform the mundane. It's time to eat spaghetti off the Minton (an incomparable experience, I might add).
Still, others may protest, "But doesn't it look like I'm showing off?"
No, it's not showing off, it's a show of love.
My mother owned a Japanese tea set, a wedding gift in 1951. The dragon teapot was cobalt blue, with gold trim and hand painted beading. The cups were paper-fine porcelain and when held up to the light, a previously invisible Geisha's face appeared on the cup's bottom. It was never used nor were we allowed to touch its seemingly priceless beauty.
I inherited the set and secreted it away in a dark, safe place.
But upon embracing the mindset, "I'm special enough," then out it came for no special reason, a casual lunch or a sudden cup of tea with friends.
Inevitably, someone would ask "Are you sure you want to use those?"
And I'd remember Bill Cosby and say, "I'm special enough and so are you."
On a nothing day, we were queens sipping Earl Gray from fancy cups and eating cookies on exotic dragon plates. We felt uplifted and correspondingly, so were our conversations. Basically, festive teacups replaced everyday mugs but my friends felt as if something "special" had been created just for them.
So imagine my shock to discover that my heirloom set was worth less than $75. I had taken it to an appraiser to sate my curiosity, convinced it would be the next star of the "Antiques Road Show." But Kutani tea sets are common – too common.
What we find precious is only precious to us. To reap the full pleasure from such treasures, especially during these times of belt-tightening and cost cuts.
If one is not forced to sell them, then regular use conjures up feelings of luxury and warm nostalgia. Bring out that crystal Pilsner glass at the back of the cupboard and quaff a beer in style. If movie tickets and dinner out are too dear, then savor a burger at home on your Wedgwood.
Besides, what are you saving it for anyway? A younger generation lives a time-constrained, disposable, convenience-oriented lifestyle. Most likely, treasured Spode will be transferred to some other dark attic in the future – and like turkeys of Thanksgivings past may never again see the light of day.
Bring out the best and the finest now. You're more than special.
About
This top-ranked site now has over 4,000 pages of humor, nostalgia, senior advocacy and useful information for seniors 50+. Updates weekly!
The daily e-zine for everyone over 50 who feels way too young to be old.
"...the perfect mix of Andy Rooney, Dave Barry, and Garrison Keilor, combining knee-slapping humor with useful information and genuine compassion."
Retired.com
"Thousands look to and trust Suddenly Senior. Other Websites pale in comparison to the real-life, intimate look into senior lives. What sets apart Suddenly Senior is its blistering honesty and its incomparable encouragement. Millions need guidance."
Suzette Martinez Standring
"Best Senior Site ever on the Web! Great, up-to-date information on how seniors can save money on drugs. Wonderful nostalgia. Hard-hitting senior advocacy pieces that get read in high places. Wonderful humor. It's all at Suddenly Senior."
Alexa.com
KUDOS
Now read by 3.1 million in 83 newspapers from Florida's St. Petersburg Times to the Mumbai, India News.