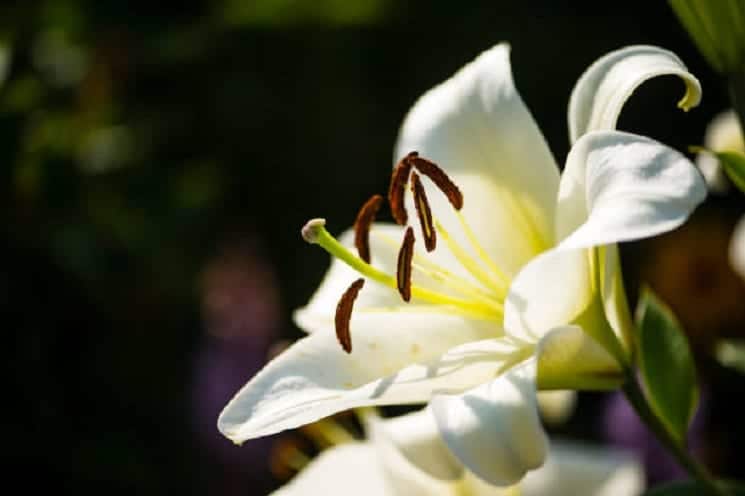 As a child, Easter was a very special time to me.
This had much to do with my father.
Even though he wasn't an overtly religious man, he made 'much to do' about Easter.
We traditionally went to church on Easter Sunday, decked out in our brand new Easter clothes. I wouldn't let Mother wash them until I had worn them to church, as I cherished the new 'store bought' feel and smell of them. Needless to say, we didn't get a lot of new clothes. For us two girls, Daddy always helped pick out our Easter bonnets. The 'bonnet' was an essentially feminine Easter accessory 'once upon a time'.
When I was 11 years old, it was an amazing year. That spring leading up to Easter would unveil both love and divinity to me that I still, today, view with bewilderment.
Daddy tended to his honey bees that spring as usual, and we sold the honey to make ends meet. We had a table set up in front of our house, covered with jars of homespun honey (complete with chunks of chewy honey comb). Above the handwritten price was placed a Ball jar with a slot in the lid for deposits of 'honey money' – our little store front was conducted on the 'trust system', not so unusual for that entirely innocent era. I must admit, though, that those days seem like a fairy tale now. And some of us hang on hard to the fleeting magic of those times of trust and simple happiness, along with continued hope for humanity.
Why, the only man that ever dared steal our storefront 'honey money' looked like he'd been stung by an entire bee hive when my daddy got a hold of him. Daddy had his own way of making people 'repent'. I can still see that man dashing down the sidewalk, to no avail. There was something to be said for 'out of court settlements' back then.
Our sales slogan was "McGee's Bees Be's The Best Bees" – And when spring came, so did honey bees. In droves.
Daddy said the bees were attracted to (or incited by) my blond hair. And it was true. They chased me when they felt like it, I suppose. Stinging my head as they entwined themselves in my stringy blond hair, I would run screaming, to no particular advantage. As if I were some kind of sacrificial tribal maiden, the bees were relentless with me and I had no choice but to live with it, as there was nothing so powerful as to keep me from the outdoors. I was at home as they were, in Mother Nature's lair.
On these sacrificial occasions, for the following few days after an attack of bees, an allergic reaction would invariably cause my head, face and eyes to swell. Over the years I became fairly use to their painful 'kisses of death' – as a bee dies when it stings, giving its life to protect the hive – I liked that part…
Anyhow, that particular year, I had to stretch my Easter bonnet over my swollen head to make it fit. No easy task. And more than a little humiliatin'. But I wouldn't have missed that Sunday, or decking out in my Easter dress and bonnet if a tiger had mauled me, much less a few mean bees!
If it sounds like a tormented childhood, no, it was much to the contrary. The sacrificial stings were well worth the keeping of the bees by my father – they were part of his special, mystical bond with nature. He told me that without bee's pollinating abilities there would be no flowers. It was all a part of the cycle of life, he said. I found out later that scientists wholeheartedly agreed with him. Daddy surpassed mere science though.
Yes, Daddy was a real, honest to goodness 'bee charmer' – an unexplained, yet undisputed phenomenon.
A Bee Charmer has no fear of bees, nor they of he (or she). Daddy use to commonly cover himself with bees, to the delight of other humans. Most beekeepers use smoke to keep the bees at bay, or from stinging the life out of them! But Daddy just charmed them. They would cling to him like he was some kind of Supreme Being. He was to me, too, so I understood how they became spellbound by his presence. They feared and yet revered his power, as did all who knew him.
It was that same Easter that I planted Lilies around my favorite Palm tree in the front yard. The simple beauty of these symbolic flowers always stunned me during the spring. The way the wild ones would suddenly pop up alongside cozy country roads and throughout Florida fields was a purely spiritual sight to behold. Daddy said that like cedars at Christmas, Lilies are the essence of Easter. – We sold cedars at Christmas time, on cold wintry nights.
I became a little obsessed with planting lilies that particular spring though. I wanted them to encircle the palm tree I had picked out to be their shrine.
I waited and waited that spring and finally began to wonder if those lilies would ever come up.
I asked Daddy if they were duds, or if maybe I was a dud – at planting flowers anyway.
I wanted to be good at it because Daddy could grow anything he set his mind to. Flowers were most special to him though.
And yet my mother never fooled with gardening. While she sure loved having flowers picked special for her and fresh vegetables to cook, she was totally immersed in the tall task of raising five 'budding' baby boomers. With liliaceous love, she was too busy nurturing her children to cultivate a crop of anything else. She cooked most all the food Daddy grew though, or that he and my brothers hunted – We all fished pretty much year round too.
And with very little money we dined like royalty. We lived like royalty. Our version of it, anyhow…
And I truly believe we learned what was most important from Daddy's knowledge of nature and of life than from all the schools and universities we would attend.
Anyhow, Daddy told me that my latent lilies would pop their pretty buds up on Easter and he sure had a way of knowing things…
I told him not to say that again though, because I didn't want to get my hopes up on this particular occasion. I thought he just wanted to make me feel better about my thumb that wasn't so green yet.
That Easter morning was along time coming. Don't know why. Just was. The first thing I arose to was a stuffed Easter bunny, a basket full of candy, and a sundry of Easter stuff, including the colored eggs our puzzled chickens donated. I always liked the fake green grass that nestled around all the goodies in a pristine Easter Basket. Don't know why. It just thrilled me. The basket and stuffed bunny smelled special too. Always.
It's funny how you remember smells from the distant past – One spring Daddy came home from turkey hunting and pulled a wild baby bunny out of his pocket. Just for me. "Brownie" would be my pet bunny for years to come. I still vividly remember her downy scent and furry softness too. "Brownie" made me realize that daddy was a special friend as well as father – Anyhow, the assortment of Easter goodies on my bed that memorable morning made me forget all about those Lily bulbs I had planted – At least for a while. I plucked enough Easter goodies out of that fake grass to make me fall behind schedule, so I had to rush to get dressed. Then it took a while to get that bonnet stretched over my swollen head. Mother assisted with that torturous task, assuring me 'all the while' that surely no one would notice my slight deformity amidst the 'hoopla' at church on that sacred Sunday. Running late, we ended up shooting out the door like seven arrows, flying towards our Easter ceremony that morning.
But 'lo and behold', as he did on every momentous occasion (and there were lots of them), Daddy made us five children stop and pose for pictures.
There I was, in all my Easter glory. Posing. Swollen Head and face under a twisted hat stretched down tightly toward eye slits, and stringy blond hair colliding with swollen nose freckles. What a sight. Wasn't so funny at the time.
The contrasting photo of my (swollen) self and my (cute) little sister together that Easter would later be a source of family amusement.
But following the family's fastest photo session, as we were dashing away, for some reason I looked over my shoulder to catch a glimpse of something I could barely believe.
Tears filled my eyes when I saw that my lilies had come up during the night, constituting a perfect circle around my Palm shrine. Just in time for Easter! I could only describe it as a moment of amazing grace…
I looked at Daddy with pure astonishment. I can still see his smiling Irish eyes gazing back at me as he winked and grinned.
I can also still envision those same passionate blue eyes looking up at me from his garden the last day I ever saw him on this earth. I noticed that some of the passion was fading though. It saddened me. Hitherto, I will always feel his presence when I gaze at fields of wild Easter Lilies. Or ever so perfectly potted ones.
I sometimes wonder why he left in the spring, and at Easter, when he always seemed most alive.
As these particular flowers symbolize The Resurrection, Easter Lilies stand forthright for perennial love. I think I answered my own question. Daddy is blowing in the whispering wind this time of year that softly speaks to me. He, the essence of nature at its peak of life, continues to remind me how precious the cycle of life is. And in everything living I see him as a recurrent message that echoes loud and clear, like a resonant ancient church bell.
He passed much of his appreciation and unique knowledge of nature on to my brothers, my sister, and myself – And, in turn, our children. He taught us everything from the mystery of bees to the skinning of catfish, cleaning of blue crabs, throwing of shrimp nets, keeping of animals, and hunting and fishing with a respect for life and death much like that of the Native American Indians who once flourished here; That taking from nature was to be used for survival in his world. And what was taken was revered.
Daddy never strayed too far from his beloved St. Johns River once he found Florida, during "The Big One" (W.W.II). He came from the mountains of Virginia to the naval air station in Jacksonville where he met and fell in love with Mother, while both were proudly serving their country. He was her military boss (or Chief), as she was one of the first 'Waves' in the US Navy. His love for Mother was boundless, as it was for his family and for life in the 'Real Florida'. He never returned to his roots after he got "sand in his shoes", as he put it. He just made more roots and passed them on to us.
Named after my mother, Lillian, Daddy sometimes called me his little Lily.
Daddy walked me down the aisle to my husband and most of his grandchildren were blessed with knowing and loving him in his lifetime. Most were children when he left us, but they remember everything unique about him. We all do. Every detail.
It was not long after he walked my little sister down the isle and 'gave her away' that he passed on. Since his death she has given life to a beautiful baby girl. Her name is Lily. Yes, Daddy lives on in so very many ways…
He wanted us to respect and understand nature and its infinite circle of continuous life and death. And to know that no living thing or person is ever really gone, in essence. And now I see….
---
About the Author
Penny McGee is a single mother of three and freelance journalist. She has worked for many newspapers, including the New York Times Company, and has published short stories and features for several magazines. "Today," she says, "I have the great distinction of being a native north Floridian. And a southerner by the grace of God!'"
Senior Citizen Contest
Win Our $1k Grand Prize
Weekly prizes awarded
About
This top-ranked site now has over 4,000 pages of humor, nostalgia, senior advocacy and useful information for seniors 50+. Updates weekly!
The daily e-zine for everyone over 50 who feels way too young to be old.
"...the perfect mix of Andy Rooney, Dave Barry, and Garrison Keilor, combining knee-slapping humor with useful information and genuine compassion."
Retired.com
"Thousands look to and trust Suddenly Senior. Other Websites pale in comparison to the real-life, intimate look into senior lives. What sets apart Suddenly Senior is its blistering honesty and its incomparable encouragement. Millions need guidance."
Suzette Martinez Standring
"Best Senior Site ever on the Web! Great, up-to-date information on how seniors can save money on drugs. Wonderful nostalgia. Hard-hitting senior advocacy pieces that get read in high places. Wonderful humor. It's all at Suddenly Senior."
Alexa.com
KUDOS
Now read by 3.1 million in 83 newspapers from Florida's St. Petersburg Times to the Mumbai, India News.