You gotta love Big Pharma.
No other institution, not even our sweet-talking, snot-nosed Congress, can match the pharmaceutical companies' sheer ego-tripping, gluttonous, jack-booted, big-balled gall and hypocrisy when it comes to dealing with you and me.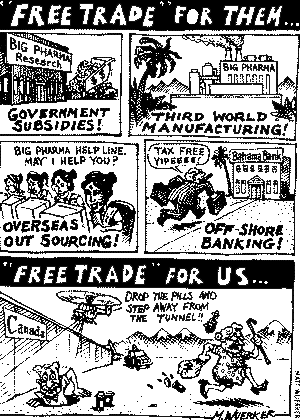 This $500,000,000,000 industry has grosser profits, more outlandish executive pay, and richer government subsidies than any in history.
Its unpunished fraudulent and deceptive sales practices are the envy of snake-oil peddlers around the world. And here in the US, its predatory price gouging is actually encouraged by a bought-and-paid-for Congress* and Federal Drug Administration.
Still, even corporate bullies like to be liked. Especially when threatened by a current legislative battle in California to compel drug makers to offer deep discounts to folks with incomes of up to $38,280.
So as the cost of pills in the US soars to Oxycodone heights, Pharma now masks itself as patron to the peons, a modern day Rockefeller dispensing free drugs instead of dimes.
At Pharma's Website a smiling Billy Touzin – new $2 million-a-year CEO – touts his "Help is Here Express," a bus tour "to inform millions of uninsured patients that they may qualify for assistance in paying for their prescription medicines."
Touzin, you'll remember, is the Congressman who engineered a $193-billion giveaway to drug companies and barred the federal government from bargaining down drug prices just before "retiring" to Pharma.
DRUG PROGRAMS A GODSEND (SOMETIMES)
"Look at us!" shout the pharmaceutical manufacturers, their arms bent awkwardly into back-patting position. "We gave away $4 billion in medicines last year!"
How much of this was spent on samples for doctors to tout and how much was for patient assistance programs is a secret. Still, for millions of seniors these free drug programs are a godsend.
The companies, however, don't make it easy.
Last week, when my three-month supply of reflux medicine from Wyeth ran out, I called for a refill. Wyeth gave me a fax number my doctor would need to fax a request for another form. I then called my doc who sent the fax, then resent it, and then re-resent it again before the forms arrived.
Today I drove to my doctor's office, armed with the same copy of my IRS Form 1040 and breakdown of personal income and expenses that I'd already submitted, and signed Wyeth's forms. With luck, I will get a call from my doctor in a week or so that my new 90-day supply of Protonix can be picked up.
What's wrong with this picture?
Wyeth is not alone putting a chill on its warm and fuzzy program. As one Suddenly Senior reader writes, "Pharma keeps their drug assistance programs as secret and dissembled as a CEO's affair with a stripper."
Complex income documentation blocks many, especially mentally ill patients. According to the Los Angeles Times, clinics often must hire full-time staff to help patients with their applications.
Eligibility requirements are often kept confidential and change without notice.
Peeking behind the curtain finds most drugs are available to those lacking drug insurance or access to government programs with incomes no more than twice the federal poverty level ($19,140 for an individual).
My personal experience with these programs is instructive.
AstraZeneca demanded that Medicaid first reject me, a process taking months and ending in stupefaction. (The catch? In some states you are eligible for Medicaid just by being 65 or older. Of course, there are no benefits.)
Yet Solvay's Patient Assistance Program requires a minimum of paperwork and promptly delivers the drugs to your door.
The trick is to be doggedly persistent. Always follow up forms with phone calls. Never assume that anything is "automatic." Know that you are in a land subject to the full force of Murphy's Law.
With Pharma feeling the California heat, perhaps the process will ease.
Whatever, if you need drugs and can't afford them, call Pharma at 888.4PPA.NOW or 800.762.4636. Also helpful are Pharma's Website, www.pparx.org, along with Drug Assistance Programs and Needymeds.com.
Do it now.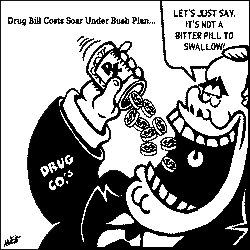 Remember, all bets are off come January when the Medicare Drug Bill takes effect. Of the 15 free drug programs I called, 14 warned me of big changes.
You can assume not for the better.
*See what your Congressman got paid by Big Pharma at OpenSecrets.org

About
This top-ranked site now has over 4,000 pages of humor, nostalgia, senior advocacy and useful information for seniors 50+. Updates weekly!
The daily e-zine for everyone over 50 who feels way too young to be old.
"...the perfect mix of Andy Rooney, Dave Barry, and Garrison Keilor, combining knee-slapping humor with useful information and genuine compassion."
Retired.com
"Thousands look to and trust Suddenly Senior. Other Websites pale in comparison to the real-life, intimate look into senior lives. What sets apart Suddenly Senior is its blistering honesty and its incomparable encouragement. Millions need guidance."
Suzette Martinez Standring
"Best Senior Site ever on the Web! Great, up-to-date information on how seniors can save money on drugs. Wonderful nostalgia. Hard-hitting senior advocacy pieces that get read in high places. Wonderful humor. It's all at Suddenly Senior."
Alexa.com
KUDOS
Now read by 3.1 million in 83 newspapers from Florida's St. Petersburg Times to the Mumbai, India News.