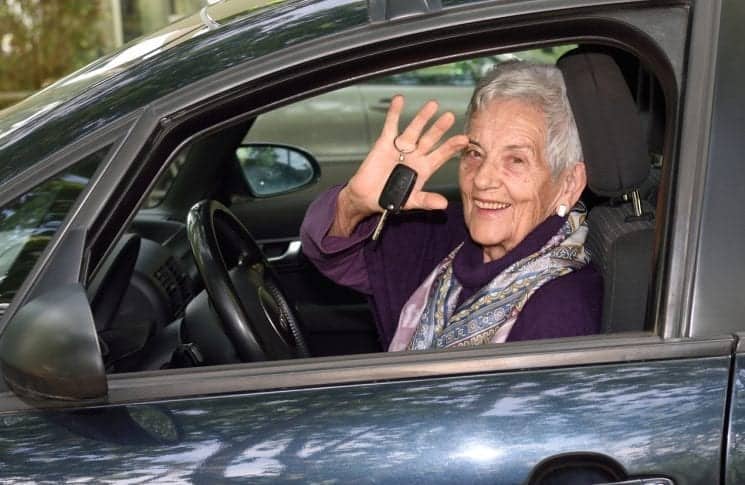 My husband and I just got home from a Driver Improvement Program for the mature operator.  We both received a certificate of Course Completion.  My problem wasn't the certificate, but what exactly did they mean by the mature operator.  The dictionary says: "…having attained a final or deserved state, refined, polished, to become fully developed or ripe."  I didn't feel I fit any of those descriptions.  I'm 73 and I'm far from having reached a final state, let alone refined and polished, especially in the field of driving a car.  As a matter of fact, I think I've gotten worse with age, perhaps a better word might be "over mature operator."
Risky Business Driving
As the driving instructor states, "Driving is a risky business!"  At my age, it's still risky, even if I haven't had an accident since I was sixteen.
It was with my brother, David's car. Whenever he was home on leave from the Army, he taught me driving lessons in his car.  After passing my driver's test, he handed me the keys to his car.  I'm still surprised my parents allowed me to drive to school and pick up my friends in the late 50s.  My driving career only lasted a few months.
Alas, I demolished the car on a slick, wet road and rolled over an embankment.  Once my brother came to the scene of the accident and found me to be safe, his only admonishment was, "At least you put on the blinkers to go over."
Defensive Driving
I was always quite proud of the fact that I never had an accident until the instructor said, "We don't always know if we contributed in some way to cause another person to have a collision."  All my good thoughts went down the drain.  Perhaps I spoke too soon.  As the instructor said, "Learn to look around—the sides, the front, and rear."
One day, when backing out of my driveway, I looked both left and right but completely forgot the rear view mirror.  The neighbor's car was parked on the street, where she usually parks. She already had gotten an estimate from a dent someone gave her on the side door.  Now she had to get another estimate for the front headlight I knocked out of her car.
Since that incident, I remembered this lesson very well.  Next time, two granddaughters, out-of-high school, and driving cars, were in my car, I admonished, "Learn to look every which way when backing out like I just did."  I then proceeded to back into the street, put the gear in drive from reverse, when Rebecca shouted, "There's a car coming around the curve.  Oh, it's slowing down."  I explained, "They have to wait.  I was here first."
Escape Routes
The instructor also mentioned we should always have an escape route in mind.  He talks big.  How is one to plan an escape route if you are in a tunnel?   He's nuts!  My husband had asked me to drive on a vacation trip "just for one hour" so he could have a reprieve.  He forgot to tell me, we were heading for a tunnel, and that it would be dark in there. I yelled, "It's dark in here!"  Once I'm in a panic, he knows he has to approach the situation calmly, "Stay calm.  I'll take your sunglasses off very carefully.  I promise."
Not so calmly, I yelled, "Don't you dare reach across me. I can't have any movement in front of me!"  I managed to get through it without an escape route.
Truck No-Zone
Soon the workbook mentioned truck passing or following a truck.  We were told, "Trucks have a large No-Zone on both sides of their vehicle.  If you follow a truck and wish to pass, stay out of their No-Zone.  Be sure the truck driver can see you in his side mirrors."
The instructor could have left this passing section out as far as I'm concerned.  I rarely pass a car, let alone a truck, unless my husband is in the passenger seat, begging, "Please pass this truck."
So, like a good wife, I obey and miss the exit, which the truck I just passed obliterated.  We had to drive far out of the way and head back to our exit.  All I said was, "See."
Driving Fears
I have to admit to a few driving fears I have.  I'm not like the mailman. I don't drive in snow or sleet and pouring rain.  If I'd ever had a breakdown on a country road, I'd hide in the woods until I'd hear Harry's voice calling me.  I don't even like to check the right mirror.  You'd think by now they'd have invented something other than "cars are closer than you think in this mirror."  I'll go out of my way not to use that mirror.  When we pick up a car at the garage, I go a block out of the way so I don't have to merge when checking the right mirror. When we had a car, that I had to shift, in a city with steep hills, I went way out of my way not to have to shift.
None of my five older sisters like when I drive.  They think I drive too slow. Actually, I'm the only one who drives within the speed limit.  One time, I insisted on driving the turnpike to visit my uncle.  Dorothy had the directions and was my co-pilot.  For the first time in my life, after this trip, the sisters gave me a 3-star rating.  I was thrilled and sure would have liked to impress that instructor and tell him about this rating.  I didn't.
Driver's Manual
The workbook was finally finished when the instructor announced, "You are all welcome to take the workbook home with you.  We never really have the time to teach everything, so I'm also sending along a Pennsylvania Driver's Manual.  Please refresh yourselves with this too."
The only thing I wanted to refresh myself with was a good cup of hot coffee.  Once home I did just that while browsing the manual.  After counting up to fifty-something signals, signs, and pavement markings, I was in awe of myself.  I couldn't believe I retained that many in my head.
When I got to the construction signs I quickly skimmed the pages.  I have an aversion to them.  They can cause anxiety attacks, even marital discord.
Scary Drive Home
It started out as a nice fall day.  My husband and I were headed for a Penn State football game.
Beforehand, he had asked, "If I drive out would you be willing to drive home?" I felt comfortable with the road and said OK.  It was near dusk. We were almost home when we came upon construction.  I was driving through megalith cement blocks on one side and three-foot orange cones on the other side.  As long as I followed another car I felt somewhat OK.  Then the car left the highway. I drove quite slow when my husband said, "Please drive faster.  It's not safe to drive this slow."  I became more flustered.
In my panic, I couldn't even tell on which side of the haphazard orange cones I was to be in.  Finally, seeing my panic, my husband yelled, "Stop the car when you can and I'll drive!"  Needless to say, construction signs can cause marital discord.
Well, at least I have another three years to go before we take another Driver Improvement Program.  Perhaps, by then I can consider myself a very mature operator.
Our Sponsors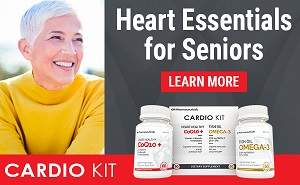 Cardiologist Developed and Recommended
---
Your ad could be here.
About
This top-ranked site now has over 4,000 pages of humor, nostalgia, senior advocacy and useful information for seniors 50+. Updates weekly!
The daily e-zine for everyone over 50 who feels way too young to be old.
"...the perfect mix of Andy Rooney, Dave Barry, and Garrison Keilor, combining knee-slapping humor with useful information and genuine compassion."
Retired.com
"Thousands look to and trust Suddenly Senior. Other Websites pale in comparison to the real-life, intimate look into senior lives. What sets apart Suddenly Senior is its blistering honesty and its incomparable encouragement. Millions need guidance."
Suzette Martinez Standring
"Best Senior Site ever on the Web! Great, up-to-date information on how seniors can save money on drugs. Wonderful nostalgia. Hard-hitting senior advocacy pieces that get read in high places. Wonderful humor. It's all at Suddenly Senior."
Alexa.com
KUDOS
Now read by 3.1 million in 83 newspapers from Florida's St. Petersburg Times to the Mumbai, India News.