Down the garden path to the brick wall.
That's where the American consumer has been lead by the protectors of our health in regards to Nsaids. Non-Steroidal Anti-Inflammatory Drugs.
We had one called aspirin that was not perfect. Then we had prednisone that was not perfect. The solution was inventing patented profitable chemicals that were perfect, and it followed that we have Nsaids to replace steroids. The early ones were Motrin that is the generic Ibuprofen and the OTC version called Advil and Motrin, as well as Naprosyn, which became an OTC drug called Aleve.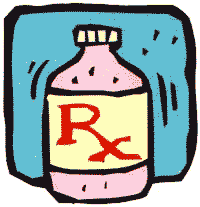 These drugs were pushed for OTC status because the prescription market was turning to more creative and better Nsaids which lead to the latest group called Cox-2 inhibitors, supposedly less impactful on your stomach.
In reality, none of them are perfect and the latest ones called Cox-2 are OK, if you believed the voting in February by the FDA Nsaid panel (a third of them had ties to the drug manufacturers) of experts that know what it is all about. Most don't and the few that did were out voted by those that don't.
Consequently, they voted that all the Cox-2 inhibitors could stay on the market. Vioxx which Merck withdrew as a legal ploy to lessen the liability aspect and Celebrex by Pfizer which now has the lion share of the Cox-2 inhibitor sales and Bextra which is the other drug owned by Pfizer that was marketed as the end run Nsaid to keep Pfizer in the economic lead.
Less than six weeks after our learned panel of physicians and researches voted to keep all three products on the market, the FDA today (April 7th) announces that Bextra should be withdrawn.
Please… It is a request, since by law your Health cannot be protected unless the pharmaceutical manufacturer agrees voluntarily. After all, the FDA approved it in the first place. Now they have egg on their face and must reverse course over and above the wisdom of the expert panel that said all should stay with special conditions.
None of the Nsaids is totally safe and all should be used with caution.
The problem is that the consumer is convinced through unbalanced Consumer advertising (who pays attention to the fine print?) that the drugs are wonderful and they will have instant pain relief and all will be well. Unfortunately, for those unlucky few that are susceptible to the serious side effects that include anaphylactic shock that could end in death, uncontrollable bleeding (Stevens-Johnson syndrome) that ends in death in some cases and heart fibrillation that can end in death due to loss of body potassium from overdosing on some of the Nsaids, they are OK? There is the assumption that they don't cause stomach problems.
The OTC versions are not immune to these problems. Recently, the press publicized the death of a young girl who bleed to death by taking a children's form of an Nsaid. How does the FDA explain to this mother why these drugs are OTC?
Beyond these problems, you have secondary effects mostly of a dermatological consequence including itching, rashes and a long laundry list of nuisance health side effects.
The FDA should take charge and decide to reverse this nonsense of letting the consumer influence their medical treatment by demanding what drug they saw on TV should fix their problem. All these Nsaids should only be used under close medical supervision if at all, be on prescription only status and the physician has to decide on the best course of medical treatment to minimize the potential of deadly side effect, and the patient should be fully aware of the potential problems of the drug. If this cannot be accomplished they should be removed from the market entirely.
It's time the medical profession take back their practice and stop the medical slaughter that is taking place in the United States.
We have nowhere to go, unless the FDA becomes independent of drug manufacturer influence, and the physicians take back their practice and together they lead us away from the brick wall.
T. Braun, Pharmacist, Buyer, Marketing Executive for a Major Drug Chain. Active for over 45 years in Pharmacy.
Legal Stuff: Permission is granted to all to reproduce this document in whole and redistribute to all that are as concerned as I about the future of our Medical system that has so many superior attributes that is operating under needless dark clouds of distress.
Disclaimer – This document is informational in nature. Medical advice should be secured through your physician.
About
This top-ranked site now has over 4,000 pages of humor, nostalgia, senior advocacy and useful information for seniors 50+. Updates weekly!
The daily e-zine for everyone over 50 who feels way too young to be old.
"...the perfect mix of Andy Rooney, Dave Barry, and Garrison Keilor, combining knee-slapping humor with useful information and genuine compassion."
Retired.com
"Thousands look to and trust Suddenly Senior. Other Websites pale in comparison to the real-life, intimate look into senior lives. What sets apart Suddenly Senior is its blistering honesty and its incomparable encouragement. Millions need guidance."
Suzette Martinez Standring
"Best Senior Site ever on the Web! Great, up-to-date information on how seniors can save money on drugs. Wonderful nostalgia. Hard-hitting senior advocacy pieces that get read in high places. Wonderful humor. It's all at Suddenly Senior."
Alexa.com
KUDOS
Now read by 3.1 million in 83 newspapers from Florida's St. Petersburg Times to the Mumbai, India News.