So you think you have the stuff to be a raging granny. Of all the frustrations we geezers must endure, perhaps the most grievous is watching our democracy turn green around the gills and feeling powerless to do anything about it.
We're in a pretty pickle when Congressional pockets are so laden with the coin of legal bribes that our representatives can't even budge toward us on issues of life and death importance.
We write letters to presidents, to Congress, to our state legislators. But there's little satisfaction to getting the brush off, or worse, ignored.
How can we help change the world, creatively and effectively? Suddenly Senior readers ask me that daily.
Here's an idea for the ladies…
Raging Grannies
Put on your granny garb. Flowery hats, an apron, a shawl – whatever it takes to look like the sweet little old lady you are. Then, with other like-minded patriots, go out on the streets and sing (to the tune "Workin' on the Railroad")
We've been workin' now for ages,
And you know it's true,
Paying FICA on our wages,
But now comes something new….
Georgie comes along and tells us
(And thinks we will agree)
That HE is going to try to privatize
Our Social Security.
Georgie don't you know,
Your plan has got to go!
Keep your hands off social security!
Raise the FICA tax
For all the rich fat cats
But, Georgie, keep your hands off me!
That's what Vicki Ryder and her gaggle of Rochester, NY, grannies sang when George Bush came to town pushing Social Security privatization.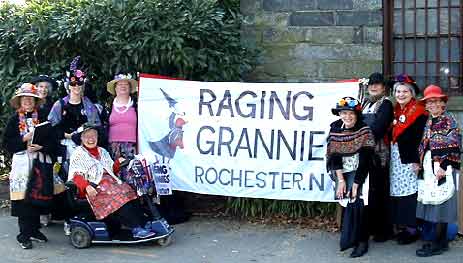 Vicki, 63, like all Raging Grannies, cares passionately about democracy, fairness, and justice. (She's seen above, covering the "S" in GRANNIES.)
So four years ago when she saw a tee-shirt saying I'm a Raging Granny, Vicki went on line to learn that there are some 60 gaggles of grannies in the US and Canada, where the movement began. Each is independent, although songs are exchanged between gaggles, and every two years there is an "Unconvention."
Next thing Vicki knew she, along with several other sweet little grannies, was singing from the steps of Rochester's main library to help save it from budget-cut death.
It worked! Today her gaggle rages about once a week.
"We're doing our civic duty," said Vicki when I spoke with her earlier this week. "It's our responsibility as citizens to speak out when we see civic things broken, needing to be fixed."
Vicki is now in Florida's Palm Beach County, getting a gaggle together to promote global peace, justice, and social and economic equality by raising public awareness through the medium of song and humor.
Songs Must Pack Granny Punch
Last week, rising to testify at the Palm Beach County Board of Elections, she burst into song and, joined by six other grannies in the audience, sang out against rigged touch-screen voting machines. Others were at first startled, then amused, and finally convinced.
"Songs must be to the point and funny," Vicki told me. "They must have a granny punch to them."
Palm Beach wasn't the first board she sang to. Recently at a Delray Beach city commission meeting, Vicki "testified" against tearing down historic buildings while some dozen or so sweet little grandmothers chorused behind her. The place broke into cheers as the commissioners looked on, stone-faced in defeat.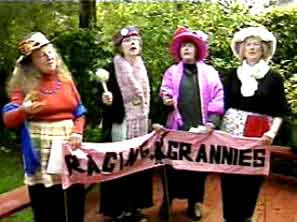 Now, doesn't that beat sitting back in a rocking chair?
"We all have grandchildren," Vicki explained. "And we need to know that we can make a difference. We need to be able to tell our grandkids that we did everything we could."
The Raging Grannies must be doing something right. Seems the military's scared of these little old ladies.
According to an MSNBC story the Pentagon secretly surveilled the Raging Grannies at counter-recruiting protests in Northern California. And the California National Guard recently dismantled a unit under legislative investigation for allegations it illegally spied on Raging Grannies during a Mother's Day rally last year.
"All it takes to start a gaggle is one little old lady," Vicki advised. For the lowdown, check out the information below.
Personally, I'm jealous.
Guys, why let the ladies have all the fun? Let's start something creative for us.