Are you disgusted with Plan D yet? This week all across The Hill, Congressmen and women ponder the question: Which is more important, thousands of elderly constituents unable to get life-saving drugs guaranteed under Medicare's Plan D or thousands of dollars in legal bribes from the pharmaceutical and insurance lobbies?
Medicare Plan D Conflict
The conflict was inevitable.
Allow Big Pharma to write a 700-page bill that no one in Congress read before passing. Add Republican ideology to privatize Medicare, one of the most successful government programs ever. Mix with a blindly politicized Department of Health and Human Services, and you have a recipe for the most expensive government fiasco in this country's history.
Result? Today while hundreds of thousands of low-income seniors now scramble for medicines they normally get without cost or question, and with some 20 states forced to declare health emergencies, Congress still doesn't have a clue.
Plan D's "free market solution" was supposed to be win-win for everyone.
Insurance and drug companies stood to get hundreds of billions in windfall profits. Congressional coffers overflowed with grateful "donations."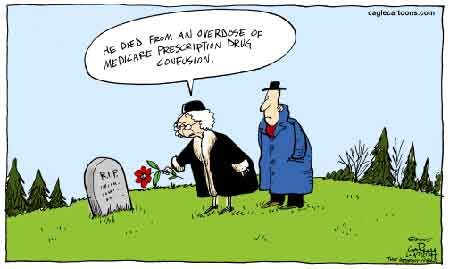 And seniors? We got "choice."
Overlooked in this I-scratch-yours, you-scratch-mine money orgy, the obvious (most recently reported by the Center for Economic and Policy Research): That changing the drug plan to allow Medicare to negotiate directly with drug companies could save federal and state governments hundred of billions of dollars, enough that the current projected budget for the program would fully finance – no donut holes – the benefit without any contribution from seniors and would still leave a surplus of $40 billion over the years 2006 – 2013.
Don't hold your breath. Even if Congress is forced to revise Plan D, the result won't be pretty. Picture lipstick on a pig.
Involved are simply too much money and too many unscrupulous Americans.
Plan C: Canada Better Option Than Ever
There is, however, Plan C.
From the US House of Representatives Committee on Government Reform, a report issued just last November concluded "the complicated Medicare drug benefit now being offered to seniors has not succeeded in reducing drug prices." Instead, the drug prices offered by Part D drug plans are "over 60 percent higher than the prices available to consumers in Canada…almost 3 percent higher than the prices available at Costco."
In other words, on average, you can save 60 percent or more buying your medicines in Canada than through Medicare's new Plan D.
Read on:
For some plans, the price differences are even greater. Of the ten [leading] Medicare plans analyzed, the Advantra Rx Premier plan has the highest prices for the ten drugs…73% higher than the Canadian prices.
For specific drugs, the price differences can exceed or approach 100%. The Medicare drug plans negotiated an average price of $135 for a one-month supply of Prevacid, the ulcer medication manufactured by Tap Pharmaceuticals. This is 114% higher than the $63 Canadian price. The Medicare drug plans negotiated an average price of $85 for a one-month supply of Celebrex, the arthritis medication manufactured by Pharmacia. This is 91% higher than the $45 Canadian price.
Remember, this is not me talking. This is the Congressional Committee on Government Reform.
Canadian Pharmacies
Anyone who has been to the Suddenly Senior site knows that I have a dog in this fight. Canadian pharmacies, through their advertising, help pay almost all the outside costs involved in keeping the informative 1,400-page site viable and up-to-date. Without them, there would be no Suddenly Senior. I couldn't afford it.
Nevertheless, I keep a wall between them and me. As longtime readers know, I am stubbornly honest.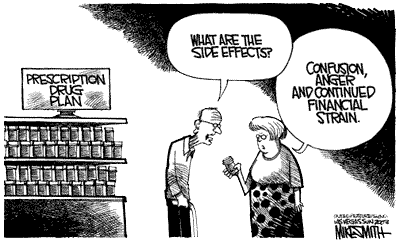 Five years ago I wrote about my experience saving money buying medicine in Canada. That attracted Googlers looking for information about Canadian pharmacies. And that attracted the advertisers.
To this day, my wife and I buy our pharmaceuticals abroad, now from advertisers. I (and many Suddenly Senior readers) have found each to not only be a place of great savings but of folks who are helpful, kind, and caring.
Canadian Pharmacy Online: Prescription for Lower Canadian Drug Prices
So as your Congressman and senators ponder what to do about Plan D, I sincerely suggest that you do what saves you, and your country, big money.
Voting with your pocketbook may be the only vote you have that still counts.
Sponsored Links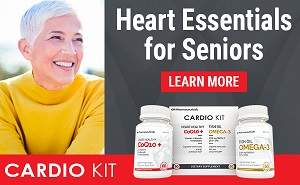 Cardiologist Developed and Recommended
---
Your link could be here.
About
This top-ranked site now has over 4,000 pages of humor, nostalgia, senior advocacy and useful information for seniors 50+. Updates weekly!
The daily e-zine for everyone over 50 who feels way too young to be old.
"...the perfect mix of Andy Rooney, Dave Barry, and Garrison Keilor, combining knee-slapping humor with useful information and genuine compassion."
Retired.com
"Thousands look to and trust Suddenly Senior. Other Websites pale in comparison to the real-life, intimate look into senior lives. What sets apart Suddenly Senior is its blistering honesty and its incomparable encouragement. Millions need guidance."
Suzette Martinez Standring
"Best Senior Site ever on the Web! Great, up-to-date information on how seniors can save money on drugs. Wonderful nostalgia. Hard-hitting senior advocacy pieces that get read in high places. Wonderful humor. It's all at Suddenly Senior."
Alexa.com
KUDOS
Now read by 3.1 million in 83 newspapers from Florida's St. Petersburg Times to the Mumbai, India News.