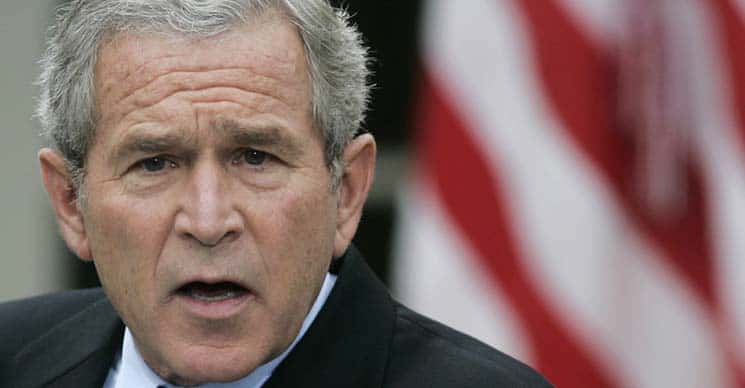 "I must object to your methods of demonizing…George W Bush."
I always like to keep in touch with you thru your excellent website, Suddenly Senior. I hope you are in good health and enjoying some of the fruits of your labors.
However, I must take issue with you and your blatant partisanship plus your personal animus against GW Bush in the latest issue of Suddenly Senior. [See below.]
Don't get me wrong; you are certainly entitled to your political philosophy. But I must object to your methods of demonizing that which you disagree with and stating it as fact in a medium where many seniors have access to these opinions, without collaborating or documenting them as gospel truth.
I noticed that your section titled "When Pigs Fly" was directly copied from of a blog called "The Daily Mislead" which is part of a well known and discredited organization, Moveon.org, (who constantly publish unsubstantiated anti-Bush propaganda, as well as sponsoring attack ads that have been subsequently proven to be false).
But even a sleazy website like The Daily Mislead posts its sources, which I have to conclude you didn't check, because if you had, you would have seen that even though there will be some VA closings, new ones would be opened , and others would be relocated in order to IMPROVE efficiency in the care of veterans. Overall, these actions are going to be an IMPROVEMENT, not the opposite as you infer in your column.
There are thousands of veterans whose only access to healthcare is thru the VA clinics, such as myself. These are needy, low-income veterans who cannot AFFORD any other health care. But the veterans benefits are badly stretched out and so, some benefits to higher-income veterans will have to be reduced. As a needy veteran, I have no problem with that. But to say that "VA cuts some vets' access to health care" (As The Daily Mislead claims) is distorting facts, not in evidence.
Frank, check your sources thoroughly before presenting your opinions as facts to your readers. It is your solemn responsibility as a journalist. Otherwise, you will in time, be exposed as just another angry "Hate-Bush-at-any-cost,-and-ignore-the-true-facts" hack, instead of a trusted journalist which I've always believed you to be. Don't use your wonderful publication as a platform for petty political gains, unless you can document facts, not just opinions. Otherwise, you stand to lose the hard-earned respect I think you truly deserve.
Print only the truth, the WHOLE truth, and VERIFY!
Still your friend,
Abel Navarro
Abel, like many Suddenly Senior readers, has become a friend through the column and the Website. I highly respect him. Often we "agree to disagree" but remain friends in spite of our differences and because of our great respect of one another. Frank
Here is the piece Abel sent Memorial Day weekend thanking the nation's veterans for their service, saying "we acknowledge the debt [we owe them] by showing our respect and gratitude."
Yet, his rhetoric came just hours after the Bush Administration announced new plans to slash veterans health care funding if it returns to power in 2005.
Late last week, the Administration released a memo detailing a plan to cut $1 billion from the Veterans Administration in the first budget of its second term. The cut would come even after the White House has tried to close veterans hospitals throughout the country, and has proposed veterans health care budgets that have been criticized by veterans groups and the President's own Veterans Affairs secretary. It also comes after the president decided to cut off 164,000 veterans from their existing prescription drug coverage, and threatened to veto any bill that would allow veterans to receive both the military pension they were promised and any disability compensation to which they are entitled.
And here's my response to my friend Abel:
You've got me; I am blatantly against most of the actions of the current Bush administration.
I believe that many of these actions imperil the health and welfare of millions, that they are a threat to our freedoms and to our Constitution, and a menace to the world in which we all must live.
Today, I see this administration hurting seniors in so many ways. I cannot in good conscience keep quiet.
As a citizen of this wonderful country, I spoke out against the war before it started. In fact, I have taken a number of stands unpopular with many of my Suddenly Senior readers. I'm often called a communist and told to "leave if you don't like it."
Abel, I'm fortunate that most readers who disagree with me, like you, at least tolerate my rants and often help me back on track when I wander too far.
Abel, I must tell you that I double and triple check the facts in my Suddenly Senior column. I try to affirm everything else up at SuddenlySenior.com, but it's a 1,200-page site now. And I do all the work myself. Writing. Editing. Coding. Linking. You name it. I work at this thing 12 – – 16 hours a day.
Half of that is spent answering seniors' questions. I get about 200 e-mails a day from folks looking to me for answers. Always, I try to be as honest, informative and forthright as possible. That takes time.
Specifically, the "Bush Thanks Veterans, Then Cuts Their Health Care" piece is indeed copied from "The Daily Misleader." It says so right below the article, with a link to that site. I'm not trying to pass it off as my own. And the link is for folks to check it out for themselves. Every claim is sourced. I read a similar report in our St. Petersburg Times. Frankly, I don't have time to chase down and prove others' source material. Abel, in these days of such deep polarization in this country, the truth is difficult to find.
As I am especially interested in the new Medicare drug bill, I read damn near everything that's printed on the subject. So I know the hazards involved in sourcing material. If I wanted, I could pretty well prove that black is white when it comes to this particular subject. But I don't. Just as you, I do my best to tell the truth as I see it.
Fondest regards to you and your wife, Frank
About
This top-ranked site now has over 4,000 pages of humor, nostalgia, senior advocacy and useful information for seniors 50+. Updates weekly!
The daily e-zine for everyone over 50 who feels way too young to be old.
"...the perfect mix of Andy Rooney, Dave Barry, and Garrison Keilor, combining knee-slapping humor with useful information and genuine compassion."
Retired.com
"Thousands look to and trust Suddenly Senior. Other Websites pale in comparison to the real-life, intimate look into senior lives. What sets apart Suddenly Senior is its blistering honesty and its incomparable encouragement. Millions need guidance."
Suzette Martinez Standring
"Best Senior Site ever on the Web! Great, up-to-date information on how seniors can save money on drugs. Wonderful nostalgia. Hard-hitting senior advocacy pieces that get read in high places. Wonderful humor. It's all at Suddenly Senior."
Alexa.com
KUDOS
Now read by 3.1 million in 83 newspapers from Florida's St. Petersburg Times to the Mumbai, India News.