Travel
Conquering the Great Wall of China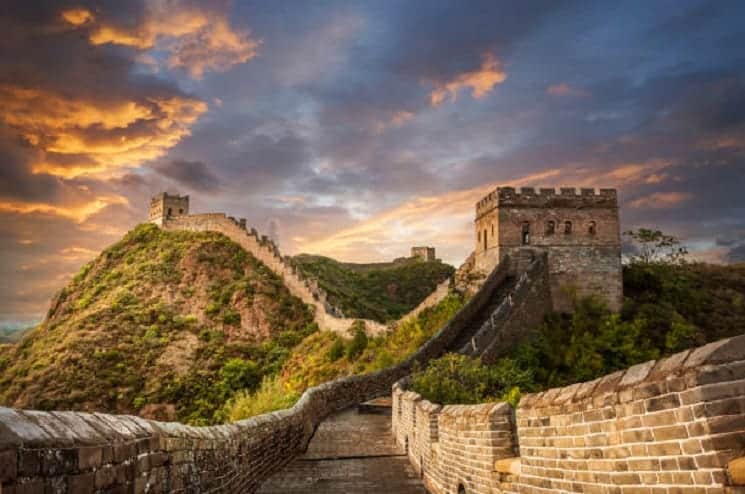 Here's our story and advice to seniors for conquering the Great Wall of China.
Once you get the hang of traveling with an unbound heart and childlike curiosity – all with a dash of pluck – you'll experience the wonders of a travel dimension you didn't know existed!
Richard Halliburton
Remember Richard Halliburton? If you're over age 60, and you love travel, there's a good chance his book changed your life.
It sure changed mine.
Richard Halliburton's Book of Marvels took me upon wings of words and photos from the circumscribed life of a shy Illinois 10-year-old to thrilling places and improbable cultures around the world.
Halliburton was an adventurer. His derring-do stirred my soul. In mid Depression, he decided to fly around the world. That he was broke and didn't know how to fly was of little concern.
My kind of traveler! I've since followed many of his footsteps.
Just because the heroic age of exploration has past, there's no reason our journeys today can't be filled with adventure and personal achievement.
Surely, travel is more than seeing sights. While some take vacations, author Carol Pearson says, "Heroes take journeys, confront dragons, and discover the treasure of their true selves."
You need only an open heart, unbound curiosity, and a dash of pluck. Once equipped, I promise you'll find your travels filled with a razzle-dazzle you thought you'd lost long ago.
Often, it takes but a wrong turn. Getting lost is an art that pays huge dividends.
Follow Your Feelings, Not a Map
Traveling is self-discovery, and taking the road less traveled, as Robert Frost noted, makes all the difference. To follow your feelings instead of a map can be the shortest distance to revelation and joy.
What's the worst that can happen? You have to ask directions to get back to your hotel? I'm not saying put yourself in danger. I'm proposing that you become the curious child you used to be, and put yourself in adventure's way.
Travel for Seniors: Senior Travel Ideas, Mates, Tours, Groups
That's what Halliburton did. He called himself a "horizon chaser," often having no clue what was just beyond that horizon.
The Great Wall of China
Three years ago, at the base of the Great Wall of China at Badaling northwest of Beijing, the crowds – perhaps hordes is a better word – were overwhelming. There seemed to be no redeeming reason for our visit outside of bragging rights.
Looking for a path less traveled, a wrong turn to take, I headed off to climb to the actual Wall. I told Carolyn I'd return shortly.
The Great Wall of China, a ribbon of stone five horses wide and more than 1,500 miles long, stretches from the Yellow Sea to the Gobi. For centuries, this series of ramparts and redoubts protected the Middle Kingdom from marauding tribes to the north.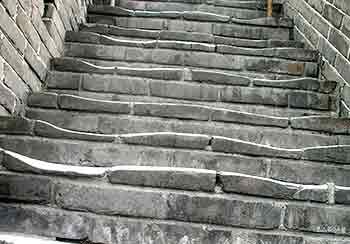 Climbing the steep ascent of ancient stone stairs was tough going. Steps, worn smooth and deep by millennia of slaves and soldiers, were staggered in height to slow invading armies (one step just four inches high, the next often 18 inches or so).
Just ahead was the watchtower where I believed the actual Great Wall of China began. But upon reaching it, I found there was yet another watchtower further up. That's where the Great Wall of China is, I thought. I shared the rest of my bottled water with a panting Iraqi woman from San Francisco. I didn't need it and I could make it to the next and last level.
Heck, Richard Nixon did it!
Where's Starbucks When You Need One?
At the next watchtower, there was yet another. The Great Wall of China was turning into The Great Climb. I was hot and thirsty. Surely, this was the last. And when I reach the top, the actual Wall, there'd probably be a McDonalds or at least water for sale.
I remembered photographs of Nixon with hundreds of dignitaries at The Wall. There'll be a Starbucks there, I thought. After all, there was one in the Forbidden City.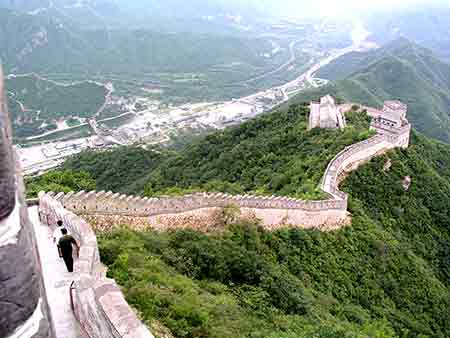 More stairs. I sang The Happy Wanderer under my breath. The crowd had thinned now, and as I sat on a stone, exhausted,coming down from the other direction was a fellow looking for all the world like Yoda. He gawked at me and said, "It is only yet the beginning of the beginning."
Oh, God!
"This is stupid," I fairly yelled at myself as I climbed on, alone now. Valderi, Valdera. Suddenly, the only thing that kept me going was Richard Milhous Nixon. And my curiosity.
An hour, I made it to the top. It was beautiful, the Great Wall of China running on forever.
But no McDonalds. No Starbucks. No water. Just a great view and the knowledge that I'd accomplished something important. Something that I realized Dick Nixon could never have done. Those photos of him? They had to be taken back at the phony wall at the base where Carolyn awaited me.
Two young Chinese couples were the only others there. This was indeed the road less traveled. I asked them to take my picture (left), and immediately they fell all over me in surprise and disbelief. They even applauded me.
"How old are you?" they asked.
I took a stone and scratched "70" on the ground; to have written the truth, "68," would have required energy I no longer had. "You great hero!" one of the girls declared.
In the Land of the Dragon, the Old Man is powerful!
After 10 minutes of genuine adulation by the young Chinese, I turned and floated all the way down to a very concerned Carolyn where I received a "Hero" card for the climb. I'd been gone over four hours.
Our guide told me, "You are now a man. Although few make it, every Chinese male hopes to make that climb once in his life."
Who knew?
Richard Halliburton would have been proud. I know I was.
Our Sponsors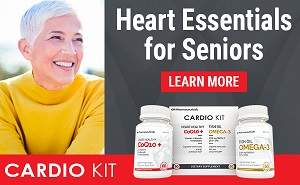 Cardiologist Developed and Recommended
---
Your ad could be here.
About
This top-ranked site now has over 4,000 pages of humor, nostalgia, senior advocacy and useful information for seniors 50+. Updates weekly!
The daily e-zine for everyone over 50 who feels way too young to be old.
"...the perfect mix of Andy Rooney, Dave Barry, and Garrison Keilor, combining knee-slapping humor with useful information and genuine compassion."
Retired.com
"Thousands look to and trust Suddenly Senior. Other Websites pale in comparison to the real-life, intimate look into senior lives. What sets apart Suddenly Senior is its blistering honesty and its incomparable encouragement. Millions need guidance."
Suzette Martinez Standring
"Best Senior Site ever on the Web! Great, up-to-date information on how seniors can save money on drugs. Wonderful nostalgia. Hard-hitting senior advocacy pieces that get read in high places. Wonderful humor. It's all at Suddenly Senior."
Alexa.com
KUDOS
Now read by 3.1 million in 83 newspapers from Florida's St. Petersburg Times to the Mumbai, India News.