Travel
Climb a Glacier in Tajikistan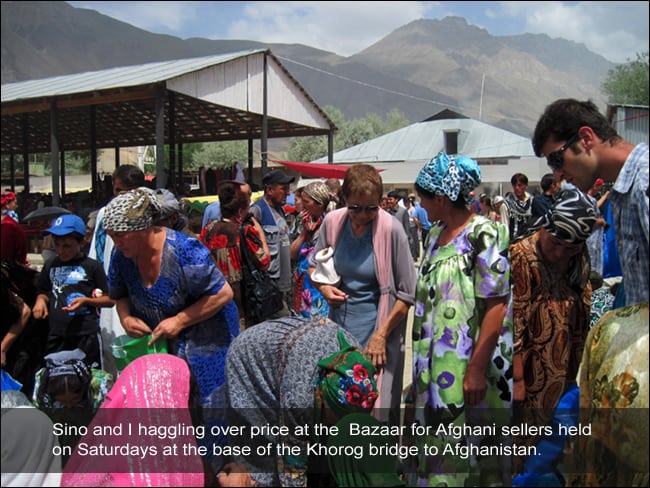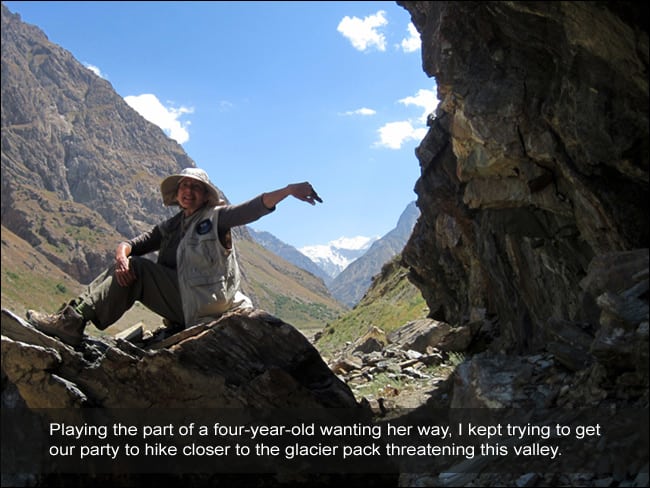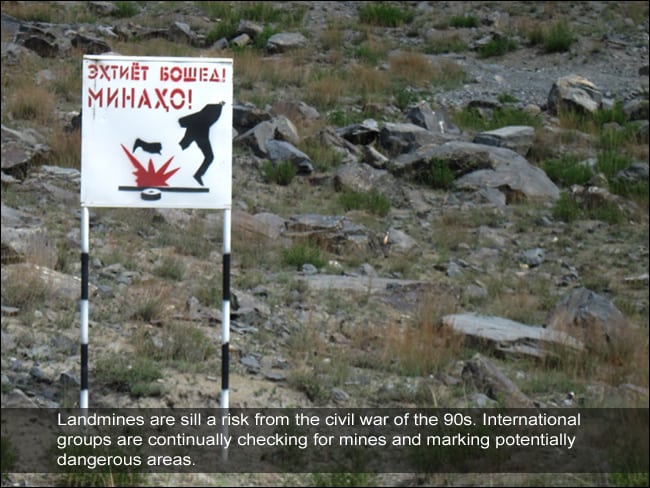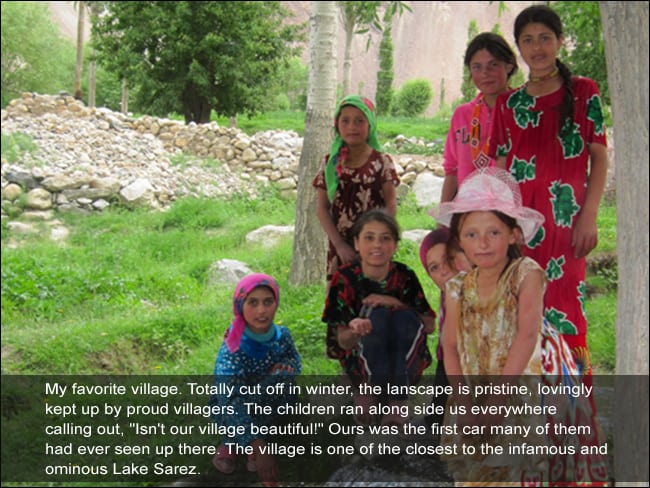 DONE!
What's next?
Right. Back to work. I rejoined my Tajik partner who was back in Khorog resting from our last trip to the cold, mountain-desert region of Morgav. Sino is a bright, multi-talented 25-year-old who loves helping people and wants to help his young nation, Like a toddler, Tajikistan is struggling to gain its footing in a post-Soviet Union world.
These past six months we've conducted an initial assessment to see if we could make a tangible difference for the people in the desperately poor villages of the Pamir Mountains. I came at the invitation of the Tajikistan Red Crescent Society (Red Cross affiliate in Muslim countries). Together with our intrepid driver (a veteran of post-9/11 Afghan shuttle runs), we drive throughout the Pamir Mountains, working one-on-one with people in remote villages to develop and refine handcraft skills suitable for exporting to America. We work mostly with Tajik women. Many of the husbands of Tajikistan are off in Moscow, one of the few places where they can find employment. But pay is scant. It generally can't provide fully for the families back home. Many of our villagers are subsistence farmers, living off the land, barely. The whole area is prone to natural disasters – from earthquakes to avalanches to floods. Add to the mix the tremendous repercussions of global warming. (Did I mention the breakaway glacier?) Whole villages have been wiped off the map, people frequently displaced, sometimes permanently.
Our handcraft program offers them the additional income they can make as they work long days making their "hona" (house) a home. It can also provide a portable source of income should they ever have to evacuate. It's pretty tough to bring your fruit trees and sheep with you if you have to leave. We are very excited about the possibilities for really helping many of these people, in the long run, helping a struggling economy in a very strategic part of the globe.
"But where in the world is ?" you ask (Hint: Tajikistan Map). My thoughts exactly when I first had the chance to go work there. It's a relatively peaceful little Muslim country in a rather rowdy neighborhood: Afghanistan, Uzbekistan, Kyrgyzstan, and China, with Pakistan just a few towering mountains away. Travel along our trade routes" (this is, after all, Marco Polo-traveled territory and part of the great Silk Road) can be hazardous. Landmines from the civil war, hazardous mountain roads, long and porous border with Afghanistan, not to mention skyrocketing gas prices make this work the greatest challenge I've ever faced.
My field is disaster relief work. It's my passion in life. I discovered it when I was just a kid of 55. It rapidly grew into the great motivating force in my life. A force that propelled me from a peaceful island in Northern Wisconsin to hurricane-ravaged Florida as a volunteer – all expenses paid, thanks to Red Cross. That was only the beginning of a renewed life beyond my wildest dreams. Life born out of the breakup of a 30-year marriage.
Being recently laid off, I was in need of work. This work didn't exactly pay. In fact, all my efforts are as a volunteer, rapidly eating up the last of my savings. But I press on, confident that this is where I need to be. This is the most meaningful and rewarding work I've ever had the privilege to do. (And living in Tajikistan is pretty, darn cheap.)
Best of all, I've discovered a generous and caring people among the Tajiks. Time means nothing to them. Family and hospitality, everything. Here I found a family. Here I found "hona". Home.
---
Leslie Wilson is founder and director of Serve in Disaster, LLC, (SiD)/Tajikistan. Her American "hona" is the Washington, DC area. In October, She and Sino begin a motivational/inspirational speaking tour of America as they establish the nonprofit organization to continue their work in Tajikistan. Their website is http://serveindisaster.org or you can tweet them on twitter.com @agiazw or check out "Serve in Disaster" on facebook.com. iReports under "Pamirs" are on CNN.com.

Sponsored Links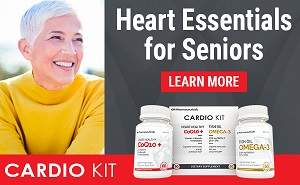 Cardiologist Developed and Recommended
---
Your link could be here.
About
This top-ranked site now has over 4,000 pages of humor, nostalgia, senior advocacy and useful information for seniors 50+. Updates weekly!
The daily e-zine for everyone over 50 who feels way too young to be old.
"...the perfect mix of Andy Rooney, Dave Barry, and Garrison Keilor, combining knee-slapping humor with useful information and genuine compassion."
Retired.com
"Thousands look to and trust Suddenly Senior. Other Websites pale in comparison to the real-life, intimate look into senior lives. What sets apart Suddenly Senior is its blistering honesty and its incomparable encouragement. Millions need guidance."
Suzette Martinez Standring
"Best Senior Site ever on the Web! Great, up-to-date information on how seniors can save money on drugs. Wonderful nostalgia. Hard-hitting senior advocacy pieces that get read in high places. Wonderful humor. It's all at Suddenly Senior."
Alexa.com
KUDOS
Now read by 3.1 million in 83 newspapers from Florida's St. Petersburg Times to the Mumbai, India News.