Travel
China Travel Facts for Senior Citizens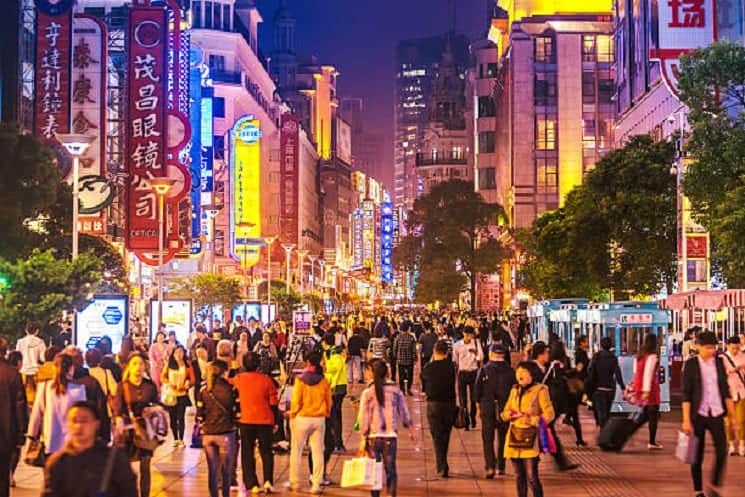 WE CAME TO CHINA and we fell in love.
We did our homework, read lots of books.
Still, we didn't have a clue. Unlike anywhere else, we've been in the world, the Chinese people, without exception, treated us like friends, and in many cases, like members of their families.
Over the past decade or so, China has gone from a frown to a grin, from Mao uniforms accessorized with facemasks to Gucci and Jimmy Cho, from a closed, suspicious society, to one that flings its arms open to the world.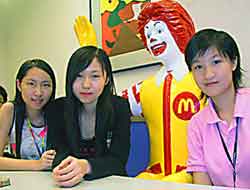 At dawn in a Beijing park around the corner from our hotel, we practiced Tai Chi with 30 locals after being warmly welcomed by several who spoke English.
While driving to Beijing's Forbidden City, our tour guide sang Chinese opera to us – with annotations and explanations.
When Frank bravely climbed the Badaling (Beijing) portion of the Great Wall, at the top he was applauded by three much younger couples who thought a man his age was to be honored for climbing all that way to share the astounding scenery with them.
In Xi'an, while visiting the terracotta warriors of Emperor Qin, I met and got hugged by the old farmer who, while digging a well in 1974, discovered this wonder the Chinese considered second only to their Great Wall.
At the White Goose Pagoda, an ancient Buddhist monastery in Xi'an, I shared joss sticks with several Chinese visitors, while they, in turn, blessed Frank and me with huge hugs, promising to remind the Buddha to keep us in his care.
Aboard our four-day cruise upriver on the misty and enchanting Yangtze and its Three Gorges, the young Chinese staff treated us like visiting royalty. No, even better.
Chinese women we met charmed us even with their wonderfully descriptive names: Jade Flower, Beautiful Enchantment, Sharp Sun, and Graceful Jasmine. And how can you top Autumn Song, the name of our travel coordinator at China Profession Tours?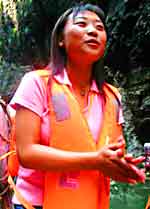 During a shore excursion up a white-water tributary of the Yangtze in a human-powered sampan, the local guide and a boatman sang traditional love songs, even taught us some of the ancient beliefs still observed today.
At Futou Hill, Chengdu, home of the Giant Panda, folks from all over the world come to see these creatures, and as I cuddled a panda in my lap, cameras clicked and Chinese caretakers laughingly advised me not to completely fall in love, as I would not be taking "my" panda home.
How sad.
Guilin, a beautiful city founded in 214 BC and completely rebuilt after its destruction by the Japanese during WWII, is home to some of the world's most spectacular scenery. Iconic perpendicular peaks jutting skyward is a source of inspiration for those mysterious brush paintings featuring the strangely shaped peaks, shrouded in mist. You've seen them.
Along the Li River farmers and fishermen, drawing a living from the water and land, waved at us, greeting us with warmth and enthusiasm.
Sipping cappuccinos at the Red Star Café on West Street in Yangshuo, the destination of our Li River cruise, street vendors engaged us to sell their wares. One lady, selling hand-painted fans, gave me one as a gift after we met, talked – each in our own language – and laughed the laugh of good friends.
And in the evening, as we walked the riverbank in front of our hotel, every smile on our part brought forth warm greetings. Though we'd never been here before, both Frank and I felt that we'd come home.
Throughout the trip we took photographs. Everywhere we went, we simply asked folks if they minded our taking their snapshot. Point to the camera. Point to them. Smile. To a person, they were delighted. Especially when we showed them their smiles on our digital cameras. Many exclaimed "Beautiful!" They were.
Our final destination, Hong Kong Island, was way too westernized, almost shocking after more than two weeks in the heart of China. Crowded, with people pushing and shoving and rushing, we were suddenly in a different reality. Day trips by ferry to surrounding islands revealed that we still hadn't left China after all.
On our last day, at the Po Lin Monastery on Lantau Island where the world's largest outdoor bronze Buddha resides, we clasped hands in respect to Buddhist monks and we were blessed. Just a short ferry ride away, we walked the streets of Chenug Chau, a small fishing village where school children begged me to photograph them, to see themselves giggling in the back of my camera.
The memories of this amazing country and its charming, friendly people live in our hearts. Back home now, we pull out our maps, longing to see what we missed the first time.
After all, we still have new friends to meet.
We came to China and fell in love.
China Travel Facts:
Tour Costs:
We shopped around. There are short, cheap tours of China starting at about $1,000. But we wanted the best: a tour just for the two of us, always staying at five-star hotels, guided by experienced professionals, and worry-free. China Professional Tours out of Atlanta fit our order to a "T." Our customized tour gave us exactly what we wanted, from opera in Chengdu to extra days in Guilin and Hong Kong. The cost for our three-week adventure was $3,845 each, everything included. Ten days of luxurious travel with CPT starts at $2,500. Call 1-800.25.CHINA for information and brochures. Or go to www.chinaprofessional.com.
Getting There:
Most common points of entry are Beijing, Shanghai and Hong Kong. CPT has preferential agreements with United and others, often for around $800 rt. (Carolyn and I used frequent-flyer miles.)

What to Wear:
China is casual. Unless your intention is business, forget the suit and tie, leave the Gucci and Armani home. Chinese wear what we wear in Florida; it's all made in China anyway. I took jeans, chinos, sports shirts, and swimming trunks. Remember all four- and five-star hotels in China have swimming pools. Most important, wear comfortable, non-slip shoes.
What to Eat:
Breakfast at the hotels is Western. Eggs exactly the way you want them. Although food differs greatly from region to region, you'll be served 13 to 20-course meals for lunch and supper. Try a little of everything. When it comes to veggies, I'm a George Bush The First kind of guy. But in China vegetables are so fresh, so tasty, even broccoli tastes good.
And though you'll probably get a fork with your meal, eat with chopsticks. You may spill a bit at first, but this is a skill you will put to good use at each meal. Waiters are more than happy to show you how to hold them, and you'll find eating with chopsticks just makes the experience all the richer. If you get homesick, every city now has its McDonald's and KFCs. Biggest surprise: Coffee everywhere is delicious. As a rule, don't drink tap water. Buy bottled water at a local store. Carry one with you.
Toilets:
Hotels and most tourist destinations have the kind of toilets you're used to. However, get off the beaten track – this includes even The Great Wall – and you find "honeypots," a slit trench in the floor. You squat over it. Many bathrooms have both. Handicapped signs often indicate where you want to go. Always carry toilet paper and/or Handiwipes.
Language:
Although many Chinese speak English, a few Chinese phrases will get you far in this country. "Hi" is nee-hao; use it often as it makes for instant friends. "Yes" is dwee or yao. I think. Boo yao is what you say to overzealous street vendors, meaning "No thank you." "No" is boo dwee. "Please" is ching. Probably most important is shie-shie for "thank you."
Shopping:
Be prepared to bargain, whenever you are buying from a vendor. When a price is quoted, offer 50 – 90 percent less. No English? They write a figure. Then you negotiate from there. Check out other vendors offering the same goods. It is all done in great fun, and a way of life, even for the locals. Shops are open from around 8 a.m. to 9 p.m. Credit cards are accepted at hotels and most larger stores. You'll find ATM machines, too. But take American Express checks for incidentals at out-of-the-way places.
E-mail:
All the hotels in which we stayed had high-speed Internet connections in our rooms. You'll find cyber cafes everywhere, even little shops to download your digital photo cards to CD.
Planes:
Unlike Russia and other developing nations, flying in China is like flying in the US. We flew on 737s most everywhere. All the airports are modern and new. Customs officials actually smile.
Tipping:
Ten years ago, tipping was illegal in China. No more. But just a dollar a bag will bring big smiles from porters; a $20 bill (or 100 Yuen/day) will go a long way in thanking your personal city guide or driver.
What about Communism?
The only meaningful "-ism"s in China these days is consumerism. We never saw armed troops or other signs of the heavy hand of dictatorship anywhere.
Religious Services:
Beijing, for example, has 17 Catholic and 19 Protestant churches. Law protects freedom of religion.
Sponsored Links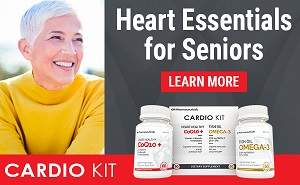 Cardiologist Developed and Recommended
---
Your link could be here.
About
This top-ranked site now has over 4,000 pages of humor, nostalgia, senior advocacy and useful information for seniors 50+. Updates weekly!
The daily e-zine for everyone over 50 who feels way too young to be old.
"...the perfect mix of Andy Rooney, Dave Barry, and Garrison Keilor, combining knee-slapping humor with useful information and genuine compassion."
Retired.com
"Thousands look to and trust Suddenly Senior. Other Websites pale in comparison to the real-life, intimate look into senior lives. What sets apart Suddenly Senior is its blistering honesty and its incomparable encouragement. Millions need guidance."
Suzette Martinez Standring
"Best Senior Site ever on the Web! Great, up-to-date information on how seniors can save money on drugs. Wonderful nostalgia. Hard-hitting senior advocacy pieces that get read in high places. Wonderful humor. It's all at Suddenly Senior."
Alexa.com
KUDOS
Now read by 3.1 million in 83 newspapers from Florida's St. Petersburg Times to the Mumbai, India News.