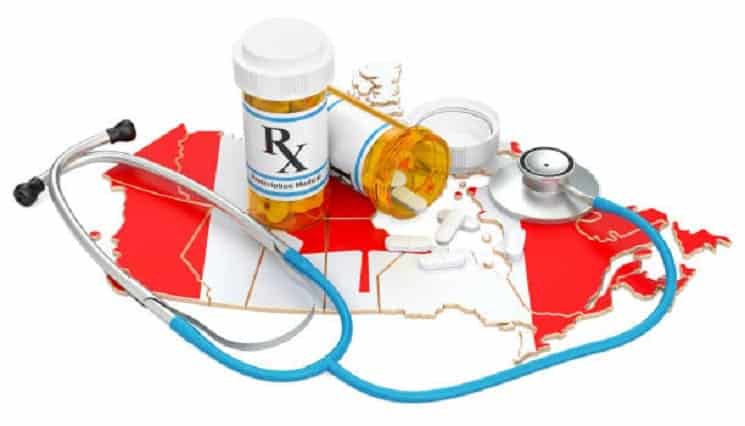 Have we considered what will happen to millions of senior if Canada stops drug sales to the US? Chances are if you read this column and have no drug insurance, you also purchase at least some of your pharmaceuticals from Canadian pharmacies.
You're no fool.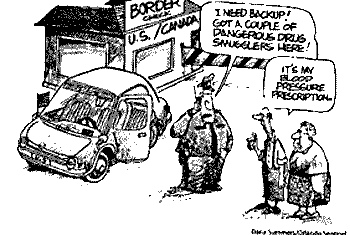 You're probably like millions of American seniors – like me – uninsured for drugs and sick of paying the world's highest prices to stay healthy when you can often save half or more buying in Canada.
Of course, most of us would rather buy here. But for many, it's Canada or no medicine at all. And although Big Pharma and the FDA sternly warn us of "safety issues," well, as I said, we're no fools.
Show us one person who has become sick or died from a counterfeit drug purchased at a legitimate Canadian pharmacy.
That's why we all cheered when, just before the election, President Bush said, "Now, it may very well be here in December you'll hear me say, 'I think there's a safe way to do it.'" After all, the administration is facing the growing public and bipartisan cries for open importation.
Turns out Mr. Bush was just messing with us. George is a kidder, you know. And, like Charlie Brown's football, we keep falling for it.
Proving once again that his actions speak louder than his words, the president delivered the following one-two punch shortly after his "mandate."
Will Canada Stop Drug Sales to the US
First, a 145-page report a year in the making from the HHS Task Force on Drug Importation of whom the majority were Bush appointees, cited the usual canards: Regulating Canadian imports would cost $3 billion a year; drug companies would be left with no money for R&D, and; savings are negligible anyway.
Strange that. In a Commerce Department study released the same day, an analysis of best-selling U.S. patented drugs showed that prices in nine Western European countries, Japan and Canada were 18 percent to 67 percent less than U.S. prices.
Canadian Pharmacy Online: Prescription for Lower Canadian Drug Prices
It's not for nothing America is called "The Home of the World's Most Outrageously Expensive Drugs."
What didn't make sense at the time was the committee chair, U.S. Surgeon General Richard Carmona's statement that Canada is the only safe source for imported drugs.

Then came the second punch. Up in Ottawa, after massive lobbying by Pharma and a Canada-wide propaganda campaign stating falsely that U.S. sales were causing shortages and higher prices, Bush met privately with Canada's Prime Minister Martin.
2 Million Americans Affected
About the same time, the head of Health Canada, that country's FDA, stated that Canada cannot become America's drug store. He then threatened to stop cold the billion-dollar importation business (supporting 4,000 Canadian jobs) that helps about two million Americans purchase affordable drugs.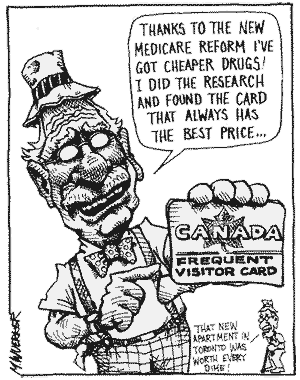 His ploy? Insisting that a dusty 1951 regulation requiring Canadian physicians to see patients before cosigning prescriptions be followed to the letter.
A vote by Cabinet could occur soon. Perhaps sometime in spring, 2005.
Now the U.S. Agriculture Department has suddenly promised to open the border to Canadian cattle after a 19-month blockade. And, according to my Canuck friends, lumber interests up there are all smirks and smiles.
Tit for tat.
What does this mean for you and me?
Already, reputable Canadian pharmacists are buying some drugs in England, even as far away as New Zealand. Pfizer, Glaxo, and others forced this when they terminated supplies to exporting pharmacies.
With trusted relationships already intact, chances are that your Canadian pharmacy will continue to serve you with affordable medicine from a country having a reciprocal relationship with and deemed safe by Health Canada.
Next Target: England
Several Canadian pharmacists with whom I spoke told me that some drugs, when purchased in England and Europe, are even cheaper than current Canadian prices. Deliveries don't take as long, either.
So if you already have a relationship with a Canadian pharmacy, little will change.
However, the arm of Pharma and, by extension, their toadies at the FDA, is long. I wouldn't be surprised if England didn't come under attack next. Remember, the Surgeon General said that Canada is the only safe source for imported drugs.
What really puzzles me is how Mr. Bush can sleep at night knowing that he is doing everything in his power to block American citizens with no drug insurance from pursuing good health with affordable medicine.
Perhaps you'd like to learn for yourself. Call the White House at 202-456-1111 or e-mail the President at [email protected].
Since I may be missing something here, let me know what he has to say for himself.
Our Sponsors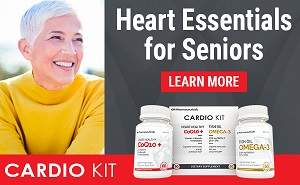 Cardiologist Developed and Recommended
---
Your ad could be here.
About
This top-ranked site now has over 4,000 pages of humor, nostalgia, senior advocacy and useful information for seniors 50+. Updates weekly!
The daily e-zine for everyone over 50 who feels way too young to be old.
"...the perfect mix of Andy Rooney, Dave Barry, and Garrison Keilor, combining knee-slapping humor with useful information and genuine compassion."
Retired.com
"Thousands look to and trust Suddenly Senior. Other Websites pale in comparison to the real-life, intimate look into senior lives. What sets apart Suddenly Senior is its blistering honesty and its incomparable encouragement. Millions need guidance."
Suzette Martinez Standring
"Best Senior Site ever on the Web! Great, up-to-date information on how seniors can save money on drugs. Wonderful nostalgia. Hard-hitting senior advocacy pieces that get read in high places. Wonderful humor. It's all at Suddenly Senior."
Alexa.com
KUDOS
Now read by 3.1 million in 83 newspapers from Florida's St. Petersburg Times to the Mumbai, India News.