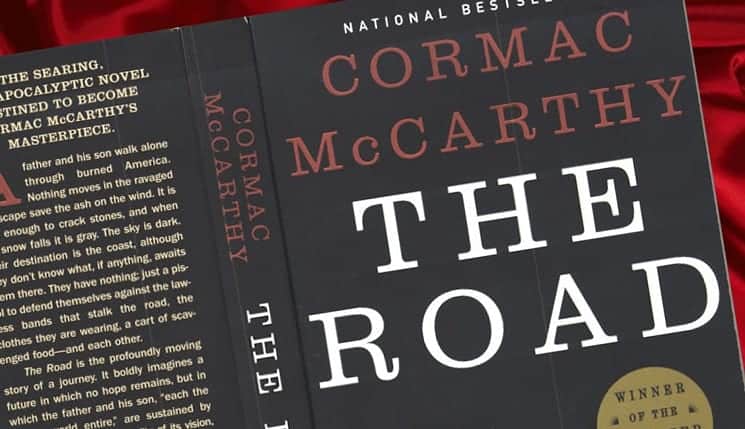 "This is one of the half dozen best novels I've ever read"
I have found a book: The Road by Cormac McCarthy. I finished it at a whip's pace, having read it in only two sittings. I can honestly say that it is one of the half-dozen best novels I have read (in the company on my shelf with The Brothers Karamazov, The Plague, Moby-Dick, Madam Bovary, and Housekeeping). James Wood in The New Republic called it a "magnificent book," the reason I bought it. (It was also an "Oprah Choice"; alas, I have found most of her choices disappointing. Not so McCarthy's fine book.)
The Road is an apocalyptic story, set during an indefinite time in the future, at an unnamed location, after a nonspecific cataclysm. Not far into Cormac McCarthy's Pulitzer-Prize winning novel, the reader discovers the nagging familiarity of that nightmare that we all force into forgetfulness on waking. The two characters, a father and his son, are given no names. They are making their way to the ocean (south) because they don't want to freeze to death. It is perhaps October-the father isn't sure-when they start out on the road, pushing a grocery cart with their few belongings and into which they will pile their scavenged findings (a screwdriver, a gun with two bullets, some can foods, a tarp, a few dirty blankets).
Some of the best moments occur when the father and son walk through ransacked houses and pillaged grocery stores. In one of the lighter moments of the book, the father pries a can of Coca Cola from a smashed vending machine and hands it to his little boy to drink. The moment is important because the father has found an artifact from that Other World-the world his son will never know-that is important for no other reason than it tastes good. The boy delights in the new taste. However, he has learned to be hyperattentive to his father's every action (the way a puppy, out of necessity, responds to its master's moves), and he confronts his father with the recognition that the man's joy is bittersweet, knowing that neither will likely experience such frivolity again.
The world in The Road is completely dissolute: no color, just black and white and the gray ash. The animals are gone. The fish, too, and the crickets and the trees and even the grass. Long silences are interrupted only by the thunder, the darkness only by lightning. The only things alive are a few humans, most of who have become worse than savages. Cannibalism is common. McCarthy, a minimalist, rejects most expectations of fiction: history, biography, setting, even names are simply unnecessary. We don't even know what the father's occupation was before the apocalypse. He has a few dreams about his wife, the boy's mother, who is now dead. The wonderful, wonderful thing about this book is that it is absolutely without judgment; this is not a moralistic tale. No one is blamed (God, yes, but only very briefly and only in passing).
It is instead about the moment, about staying alive for the moment, and more important staying human in that moment. The father (and his son by way of the parent's example) refuses to exchange his humanity even for food, even if it means they will starve to death. The apocalypse has brought out the monster in most survivors; in the man it has brought out the caring and self-sacrificing father/teacher. The father, who is ill, has only one objective and that is to keep his son alive without sacrificing his and his son's humanity. Without trying to be, this book is an experience in selflessness and love. I recommend it almost unconditionally.
I say "almost" because the style is a little quirky; it took me some time to get it, but I not only grew to like it, I even now consider it poetic in the way that Moby-Dick is poetic, in the way that the Bible is poetic. The prose is sparse (unlike Melville's) but descriptive in its small, but excruciatingly poignant details. A few scenes are shocking, but brief, depicted as a good shock should be depicted. Anyone reading this for gratuitous blood and gore should read elsewhere. Violence is there, but always on the horizon, or in a room that someone else has already discovered, or in a painful glimpse of violence's after effect. (McCarthy, correctly I think, realizes that anyone living in the twenty-first century knows it all already. What, after all, could shock us anew?) Some of the passages-a few that I didn't even understand-moved me to inexplicable tears. Had I McCarthy in a beginning fiction-writing class (I taught creative writing for 15 years), I probably would have discouraged his style. Unfortunately.
Read it. This book, as many reviewers have sensed, is Biblical, not so much in its vision of the post apocalyptic world as in its language of all-both the good and the very bad-that springs eternal. McCarthy captures the vision of a world the Old Testament prophets predicted but which they could scarcely understand: as predicted, it has come full circle. We are back at the beginning, and it would not, I think, betray the obvious destination to say that this is the end of the road. On the pages of this profoundly resigned book, we are face-to-face with the ancient awareness of our own annihilation. This tone, this feeling of ancient, even prehistoric anxiety, must be the same that the first father felt when compelled, without obvious reason, to kiss the cheek of his slumbering son. For the love of mankind, no Abraham is this father. Not even God could force the man's hand against his son, so strong this father's love for the living.
---
About the Author
MaryJo Thomas is a published writer and journalist.
A college professor of literature and writing for fifteen years, she writes, "I escaped from academe three years ago to work full-time with my sister in our freelance writing, editing, and research business.
"I am 57 years old, divorced, with no children. I have seven cats and a black Lab . My interests include senior rights, animal and environmental rights, lighthouses, Albert Camus, poetry, and reruns of "The Prisoner" and "The Nanny.
"I proudly belong to no groups, though I believe American seniors need to form a coalition (not AARP) to combat those who would rob us of the rights and privileges we have worked and paid for ( politicians, pharmaceutical and insurance companies, and generations X, Y, etc.). I am looking for writing jobs."
MaryJo lives in Berea, KY.
About
This top-ranked site now has over 4,000 pages of humor, nostalgia, senior advocacy and useful information for seniors 50+. Updates weekly!
The daily e-zine for everyone over 50 who feels way too young to be old.
"...the perfect mix of Andy Rooney, Dave Barry, and Garrison Keilor, combining knee-slapping humor with useful information and genuine compassion."
Retired.com
"Thousands look to and trust Suddenly Senior. Other Websites pale in comparison to the real-life, intimate look into senior lives. What sets apart Suddenly Senior is its blistering honesty and its incomparable encouragement. Millions need guidance."
Suzette Martinez Standring
"Best Senior Site ever on the Web! Great, up-to-date information on how seniors can save money on drugs. Wonderful nostalgia. Hard-hitting senior advocacy pieces that get read in high places. Wonderful humor. It's all at Suddenly Senior."
Alexa.com
KUDOS
Now read by 3.1 million in 83 newspapers from Florida's St. Petersburg Times to the Mumbai, India News.