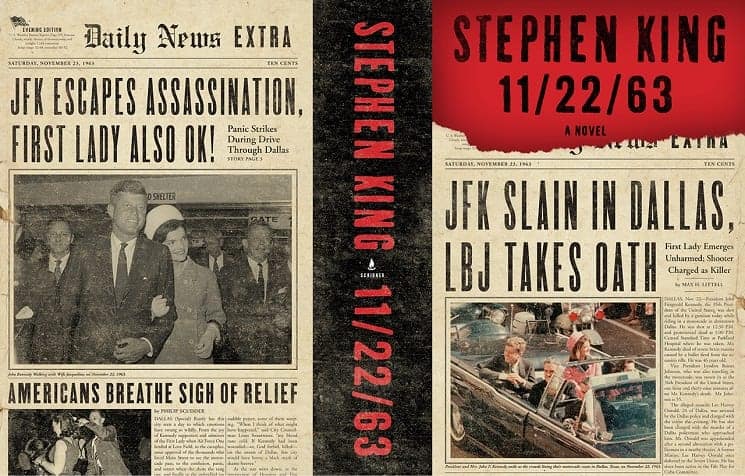 Revisits a Dark Day in Dallas
Stephen King's novel "11/22/63" is about a man travelling back in time to try and stop the assassination of John F. Kennedy – and thus change history.
The book opens with a quote from Norman Mailer. He writes, "It is virtually not assimilable to our reason that a small lonely man felled a giant in the midst of his limousines, his legions, his throng and his security. If such a nonentity destroyed the leader of the most powerful nation on earth, then a world of disproportion engulfs us, and we live in a universe that is absurd."
In King's meditation on loss, love, nostalgia and free will, he asks, "Can one man make a difference? Can history be altered?
Al, the owner of Al's Fatburgers in Lisbon Falls, Maine, confides in his friend Jake, a 35-year-old teacher, that inside his diner there is a time-travel portal, or as he calls it, a rabbit hole. Step through it and be instantly transported to 11:58 a.m., Sept. 9, 1958, a time of America under Eisenhower.
Al tells him the rules of the rabbit hole. It doesn't have to be a one-way trip. But when you return, no matter how long you've stayed in the past – two days, five years, whatever – only two minutes has gone by in the present. If and when you return again to the past, there is a reset. It's 11:58 a.m. again, and everything you did on your previous trip has been erased like a Magic Slate.
Al had been using the portal to buy ground beef at 1958 prices. But now Al is dying from lung cancer. He now wants to use the portal for a more noble cause, to change history for the better. With his dying wish, he enlists the reluctant Jake to save JFK, thus the book's title, 11/22/63.
1958 is five years before Lee Harvey Oswald shot President Kennedy. If the assassination can be thwarted and he had lived, Johnson might not have escalated the war in Vietnam, and JFK might have kept America out of bloody mire. Al enlists Jake to do what he couldn't: stop Lee Harvey Oswald. It's a fabulous pitch. "Save Kennedy, save his brother. Save Martin Luther King. Stop the race riots. Stop Vietnam, maybe… Get rid of one wretched waif, buddy, and you could save millions of lives." But we don't know what our changes may cause. What if our tampering might only make things worse? What if it is historical inevitability?
Before Jake can alter the course of history, he must to be convinced of what actually occurred. Was it Oswald, shooting from the depository? Was it a conspiracy? Was there another shooter on the grassy knoll? Was Oswald acting alone or was he a patsy, as he protested on the night of the assassination in the custody of the Dallas police? Was he part of a conspiracy or a warped figure intent on blasting his way into the history books? In this compelling novel Jake has to deal with every Kennedy conspiracy theory ever invented, the idea that Lee Harvey Oswald was not a worthy nemesis.
King's storytelling is so persuasive and captivating, that we overlook the absurdity of the plot. Jake's own story is poetic and moving. Waiting out the 5 years and shadowing Oswald, the subplots are complicated by romance, mentoring high school football players, not to mention evading the murderous family tragedy which left a High School Custodian disfigured and mentally impaired.
He falls in love with Sadie. What will happen if he returns to the future without her? Does love conquer all? In the story's rush to the climactic ending, Jake frantically limps against the clock toward the inevitable moment when Oswald squeezes the trigger from the sixth-floor window of the Texas School Book Depository.
It all adds up to one of the best time-travel stories since H. G. Wells. Some readers might be daunted by the 849-page book, but it's recommended in this case. King's latest epic is as fascinating as the premise sounds.
About the Author
Carmen Benitez is a bookworm living in Miami FL.
Sponsored Links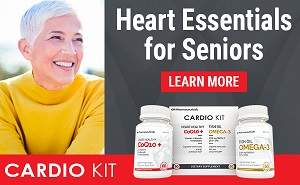 Cardiologist Developed and Recommended
---
Your link could be here.
About
This top-ranked site now has over 4,000 pages of humor, nostalgia, senior advocacy and useful information for seniors 50+. Updates weekly!
The daily e-zine for everyone over 50 who feels way too young to be old.
"...the perfect mix of Andy Rooney, Dave Barry, and Garrison Keilor, combining knee-slapping humor with useful information and genuine compassion."
Retired.com
"Thousands look to and trust Suddenly Senior. Other Websites pale in comparison to the real-life, intimate look into senior lives. What sets apart Suddenly Senior is its blistering honesty and its incomparable encouragement. Millions need guidance."
Suzette Martinez Standring
"Best Senior Site ever on the Web! Great, up-to-date information on how seniors can save money on drugs. Wonderful nostalgia. Hard-hitting senior advocacy pieces that get read in high places. Wonderful humor. It's all at Suddenly Senior."
Alexa.com
KUDOS
Now read by 3.1 million in 83 newspapers from Florida's St. Petersburg Times to the Mumbai, India News.