Humor
Best New Jokes: May 6, 2007
BEST JOKES OF THE WEEK…GUARANTEED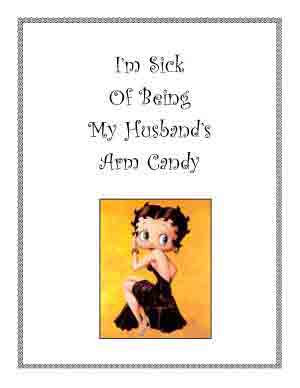 ALL OUR JOKES COME FROM YOU,
OUR READERS!
AN ENCOUNTER WITH HISTORY
(2 seconds of silence?)
This year is special. At two am, (and 3 and 4 seconds)
the date and time will be:
DRUMROLL: This will never happen again.
WARNING!!! This week's joke page contains quotes
from Steven Wright. Read at your peril.
---
ODE TO SPAM
by Charlie Johnston
Oh SPAM! Oh SPAM! Gourmet delight!
My food by day, my dreams by night.
To carve, to slice, to dice you up –
pureed in a blender and sipped from a cup.
What shining deity from Olympus knelt
down to the earth and hog butt smelt?
Creating then man's eternal desire
for swine entrails congealed by fire.
On some corporate farm, a pig has died.
Eyes, tongue, and snout end up inside
that cube of SPAM hidden in the can
I now hold in my trembling hand.
More than mere food, SPAM is for me
a hedonistic expression of gluttonous glee.
Mottled with pork fat, the pink cube engrosses.
My mouth takes it in, my intestine disposes.
Long have my arteries clogged to the sound
of sizzling SPAM when there's no one around –
furtively chewing or swallowing whole.
Triple bypass by forty, my medical goal.
Other processed meat products I've tried or declined
Vienna Sausages, Treet, even pig's feet in brine.
Though each may be tasty in different ways,
none matches SPAM for gelatinous glaze.
That glistening pinkness beckons me
with gristle, fat, and BHT.
Oh Spam, my Spam – the taste, the smell –
The sacred meat product from Hormel.
---
Right now I'm having amnesia and deja vu at the same time.
I think I've forgotten this before.
---
POTTY MOUTH
A woman went up to the bar in a quiet rural club. She gestured alluringly to the bartender who approached her immediately.
She seductively signaled that he should bring his face closer to hers. As he did, she gently caressed his full beard.  
"Are you the manager?" she asked, softly stroking his face with both hands.
"Actually, no," he replied.
"Can you get him for me? I need to speak to him," she said, running her hands beyond his beard and into his hair.
"I'm afraid I can't," breathed the bartender.  "Is there anything I can do?"
"Yes. I need for you to give him a message," she continued, running her forefinger across the bartender's lip and slyly popping a couple of her fingers into his mouth and allowing him to suck them gently.
"What should I tell him?" the bartender managed to say.
"Tell him," she whispered, "There's no toilet paper, hand soap, or paper towels in the ladies room."
---
I put tape on the mirrors in my house so I don't
accidentally walk through into another dimension
---
HERE IN FLORIDA

Jim, an elderly man living in Florida had owned a large farm for several years. He had a large pond in the back, fixed up nice — picnic tables, horseshoe courts, and some orange and grapefruit trees.
The pond  was properly shaped and fixed up for swimming when it was built.
One evening Jim decided to go down to the pond, as he hadn't been there for a while, and look it over. He grabbed a five-gallon bucket to bring back some fruit.
As he neared the pond, he heard voices shouting and laughing with glee. As he came closer he saw it was a bunch of young women skinny-dipping in his pond.
Jim made the women aware of his presence and they all went to the deep end. One of the women shouted to him, "We're not coming out until you leave!"
  
Jim frowned, "I didn't come down here to watch you ladies swim  naked or make you get out of the pond naked."
Holding the bucket up he  said, "I'm here to feed the alligator."
---
I like to skate on the other side of the ice.
---
THIS WEEK'S LESSON. Pay attention!
An old man and a young boy were traveling through their village with their donkey. The boy rode on the donkey and the old man walked.
As they went along they passed some people who remarked it was a shame the old man was walking and the boy was riding.  The man and boy thought maybe the critics were right, so they changed positions.
Later, they passed some people that remarked, "What a shame, he makes that little boy walk." They then decided they both would walk.
Soon they passed some more people who thought they were stupid to walk when they had a decent donkey to ride. So, they both rode the donkey.
Now they passed some people that shamed them by saying "how awful to put such a load on the poor donkey." The boy and man said they were probably right, so they decided to carry the donkey."
As they crossed the bridge, they lost their grip on the animal and he fell into the river and drowned. The moral of the story: If you try to please everyone, you might as well kiss your ass good-bye.
---
My watch is three hours fast, and I can't fix it.
So I'm going to move to New York.
---
THE ART OF ADVERTISING
Josie and Flo, both prostitutes, were riding around town with a sign on top of their car that said: "TWO PROSTITUTES — $50.00"
A policeman, seeing the sign, stopped them and told them they'd either have to remove the sign or go to jail.
Just at that time, another car passed with a sigh that read: "JESUS SAVES"
Josie asked the cop, "How come you don't stop them?"
"Well, that's a little different," the cop smiled. "Their sign pertains to religion."
Josie and Flo frowned as they took their sign down and drove off.
The following day, the same cop in the area noticed the two ladies driving around with a large sign on their car again.
Figuring he had an easy arrest, he began to catch up with them when he noticed the new sign, which read: 'JOSIE AND FLO. TWO ANGELS SEEKING PETER — $50.00'
---
Everywhere is walking distance if you have the time.
---
I'D WALK A MILE
Marge and Barb are outside their nursing home, having a drink and a smoke, when it starts to rain.
Marge pulls out a condom, cuts off the end, puts it over her cigarette, and continues smoking.
Barb asks, "What in the hell is that?
Marge answers, "A condom. This way my cigarette doesn't get wet."
Barb says, "Great idea. Where did you get it?"
Marge says, "You can get them at any drugstore."
The next day, Barb hobbles herself into the local drugstore and announces to the pharmacist that she wants a box of condoms.
The pharmacist, obviously embarrassed, looks at her kind of strangely (she is after all, over 80 years of age), but very delicately asks what brand of condom she prefers.
Barb says,"Doesn't matter Sonny, as long as it fits on a Camel."
---
I went to a restaurant that serves "breakfast at any time."
So I ordered French Toast during the Renaissance.
---
FLYING BLIND
A blind man went to the airport to fly in a small plane and the pilot asked him, "If you're blind, why do you want to fly?"
And the blind man said he just wanted to have the experience.
So off through the skies they went! All of a sudden the pilot had a heart attack and passed out.
The blind man felt around and found the mike and keyed up and said, "Help, help, I'm a blind man flying upside down in a small plane and the pilot has passed out!"
A voice came over the speaker that said, "If you are a blind man, how do you know you're upside down?"
The blind man said, "Because crap is running out of my collar!!"
---
When I die, I'm leaving my body to science fiction.
---
A TRIFECTA OF
LOTSA SILLY STUFF JOKES
A cop was patrolling at night at a well-known lover's lane. He sees a couple in a car, with the interior light brightly glowing. The cop carefully approaches the car to get a closer look.
Then he sees a young man behind the wheel reading a computer magazine. He immediately notices a young woman in the rear seat, knitting.
Puzzled by this surprising situation, the cop walks to the car and gently raps on the driver's window.
The young man lowers his window. "Uh, yes, officer?"
"What are you doing?"
"Well, isn't it obvious? I'm reading a magazine, sir."
Pointing towards the young woman in the back seat the cop says: "And her, what is she doing?" The young man shrugs: "Sir, I believe she's knitting a pullover sweater."
Now, the cop is totally confused. A young couple. Alone, in a car, at night in a Lover's Lane and nothing obscene is happening!
"What's your age, young man?" "I'm 23, sir."
"And her … what's her age?"
The young man looks at his watch and replies: "She'll be 18 in 11 minutes."
---
You can't have everything. Where would you put it?
---
WOMEN'S ASS SIZE STUDY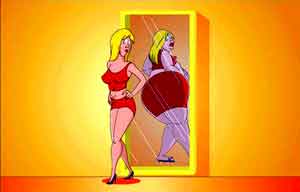 There is a new study out about women and how they feel about their asses. I thought the results were pretty interesting:
25% of women think their ass is too fat…
10% of women think their ass is too skinny…
The other 65% say that they don't care; they love him, he's a good man, and they would have married him anyway…
---
It's a small world, but I wouldn't want to have to paint it.
---
READY FOR A BLOND JOKE?
Two bored casino dealers are waiting at the crap table. A very attractive blonde woman arrived and bet twenty thousand dollars ($20,000) on a single roll of the dice.
She said, "I hope you don't mind, but I feel much luckier when I'm completely nude." With that, she stripped from the neck down, rolled the dice and yelled, "Come on, baby, Mama needs new  clothes!"
As the dice came to a stop she jumped up and down and squealed… "YES! YES! I WON, I WON!"  She hugged each of the dealers and then picked up her winnings and her clothes and quickly departed.
The dealers stared at each other dumfounded. Finally, one of them asked,"What did she roll?"
The other answered, "I don't know – I thought you were watching."
MORAL: Not all blondes are dumb, but all men are men.
---
I'm moving to Mars next week, so if you have any boxes…
About
This top-ranked site now has over 4,000 pages of humor, nostalgia, senior advocacy and useful information for seniors 50+. Updates weekly!
The daily e-zine for everyone over 50 who feels way too young to be old.
"...the perfect mix of Andy Rooney, Dave Barry, and Garrison Keilor, combining knee-slapping humor with useful information and genuine compassion."
Retired.com
"Thousands look to and trust Suddenly Senior. Other Websites pale in comparison to the real-life, intimate look into senior lives. What sets apart Suddenly Senior is its blistering honesty and its incomparable encouragement. Millions need guidance."
Suzette Martinez Standring
"Best Senior Site ever on the Web! Great, up-to-date information on how seniors can save money on drugs. Wonderful nostalgia. Hard-hitting senior advocacy pieces that get read in high places. Wonderful humor. It's all at Suddenly Senior."
Alexa.com
KUDOS
Now read by 3.1 million in 83 newspapers from Florida's St. Petersburg Times to the Mumbai, India News.