Humor
Best New Jokes: May 28, 2012
BEST JOKES OF THE WEEK…GUARANTEED

STAIRWAY TO HEAVEN

Hector and Janet were 85 years old and had been married for 60 year.
Though they were far from rich, they managed to get by because they watched their pennies.
Though not young, they were both in very good health, largely due to the wife's insistence on healthy foods and exercise for the last decade.
One day, their good health didn't help when they went on a rare vacation and their plane crashed, sending them off to Heaven.
They reached the pearly gates, and St. Peter escorted them inside.
He took them to a beautiful mansion, furnished in gold and fine silks, with a fully stocked kitchen and a waterfall in the master bath. A maid could be seen hanging their favorite clothes in the closet.
They gasped in astonishment when he said, "Welcome to Heaven. This will be your home now."
Hector asked Peter how much all this was going to cost. "Why, nothing," Peter replied, "remember, this is your reward in Heaven."
Hector looked out the window and right there he saw a championship golf course, finer and more beautiful than any ever-built on Earth. "What are the greens fees?", grumbled the old man.
"This is heaven," St. Peter replied. "You can play for free, every day."
Next they went to the clubhouse and saw the lavish buffet lunch, with every imaginable cuisine laid out before them, from seafood to steaks to exotic deserts, free flowing beverages and a fountain of champagne.
"Don't even ask," said St. Peter to Hector. "This is Heaven, it is all free for you to enjoy."
Hector looked around and glanced nervously at his wife. "Well, where are the low fat and low cholesterol foods, and the decaffeinated tea?" he asked.
"That's the best part," St. Peter replied. "You can eat and drink as much as you like of whatever you like, and you will never get fat or sick. This is Heaven!"
Hector pushed, "No gym to work out at?" "Not unless you want to," was the answer.
"No testing my sugar or blood pressure or…"
"Never again. All you do here is enjoy yourself."
Hector glared at his wife and said, "You and your damn bran muffins. We could have been here ten years ago !!!!!
---
THEY SAID THE ECONOMY IS BOUNCING BACK.
WELL, I HAVE NEWS FOR THEM. SO ARE MY CHECKS.
---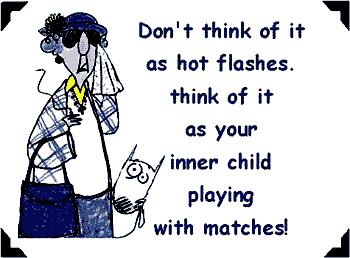 ---

HAPPY BIRTHDAY

Two weeks ago was my 50th birthday and I wasn't feeling too good that morning.
I went to breakfast knowing my wife would be pleasant and say, Happy birthday!" She'd probably have a present for me.
As it turned out, she didn't even good morning, let alone any happy birthday. I thought, well, that's wives for you. I then thought to myself, I'm positive the children will remember.
The children came in to breakfast and didn't even say a word. So, when I left for the office, I was feeling pretty low and despondent.
As I walked into my office, my secretary Janet said, "Good morning, Boss and Happy Birthday!" And I felt a little better that someone had remembered.
I worked until about noon, then Janet knocked on my door and said, "You know, it's such a beautiful day outside, and it's your birthday, let's go to lunch, just you and me".
I said, "By George, that's the greatest thing I've heard all day. "Let's go!"
We went to lunch. We didn't go to where we normally go; instead we went out to a private little place. We had 2 martinis and enjoyed lunch tremendously.
On the way back to the office, she said, "You know, it's such a beautiful day. We don't need to go back to the office right away, do we?" I said "No, I guess not."
She said, "Let's go to my apartment."
After arriving at her apartment she said, "Boss, if you don't mind, I think I'll go into the bedroom and get in to something more comfortable."
"Sure!" I excitedly replied. She went into the bedroom, and in about six minutes, she came out carrying a huge birthday cake, followed by my wife, my kids, and dozens of our friends, all loudly singing Happy Birthday.
And I just sat there on the couch… NAKED.
---
IF YOU ARE GOING TO WORRY, DON'T DO IT.
IF YOU DO IT, DON'T WORRY.
---

ELDERLY HONEYMOON

Luigi and Virginia both aged 72, were married.
After returning from his honeymoon in Florida with his new bride, Virginia, Luigi stopped by his old barbershop in Cleveland to say hello to his friends.
Giovanni said, "Hey, Luigi, how wasa da treepa?"
Luigi said, "Everytinga wasa perfecto except for the traina ride down."
"Whata you nean, Luigi?"
"Well, we boarda da train at Grana Central Station. My beautiful Virginia, she pack a biga basket a food. She brought vina, some nice cigars for me, and we were lookin a forward to da trip. Everything wasa Okey Dokey until we gotta hungry and open upa da luncha basket.
The conductore come a by, waga hisa finger at us anda say, 'no eat in disa car. Musta use a dining car."
"So me and my beautiful Virginia, we go to dining car, eat a biga luncha and start to open a bottle of nice a vino!
Conductore walka by again, waga hisa finger and say, 'No drinka in disa car. Musta use a club a car."
"So, we go to club car, While drinkina vino, I start to lighta my biga cigar, The conductore, he waga his finger again and say, 'No smokina disa car. Must go to smokina car."
"We go to smokina car and I smoke a my biga cigar. Then my beautiful Virginia and I, we go to sleeper car anda go to bed. We just about to go aboomada boomada and the conductore, he walka through da hall shouting at da top of hisa voice, 'Nofolka, Virginia! Nofolka, Virginia!"
"Next time, I'ma gonna take a da bus!"
---
REEVALUATE YOUR GOALS WITH AN EYE TOWARDS BALANCE.
SETTING GOALS IN ONE OR TWO AREAS OF YOUR LIFE,
WHILE FORGETTING THE OTHERS,
IS LIKE TRYING TO ROW A BOAT WITH ONLY ONE OAR.
---

HARVEY AND GLADYS

Harvey and Gladys Goldman are getting ready for bed.
Gladys is standing in front of her full-length mirror, taking a long, hard look at herself.
"You know, Harvey," she comments. "I stare into this mirror and I see an ancient creature. My face is all wrinkled, my boobs sag so much that they dangle to my waist, my arms and legs are as flabby as popped balloons, and…my butt looks like a sad, deflated version of the Hindenberg!"
She turns to face her husband and says, "Dear, please tell me just one positive thing about my body so I can feel better about myself."
Harvey studies Gladys critically for a moment and then says in a soft, thoughtful voice, "Well, there's nothing wrong with your eyesight."
Services for Harvey Goldman will be held Tuesday morning at 10:30 at Beth Israel Synagogue.
---
BEFORE GIVING SOMEONE A PIECE OF YOUR MIND,
BE SURE YOU HAVE ENOUGH TO SPARE.
---

NEW CAR TIME

If my body were a car, I'd be thinking about trading it in for a new model. I've got lots of dents and bumps and my paint job is getting dull.
My fenders are too wide to be considered stylish. They were once as sleek as a little MG; now they look more like my mother's old Buick.
My seat cushions have split open at the seams. My seats are sagging.
Seat belts? I gave up all belts when Ben & Jerry's opened a shop in my neighborhood.
Air bags? Forget it. The only bags I have these days are under my eyes. Not counting the saddlebags, of course.
I have soooooo many miles on my odometer. Sure, I've been many places and seen many things, but when' s the last time an appraiser factored life experiences against depreciation?
My headlights are out of focus and it's especially hard to see things up close.
My reaction is not as graceful as it once was. I slip and slide and skid and bump into things even in the best of weather.
My whitewalls are stained with varicose veins. It takes me hours to reach my maximum speed. I'm burning fuel at an inefficient rate.
But here's the worst of it – almost every time I sneeze, cough or sputter – I leak oil. I'm so ready for a trade in!
---
A FOOL AND HIS MONEY ARE A GIRL'S BEST FRIEND.
---

EULOGY

She married and had 13 children. Her husband died.
She married again and had seven more children. Again, her husband died.
But, she married yet again and this time had five more children. Again, her husband died. Then alas, she finally died.
Standing before her coffin, the preacher prayed for her.
He thanked The Lord for this very loving woman and said, "Lord, they're finally together."
One mourner leaned over and quietly asked her friend, "Do you think he means her first, second or third husband?"
The friend replied, "I think he means her legs."
---
SEX IS A MISDEMEANOR.
THE MORE I MISS IT, THE MEANER I GET.
---

A TRIFECTA OF GROWING PAINS JOKES
WIN
GREAT SEX
The Italian man says, "Last week, my wife and I had great sex. I rubbed her body all over with olive oil, we made passionate love, and she screamed for five full minutes at the end."
The Frenchman boasts, "Last week when my wife and I had sex, I rubbed her body all over with butter. We then made passionate love and she screamed for fifteen minutes."
The old Jewish man says, "Well, last week my wife and I had sex too. I rubbed her body all over with schmaltz, we made love, and she screamed for over six hours."
The Italian and Frenchman were stunned. They asked, "What could you have possibly done to make your wife scream for six hours?"
The old Jewish man replies: "I wiped my hands on the bedspread."
---
I ALMOST HAD A PSYCHIC GIRLFRIEND.
BUT, SHE LEFT ME BEFORE WE MET.
---
PLACE
HAPPILY EVER AFTER
Joe says to his eighty-year old buddy Sam, "So I hear you are getting married?
"Yep!" says Sam. "Next Saturday!"
Joe asks, "This woman, is she good looking?"
"Not really."
"Is she a good cook?"
"Naw, she can't cook too well," replies Sam.
"Does she have lots of money?"
"No, poor as a church mouse."
Joe persists, "Well then, is she good in bed?"
"I don't know."
"Why in the world do you want to marry her then?"
Sam chuckles, "She can still drive at night."
---
IT HAS OFTEN BEEN SAID THAT
"TODAY IS THE FIRST DAY OF THE REST OF YOUR LIFE,"
BUT WHY NOT APPROACH IT WITH THE SAME CARE AND RESPECT
AS YOU WOULD IF IT WERE YOUR LAST?
---
SHOW
DAFFINITIONS
ADULT: A person who has stopped growing at both ends and is now growing in the middle.
BEAUTY PARLOR: A place where women curl up and dye.
CANNIBAL: Someone who is fed up with people.
CHICKENS: The only animals you eat before they are born and after they are dead.
COMMITTEE: A body that keeps minutes and wastes hours.
DUST: Mud with the juice squeezed out.
EGOTIST: Someone who is usually me-deep in conversation.
HANDKERCHIEF: Cold Storage.
INFLATION: Cutting money in half without damaging the paper.
MOSQUITO: An insect that makes you like flies better.
RAISIN: Grape with a sunburn.
SECRET: Something you tell to one person at a time.
SKELETON: A bunch of bones with the person scraped off.
TOOTH ACHE: The pain that drives you to extraction.
TOMORROW: One of the greatest labor saving devices of today.
YAWN: An honest opinion openly expressed.
WRINKLES: Something other people have. You have character lines.
---
IF A MAN HAS ENOUGH HORSE SENSE
TO TREAT HIS WIFE LIKE A THOROUGHBRED,
SHE WILL NEVER TURN INTO AN OLD NAG.
About
This top-ranked site now has over 4,000 pages of humor, nostalgia, senior advocacy and useful information for seniors 50+. Updates weekly!
The daily e-zine for everyone over 50 who feels way too young to be old.
"...the perfect mix of Andy Rooney, Dave Barry, and Garrison Keilor, combining knee-slapping humor with useful information and genuine compassion."
Retired.com
"Thousands look to and trust Suddenly Senior. Other Websites pale in comparison to the real-life, intimate look into senior lives. What sets apart Suddenly Senior is its blistering honesty and its incomparable encouragement. Millions need guidance."
Suzette Martinez Standring
"Best Senior Site ever on the Web! Great, up-to-date information on how seniors can save money on drugs. Wonderful nostalgia. Hard-hitting senior advocacy pieces that get read in high places. Wonderful humor. It's all at Suddenly Senior."
Alexa.com
KUDOS
Now read by 3.1 million in 83 newspapers from Florida's St. Petersburg Times to the Mumbai, India News.